4mation Places 1st at the Sydney Rides Business Challenge 2016
Congratulations to all of our team who participated in winning the Sydney Rides Business Challenge!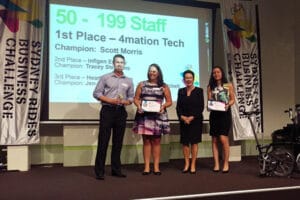 The Challenge
Sydney Rides Business Challenge is a fun and free challenge for businesses to encourage their employees to be active in cycling. Participants log each of their rides over the month-long competition, and the organisation with the highest percentage of employees logged after the month wins the challenge.
Our Results
This year, 4mation had nearly 80% of our team members participating in the Sydney Rides Business Challenge, nearly half of which were first-time riders eager to hop on a bike and give it a go. Over the month period, we clocked up a massive 2,294 kilometres cycled, putting us in 1st place in our category. Four 4mation representatives attended the awards presentation last night to receive the much-deserved prize, in addition to individual team prizes for effort and participation.
Our team is always up for a challenge, and we believe that keeping fit and healthy is the best way to be the most productive in our work. Challenges like these bring us together and help us to live out our core company values of fun and teamwork.
Do you enjoy participating in fun events and thrive off teamwork? Does 4mation sound like the kind of place you'd like to work? Check out our current opportunities.