Adobe Experience Manager – The Industry Leading Digital Marketing Platform
Adobe Experience Manager (AEM) is the leading Enterprise Content Management system available on the market. It is a comprehensive solution for building scalable websites, mobile apps and forms, while making it easy to manage your marketing content and assets.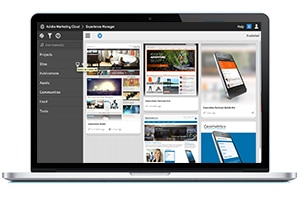 AEM allows users to create, manage and deploy digital assets. It boasts the best portfolio for companies with the greatest marketing needs by incorporating analytics, testing, social media, rich media delivery, and content management functionality into the Java-based system, for a best-in-class experience.
Why use Adobe Experience Manager over other web content management systems?
AEM is the only web content management product on the market to have so many completely integrated components 'out of the box'. With many other systems, users must rely on different service providers to get a full picture of their customers behaviour and data.
A recent report from Forrester ranked the top 10 web content management systems for digital experiences. This ranking consisted of many criteria, with Adobe coming out on top for their current AEM offering and an overall score of 4.03/5.00. The runner-up was Sitecore, with a score of 3.45.
Adobe Experience Manager received perfect scores in profiling and segmentation, site design, content targeting and preview, mobile web, testing, analytics, and marketing suite integration.
Read the full report here.
How does Adobe Experience Manager benefit marketers?
AEM integrates analytics, digital asset management (DAM), targeting, campaign management, multichannel and multi-language capabilities. It gives marketers and sales teams the ability to target their customers accurately, improving the customer experience and enhancing the return on investment (ROI). This is because AEM integrates all of the Adobe Marketing Cloud products into one easy-to-use system that marketers and content creators can use without getting their IT team involved.
Adobe Experience Manager is an intuitive, user-friendly system which has attractive authoring and management interfaces. Users don't need to have a technical background to be able to manage their content, and the system allows flexibility rarely seen in web content management systems.
To discuss how Adobe Experience Manager can benefit your business, call us now on (02) 9213 1300