COVID-19: Business continuity planning and technology solutions
The COVID-19 crisis has put a spotlight on the gaps in business continuity plans and technology investments for many businesses. Companies are looking for every tool available to help them get through to the other side of COVID-19. All while operating with minimal staff and limited budgets.
But when there is so much uncertainty, how should businesses navigate the array of digital solutions out there? How do we get interrupted projects back on track? What recovery strategies can we put in place now to allow for greater flexibility in the future?
Any answer to these questions should have adaptive business processes in mind. As Australia sees social-distancing restrictions ease, businesses are shifting away from short-term contingency planning to long-term continuity plans.
We have put together four scenarios to consider in the face of COVID-19, plus what to focus on when it comes to tech solutions.
1. When you need to scale, but maintain lean operations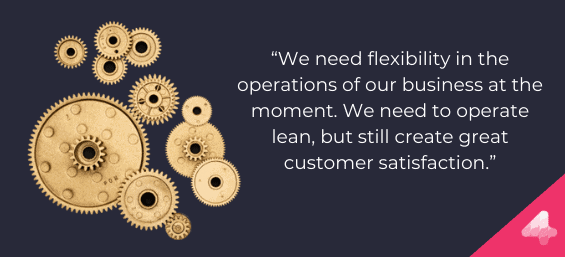 Scaling through technology means something different to every business and every network. When we are talking about scaling for growth, it is about creating business models and designing your organisation in a way that easily scales in order to generate consistent revenue.
However, what happens when there is so much uncertainty in your industry? As a risk management strategy, a good option could be staff augmentation. You still need to grow your team to meet deadlines and deliver a quality product, but you have the flexibility to add or remove team augmentation resources as your project requirements change.
A consideration when reviewing business functions are practices and solutions which enable launching new pricing schemes quickly. This way, you can scale up or down, with the flexibility to adjust prices if COVID-19 restrictions are put in place again.
2. Planning your technology budget for the next financial year
The next financial year is just around the corner and senior leaders are navigating severe budget cuts and unanticipated changes to the business.
According to Punit Renjen from Deloitte, when it comes to leaders planning through COVID-19, "It is critical to model the alignment of financial resources to the cash required to ramp-up operations." In light of many businesses operating lean, tech investment in improving supply-chain should be at the forefront of senior management. This will ensure operations are more efficient and effective.
While very much at the frontline of COVID-19 challenges, mid-market and small businesses can capitalise on their ability to make decisions quickly. If possible, it's a unique opportunity to leapfrog to the level of change that can be achieved through technology solutions.
A requirements scoping service may be needed for your business to clearly understand what supplier is going to serve you best. Likewise, when there are problems with existing tech suppliers, you need to get to the bottom of where the problem lies. In order to plan for the next financial year, understanding areas of risk that increase ballpark costs is key.
You can talk to 4mation about scoping your requirements. There is no obligation to continue to work with us, but it ensures your business continuity plan aligns with your budgeting.
3. When a project gets derailed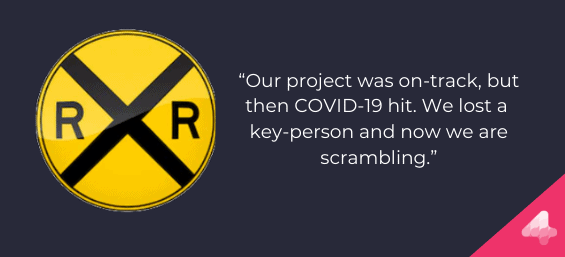 Due to border closures, there have been major disruptions to business and concerns for continuity where key staff are concerned. Many employees have had to return quickly back to families, or self-isolate on return to the country.
It's a complicated situation when you lose key personnel, especially if it is a sudden departure with no handover.
If this has happened to your business, it is important to seek out experts who can get an understanding of your requirements quickly. Getting your project back on track requires a clear roadmap for the future as well as expert knowledge.
4. When a website becomes your only storefront
According to the Salesforce Global Shopping Index, retailers experienced a spike of 16% in digital traffic growth, between Q1 2019 and Q1 2020. With many physical retail stores still unable to operate, it is imperative customers find you. Once they do find you, they must have a great digital experience when they are there.
For website optimisation you can try to do it yourself; there are plenty of Moz classes to get you started. (They are offering free classes in May!) Just don't fall victim to emails saying that "your website is not ranking well and we promise you to be #1." That just doesn't happen.
You need to identify the optimisation opportunities through a thorough audit of your website. We recommend looking into web design and development processes that follow Google's mobile-first approach to indexing and ranking. It is important to consider a refresh of your e-commerce platform so that it provides a seamless customer experience.
The 4mation solution
We can work with you through all of these different scenarios.
During these unprecedented times, it is essential that your budget is invested in the right solution for your business. To help plan your budget for tech solutions in the new financial year, please find some more information on our high-level scoping service.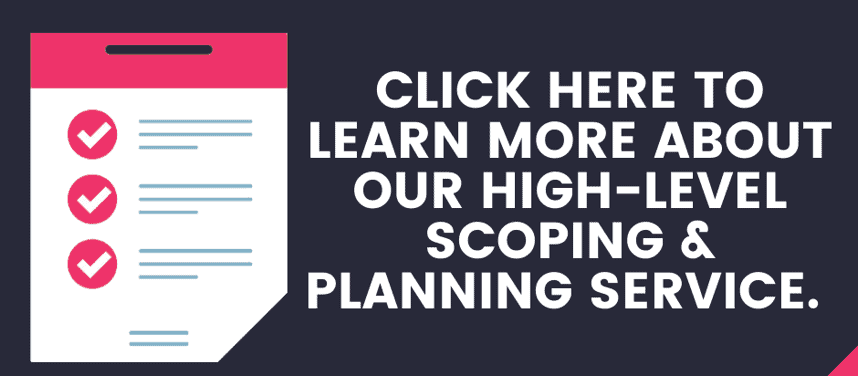 We offer a range of workshops and services such as; software and web development, SEO, Digital Strategy and Design that can help you plan ahead. Please do not hesitate to contact us if you have any questions.