20 Hottest eCommerce Trends for 2019
The changing landscape of eCommerce presents online retailers with new and exciting ways to drive innovative change within their eCommerce businesses. With global retail eCommerce sales expected to reach $6.6 trillion (AUD) by 2021, how can your business lead the pack? We've put together the following list to display 20 of the hottest eCommerce trends to pay attention to for 2019 and beyond. Hopefully, these will spark ideas and increase the conversion rate for your eCommerce business, whilst improving your customers' online shopping experience.
Table of Contents
Augmented Reality & Virtual Reality
Advanced Product Filtering
Automation
B2B
Chatbots
Delivery Options
Digitising Real World Experiences
Easier Checkouts
Mobile-first Commerce
Multi-channel Attribution
Multi-channel Messaging
Omni-channel eCommerce
Payment Options
Personalisation
Social Shopping
Subscription Services
User-generated Content
Video Content
Voice Commerce
Website Performance
Augmented Reality & Virtual Reality
Augmented Reality (AR) and Virtual Reality (VR) are blurring the lines between the physical and digital, by offering new ways to see our world. For online retailers, this is providing your customers with new ways to experience products outside of a physical store.
So what is the difference between augmented and virtual reality? Augmented reality refers to technology that superimposes a computer-generated image on a user's view of the world, creating a composite view.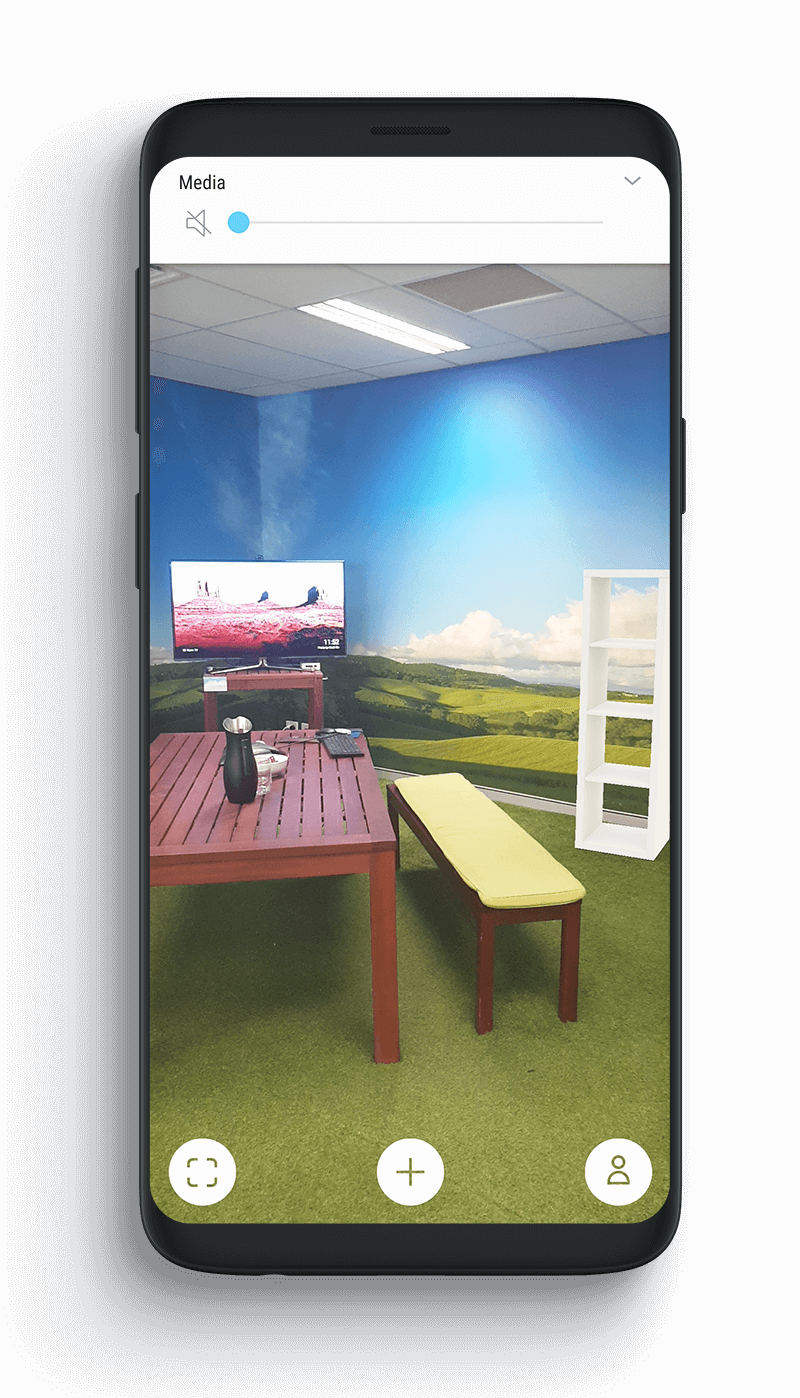 Credit: IKEA Place
As augmented reality offers brands a way to enhance their customer's experience in the purchase consideration phase. A 2016 study found 71% of shoppers said they would shop at a retailer more often if they offered augmented reality. IKEA's Place app lets you virtually 'place' furniture in your space. These products are true to size, helping consumers make better choices.
Virtual reality is a computer-generated simulation of a 3D image or environment. Users are immersed in this digital world and can usually interact with it.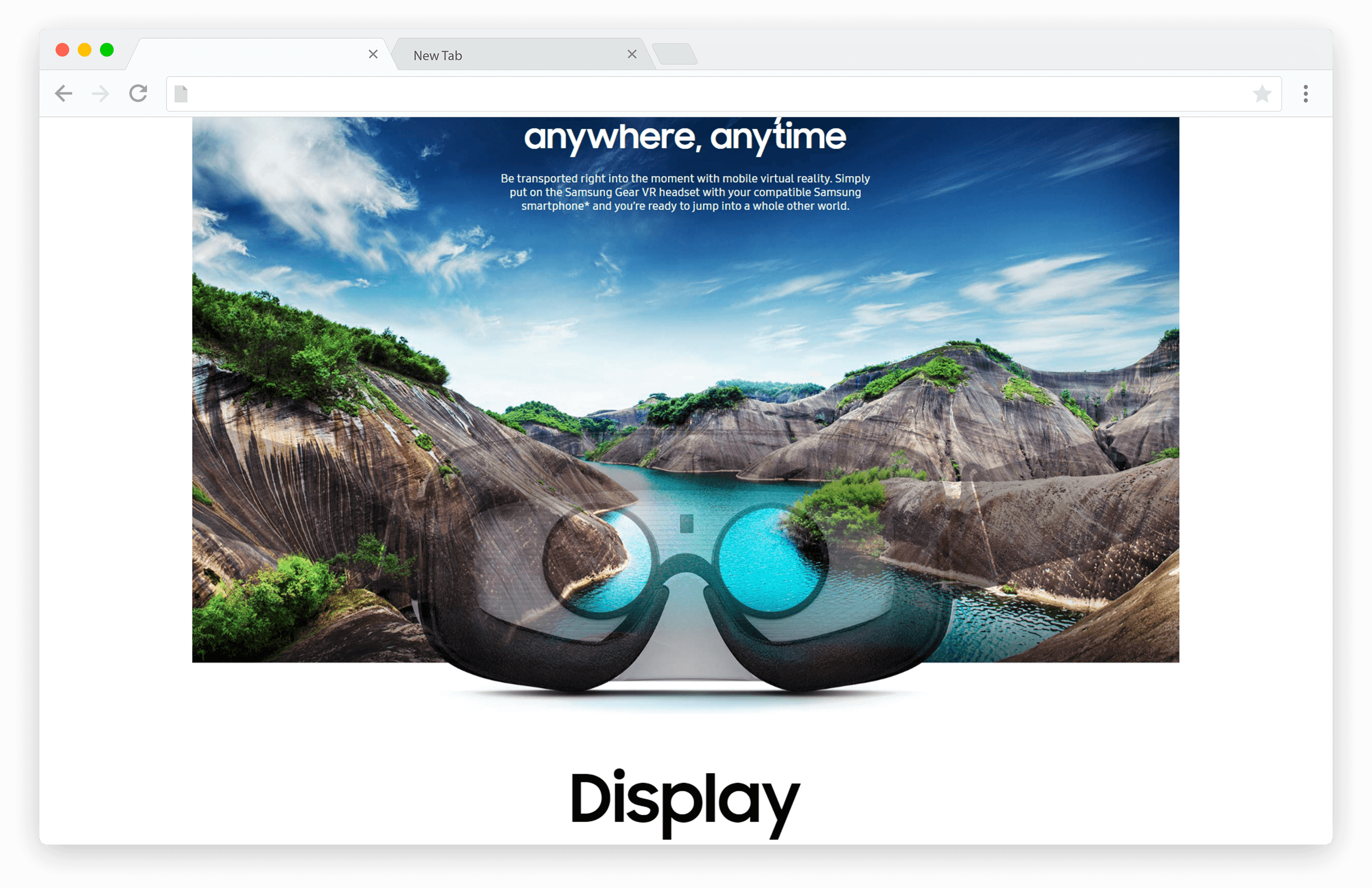 Credit: Samsung Gear VR
Virtual reality experiences allow customers to see products or activities in realistic settings. We've already started seeing this with travel companies who offer VR 360-degree tour 'taster' experiences for customers. Best Western is one such company who is using VR to give customers an inside look to their properties.
How can your brand use these technologies in 2019 to connect with customers?
Advanced Product Filtering
Implementing advanced product filtering allows your customers to find exactly what they need faster, with more options when searching. Filter attributes such as size, colour, material, price etc. help your users narrow their search. Advanced product filtering should hold up against 4 benchmarks of performance.
Available filters: how many filters are provided?
Filter logic: does the filter order flow naturally for the user?
Filter interface: are the filters clear and easy to select/sort?
Applied filters: do the filters work together, not against each other?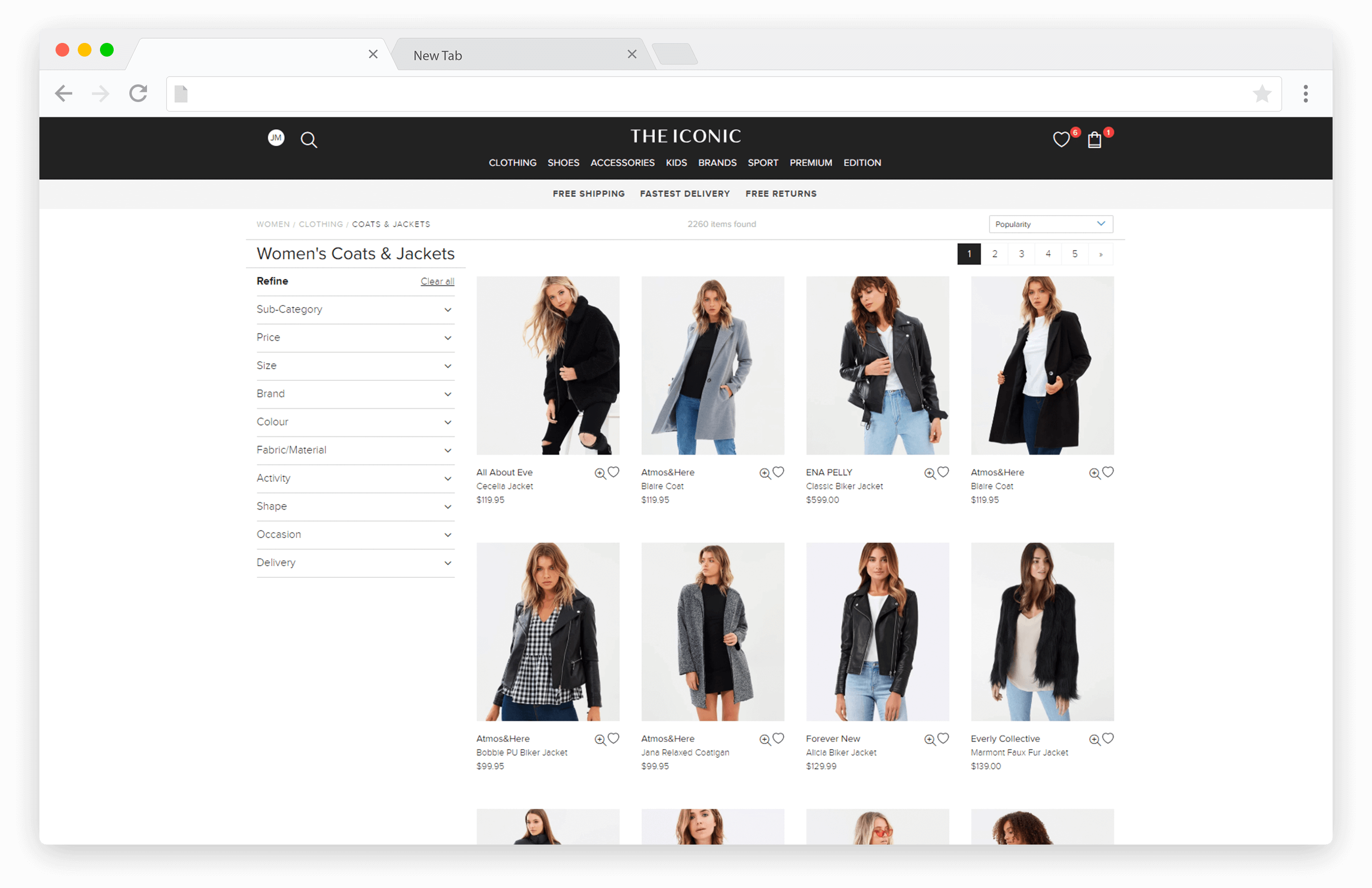 Credit: The Iconic
Using Australian eCommerce website, The Iconic as an example – we can see they provide a wide range of filters, the logic follows, the interface works well and users can easily combine filters.
For instance, I chose the following: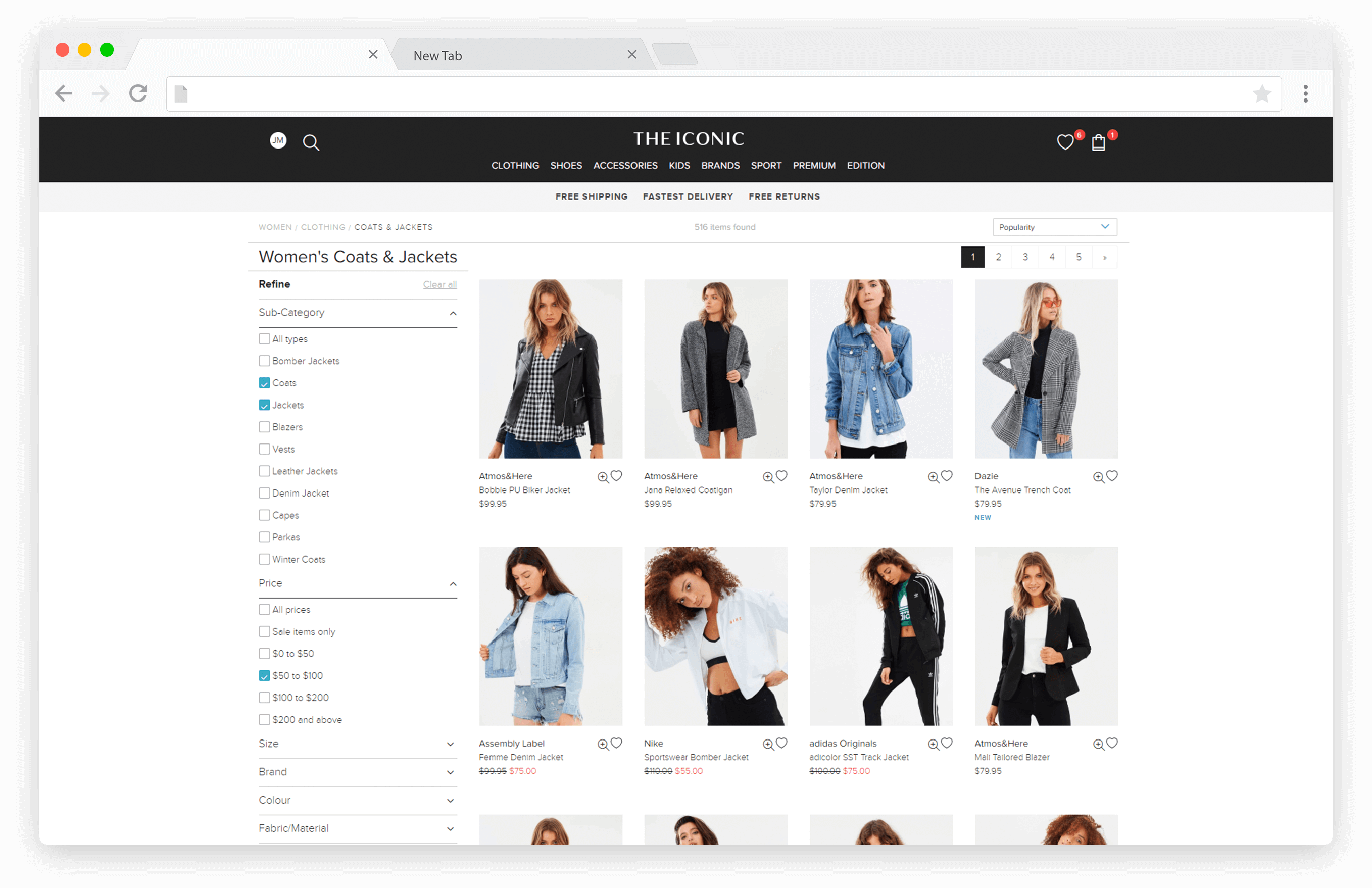 Credit: The Iconic
If I want to, I can get even more specific: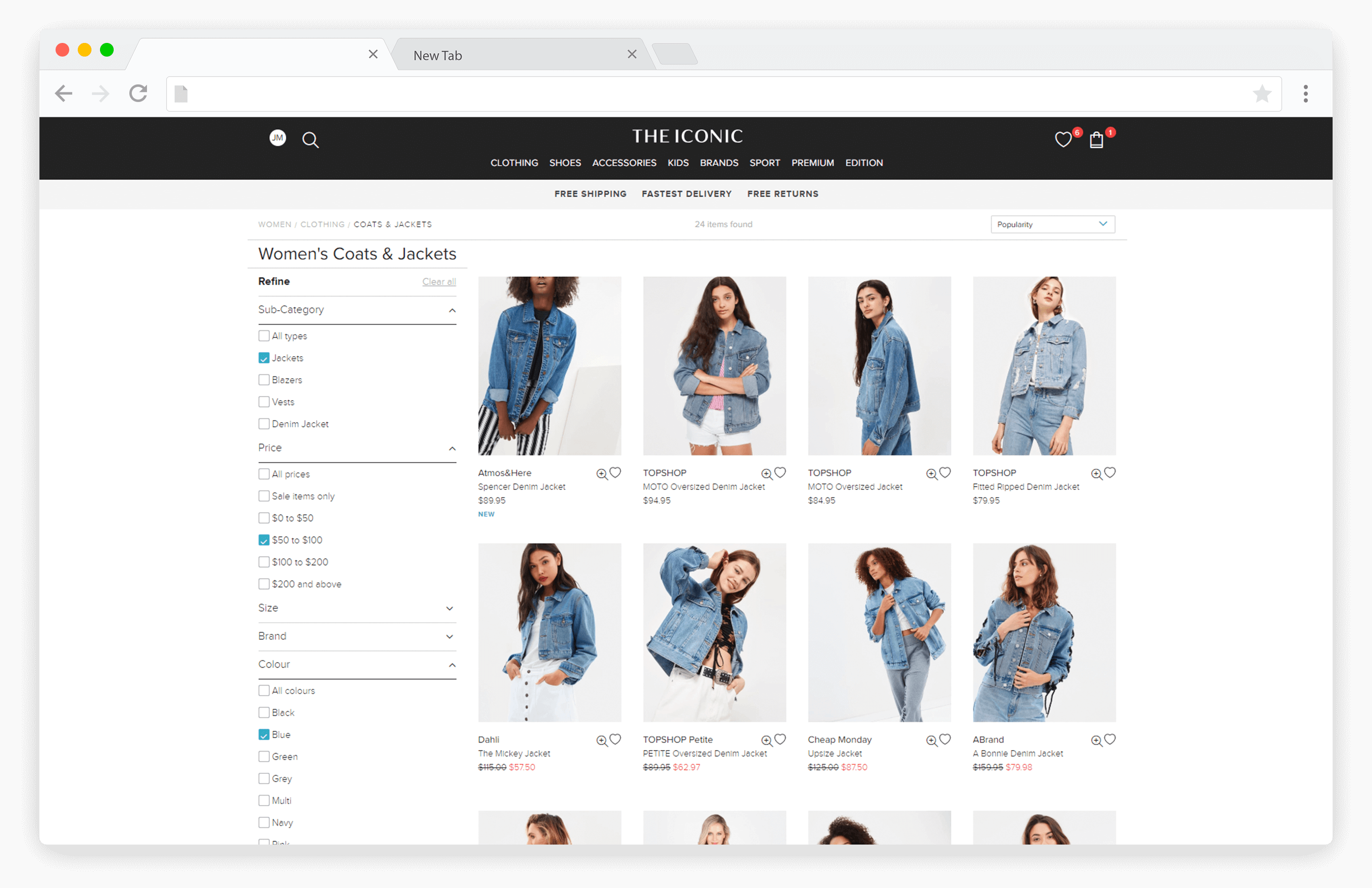 Credit: The Iconic
With endless options across the web, it's important to provide your customers with ways to filter products, so they don't look elsewhere. Thankfully, there have been great advances in eCommerce search with companies such as Algoia, Celebros and InstaSearch+ using natural language processing and machine learning to show highly relevant search results.
In 2019, help your customers find what they want/need. Advanced product filters can be the difference between your customer finding products on your site – as opposed to your competitor's.
Automation
The power of automation is being seen across many industries and eCommerce is no exception. In fact, the eCommerce shopping experience has possibly the most to gain from automation.
Automation in this context refers to the creation and application of technology to streamline a number of processes, such as sales, marketing, inventory management, production and delivery services.
With so many users operating in virtual stores with minimal staffing, streamlined processes are key to a well-oiled eCommerce machine. From the very first interaction to the last, implementing automation can improve your customer experience, increase your conversion rate and free-up hours spent on manual tasks.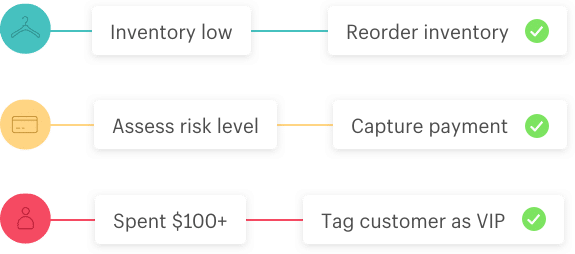 Credit: Shopify Plus
Shopify Plus has a solid automation product with Shopify Flow, and these are some of the things you can do with it:
Preload new products and publish them to your store, social media, apps, and sales channels simultaneously
Identify, tag, and segment customers who buy from specific sales channels, such as Amazon, Facebook, Pinterest, and more
Unpublish out-of-stock products and send a Slack message or email to your marketing team so they can pause advertising
Credit: Shopify Plus
For those that don't use Shopify Plus, there are plenty of platform agnostic eCommerce automation solutions out there such as Drip and Klaviyo. For larger companies, dotmailer is a sound choice – it offers end to end marketing automation tailored to eCommerce users. All of these automation tools offer ways to track customer lifecycle journeys and send the right messaging at the right time.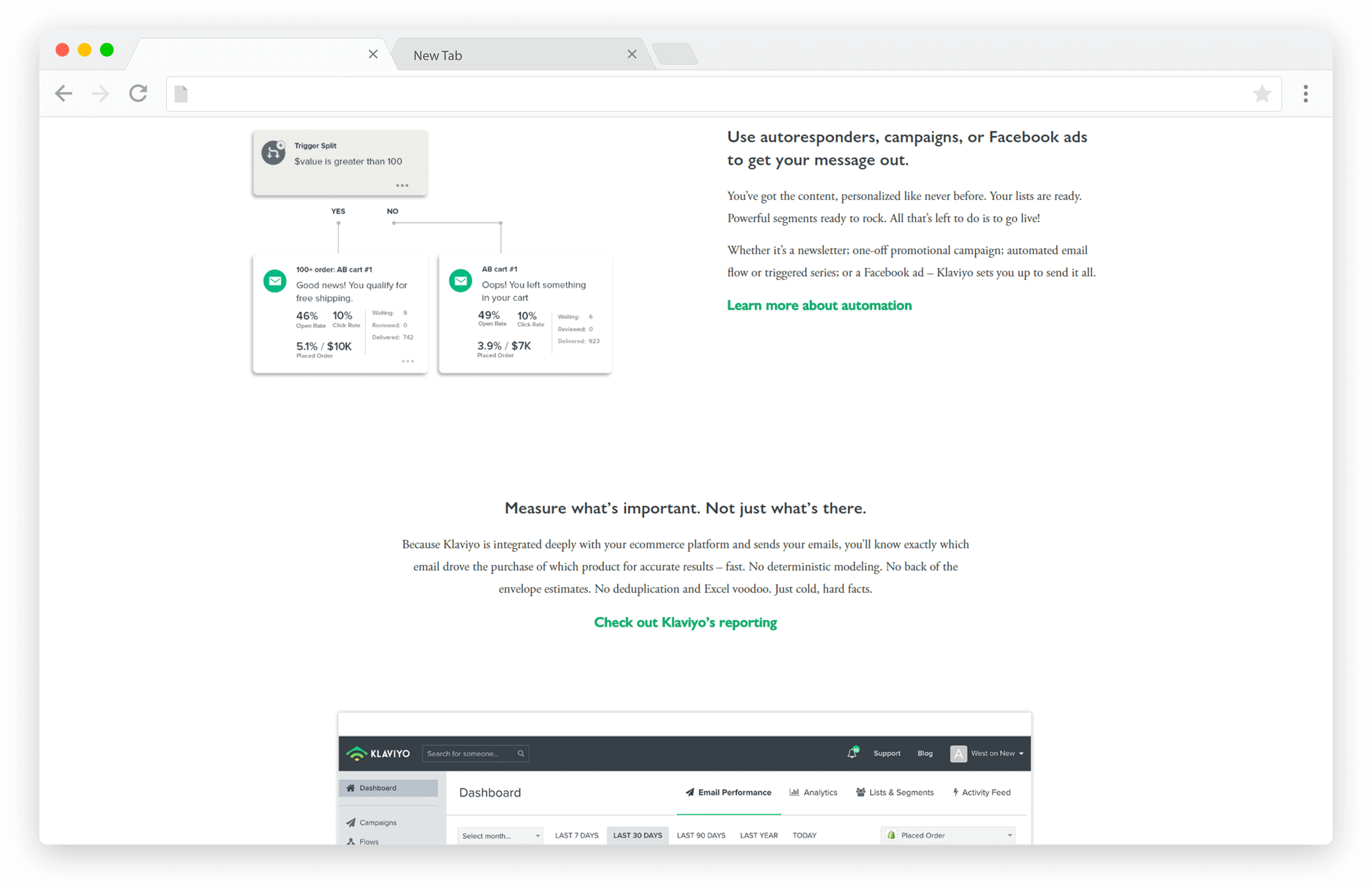 Credit: Klaviyo
For 2019, think about how automation can work for your brand, whether that's implementing a large-scale solution like Shopify Flow or dotmailer, or trying something more scalable like Drip or Klaviyo.
B2B
In 2017, eCommerce B2B sales dwarfed B2C, by over $5 trillion (USD). Global B2B eCommerce revenue is expected to reach $6.7 trillion (USD) by 2020.
An interesting insight is that nearly half of B2B buyers are millennials and ignoring this market would be a massive mistake. In 2019, think about the channels your business customers are on and how best to reach them.
Credit: Alibaba
If you operate a B2B business and your eCommerce offering is undeveloped, now is the time to develop your strategy. Alibaba is a great example of B2B eCommerce done well.
This is because of a few key reasons:
It never competes with the customer
It focuses on the customer's needs
It offers scalability
The main takeaway for B2B eCommerce in 2019 is to treat your business customers as individuals.
Chatbots
Chatbots have popped up across the web, with no sign of slowing down. A chatbot is simply a computer program designed to talk to users. As Artificial Intelligence (AI) driven online shopping empowers their understanding, we'll be able to use chatbots with greater efficacy.
The applications for online retailers are vast, from basic customer support to personalised sales interactions. Chatbots aren't depersonalising human interaction, they're streamlining customer journeys by providing the right information and connecting customers to the best people. According to a 2016 Oracle report, 80% of respondents said they already used, or plan to use chatbots by 2020.
Retailers are using chatbots to power customer service interactions. H&M developed a chatbot to operate as a personal shopper assistant, providing style recommendations to users. Sephora also created a chatbot for KIK which helps users find beauty products and gives out makeup and style advice.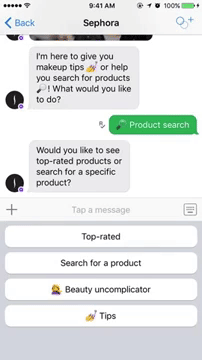 2019 will bring with it streamlined communication with consumers. Consider how a chatbot may help save you and your customer's time.
Delivery Options
There are more ways than ever for brands to send products and for customers to receive them. Traditional delivery efforts are still used, you can still have parcels delivered directly to your door but even that is quicker than ever, with many companies now offering same day delivery or even 2-hour delivery in metro areas.
Speed and efficiency are the key drivers for online and cross-channel purchases for the fifth year in a row. With 44% of consumers have used some kind of same day delivery service in the past year, it's no surprise that brands are feeling pressure to optimise their supply chain.
Beyond the direct to door method, customers are looking for greater convenience. Online retailers are investing in new ways to make delivery easier for customers. For example, Amazon have started trialling drones in England to deliver packages.
Credit: Amazon
In Australia, postal lockers are popping up in Woolies and why not get your eBay purchases delivered there too? Additionally, Australia Post recently announced a new subscription-based service called Shipster that allows customers to pay a flat fee of $6.95 (AUD) a month and get free shipping from over 60 Australian retailers.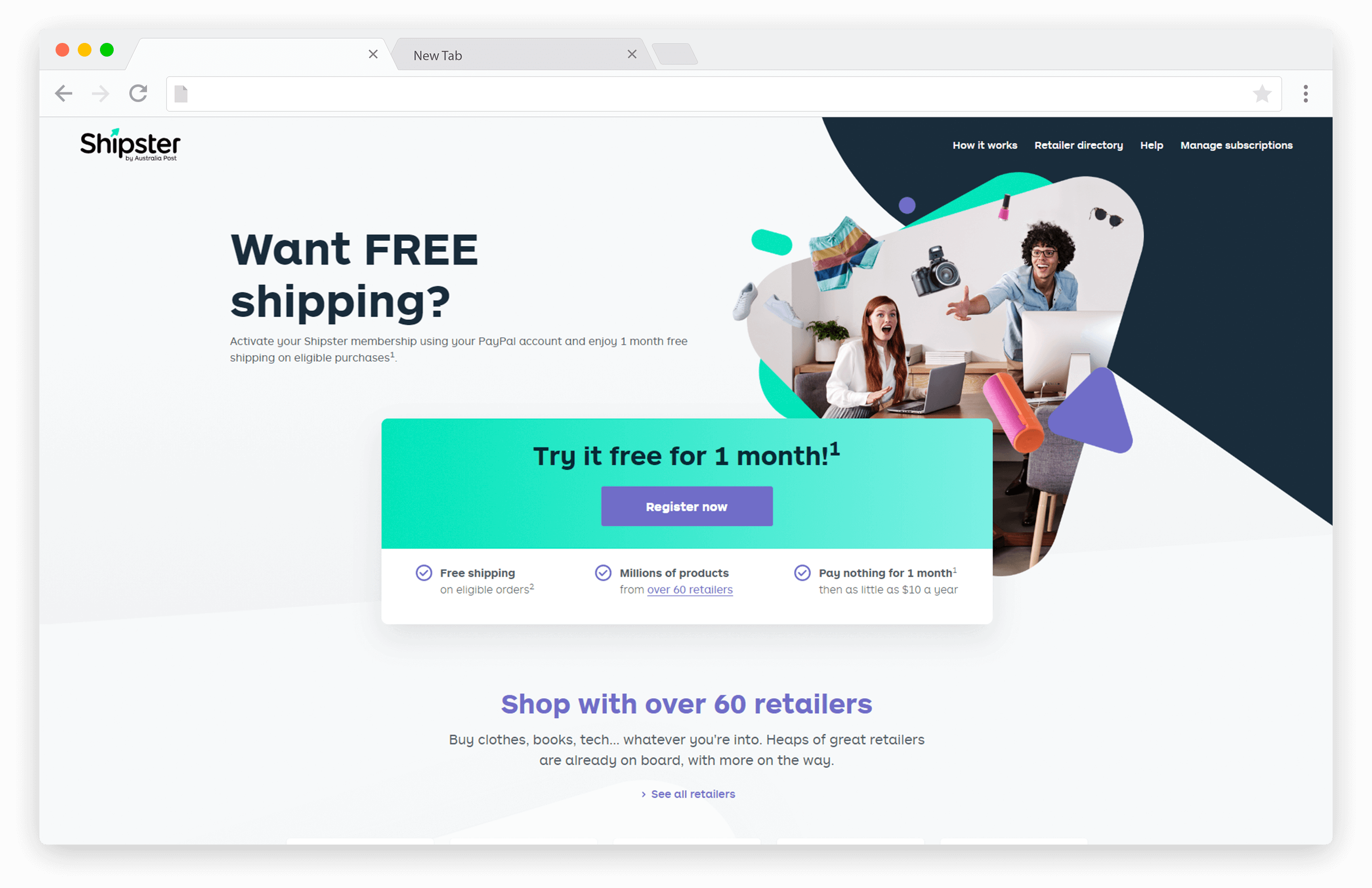 Credit: Shipster by Australia Post
With more ways than ever to send and receive packages, start thinking about how your online business could improve its delivery process for 2019.
Digitising Real World Experiences
Merge the digital world with the physical world. By including interactive digital experiences in-store you can create a sense of wonder for customers. Amazon is one of the companies who executed this, with their concept store, Amazon Go.
Credit: Amazon Go
Imagine a grocery store with no checkout, you simply take the products you want and leave. Amazon then charges your account. Another example is Walmart who have implemented "Scan & Go" technology that enables customers to scan products as they put them in their carts.
Additionally, customers at Tesla Motors' Toronto (Canada) store, can configure their own Tesla car on a large touchscreen, then preview it on an 85-inch video wall in the back of the store.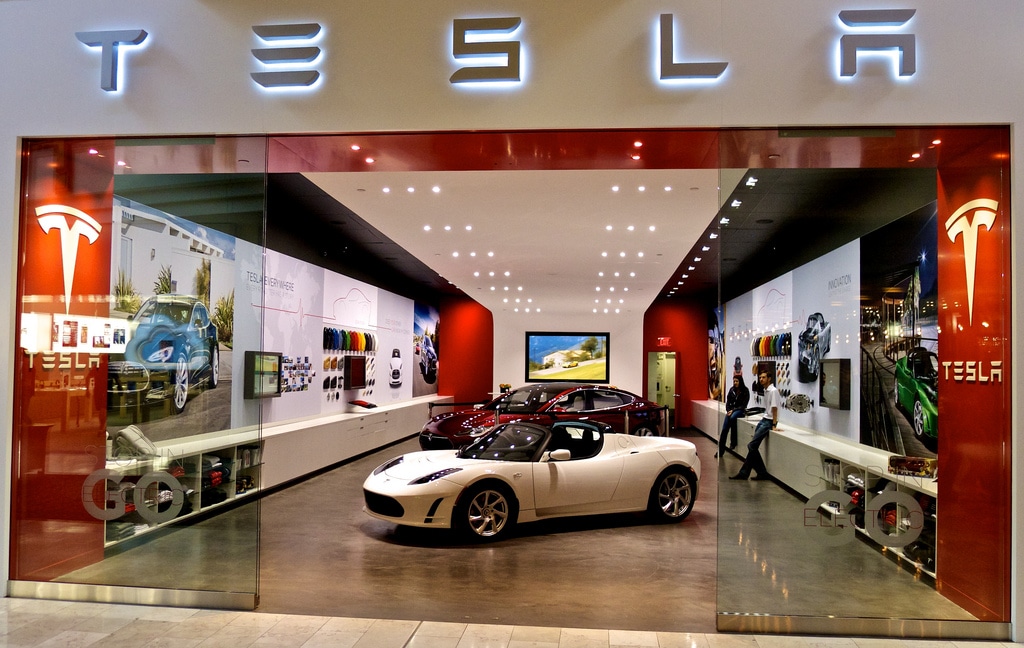 Credit: Tesla Motors
A 2018 report found that on average 38% of people, and 51% of millennials would find a physical store visit more exciting if the retailer used technology. In 2019 we'll see more brands using technology in store to keep visitors engaged.
Easier Checkouts
Providing an easy checkout experience is no longer an option, brands must make this process as simple as possible. Your customers will go to competitors that give them an easier purchase path.
Cart abandonment rate sat at around 79% in 2017. A study in 2017 found that the most common reason for cart abandonment is the extra costs, however most of the other top reasons directly related to the actual checkout experience. 37% said that the site wanted them to create an account and 28% said that the checkout process was too long/complicated.
So what can your brand do to provide an easier checkout experience? Here are a few suggestions:
One page checkout
Autofill fields
Use appropriate input fields
Don't force registration
Allow users to scan credit cards with image recognition software
Below is a great example from The Iconic who use an easy to understand, one-page checkout: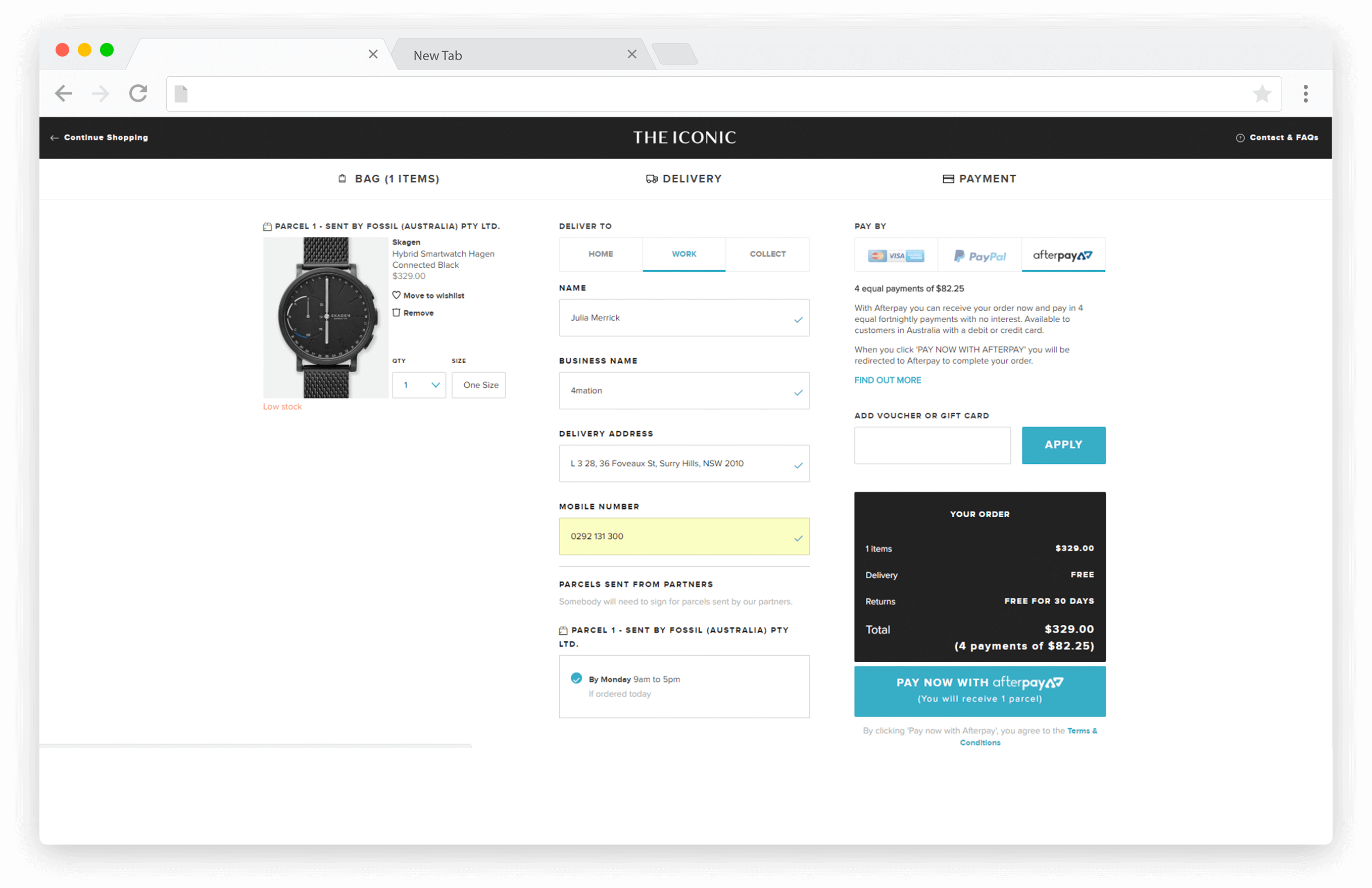 Credit: The Iconic
If you feel that your checkout process is as good as it can be, but you're still losing sales it may be time to invest in a UX specialist or team. Having an expert with fresh eyes can help your brand increase conversions.
In 2019, think about how you can make your customer's checkout experience easier.
Mobile-first Commerce
As more people shop on the go, it will become essential to adopt a mobile-first strategy.
When we say mobile-first, we mean considering mobile design and implementation at the initial stage of website development. It can't be an afterthought or something to do after you build out the desktop version.
Forrester predicts that by 2022, smartphones will account for $175.4 billion (USD) in retail sales. To put that into perspective, 2012 saw U.S. consumers spend $7.8 billion (USD) on retail sales. That's a predicted increase of 2148%!
Mobile-first doesn't have to be daunting, as a first step, review your mobile checkout process to ensure it's user-friendly. For those looking to go a step further, consider Accelerated Mobile Pages (AMP), a framework that enables you to create super fast website pages across mobile devices. The main benefit of AMP is that it increases conversions by keeping your customers engaged as they move through your website.
WompMobile, in collaboration with Google, analysed their eCommerce clients and found that clients which used AMP pages increased conversion rates by 105%, decreased bounce rates by 31% and increased click-through rate from search engines by 29%. Those are some pretty impressive stats to think about for 2019.
Multi-channel Attribution
As the lines blur between the digital and physical world, multi-channel attribution will be more important than ever. This refers to understanding which marketing channels and campaigns are contributing the most towards driving visitors, and ultimately sales.
Knowing your customers' touch points before the point of sale will better inform your brand's strategy and budget. A 2017 study found that 60% of marketers now combine offline and online attribution, up from 45% in 2016.
For a beginner's look into online attribution, Google Analytics offers attribution modelling to determine the relative value of different digital channels for conversions and ROI. For a more advanced look at attribution, you could use software like Bizible, or Looker. Discover which channels are causing blockers or driving conversions.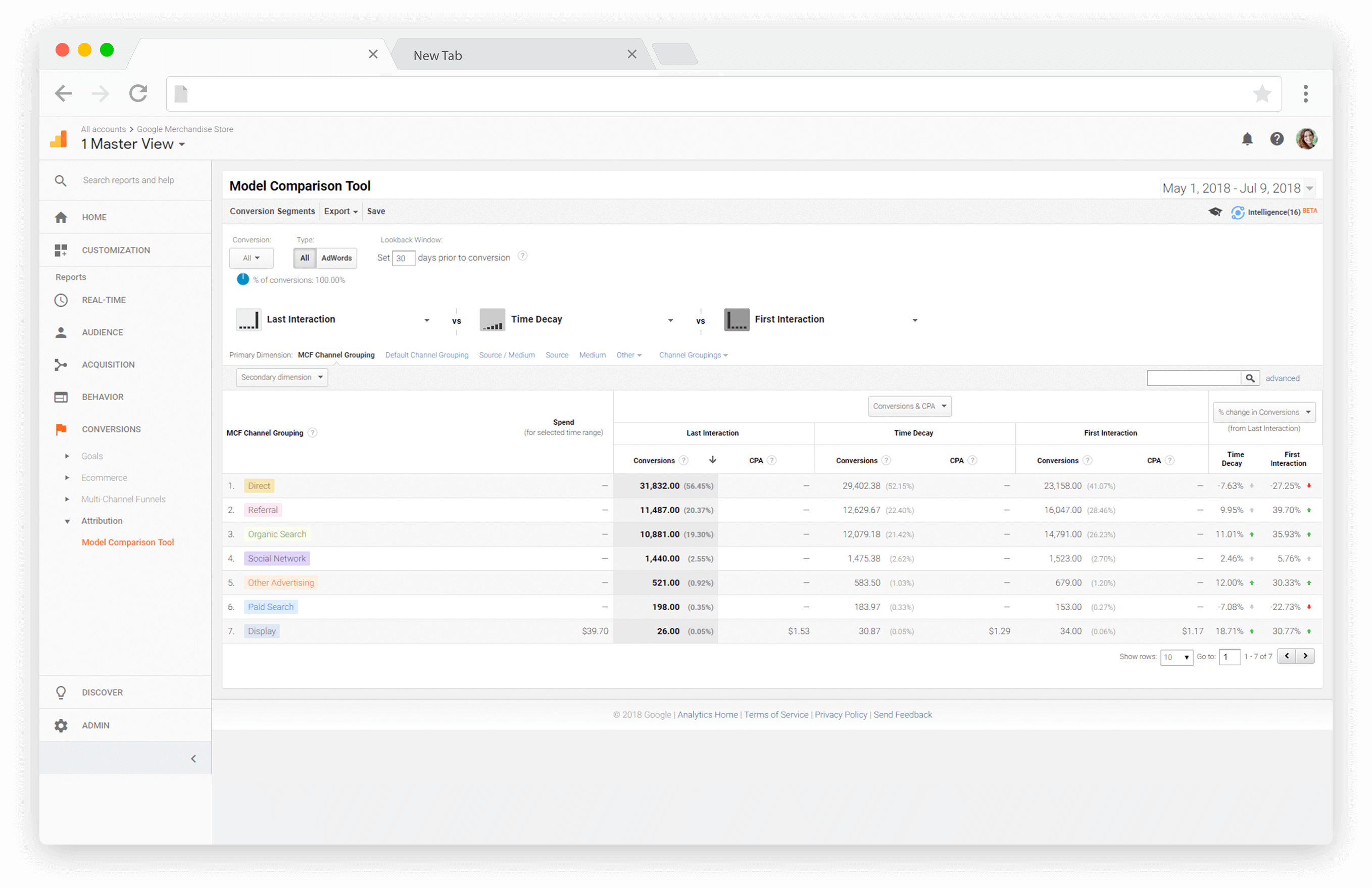 Credit: Google Analytics Solutions
Offline attribution can be a little trickier, however, one trick is to create campaign-specific landing pages, dedicated to driving traffic from the real world. By using custom urls or QR codes, you can track if customers are coming from offline or online.
In 2019, combine your offline and online attribution data to see what channels work best and which ones needs work. It can take a little bit of time, but there have never been more ways to track users over time.
Multi-channel Messaging
Users are on more channels than ever before and it's important to reach them at the right time. Multi-channel messaging allows for this. Basically, this refers to having the regular customer outreach across all active channels.
Many companies still prioritise one channel communication over multiple, however, a recent study found that customers who received outreach in two or more channels, had levels of engagement 166% higher than the single-channel rate. So what does a multi-channel message strategy look like? Think about using email, mobile push notifications, SMS (text messages), and in-app messages in tandem. With each of these channels, you can use customer segments and analytics data to personalise the message and ensure that it is relevant to the recipient.
Australian ready-made meal delivery service, Youfoodz who used multi-channel messaging as one part of their strategy for grow +3,846% over 14 months.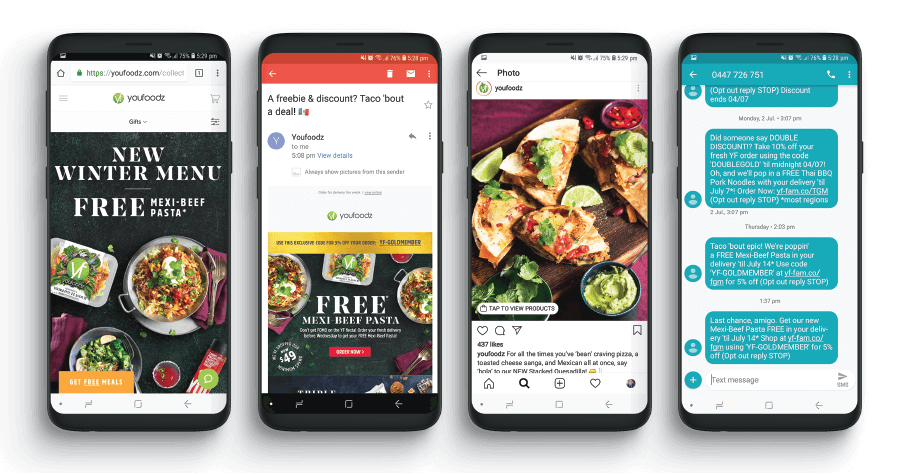 Credit: Youfoodz
When asked to rate the effect multi-channel marketing had on their business, 77% of marketers indicated that multi-channel marketing has a 'major impact' on 'increasing conversions'.
In 2019, multi-channel messaging will be essential to stand out from your competitors
Omni-channel eCommerce
Reach customers at more touch points with an omnichannel strategy. Omni-channel is a multi-channel approach to sales and marketing that aims to provide customers with a seamless shopping experience no matter where they. From mobile commerce to brick and mortar stores, your customer's purchase path should be as painless as possible.
We know that eCommerce sales are growing, however, people are still shopping in stores. 51% think shopping online is best, while 49% prefer shopping in-store.
Here's the interesting thing: although there's a 50/50 split with shopping preference, when it comes to actual spend, those surveyed spent 64% of their shopping budget in store, and only 36% online.
Create convenient purchase journeys for customers who research online, purchase offline (ROPO). Do this by integrating their physical and digital store experiences.
Possibly the most widely-adopted example of omni-channel eCommerce is click and collect, whereby brands allow customers to purchase something online and then pick it up in a store that's close to them. In Australia, 42% of retailers offer click and collect, with more expected to follow.
In 2019, avoid lost sales by considering how your customers interact with all of your channels.
Payment Options
Currently, there are a plethora of online payment methods available. Cryptocurrency (Bitcoin), digital wallets (Apple Pay, Google Pay or Samsung Pay) and instant layby (Afterpay or ZipPay) are some of these options.
Overstock has been selling goods for Cryptocurrency since 2014 and is one of the most well-known companies doing so. Users make an account and can link their coinbase wallet or bitcoin address to make a purchase.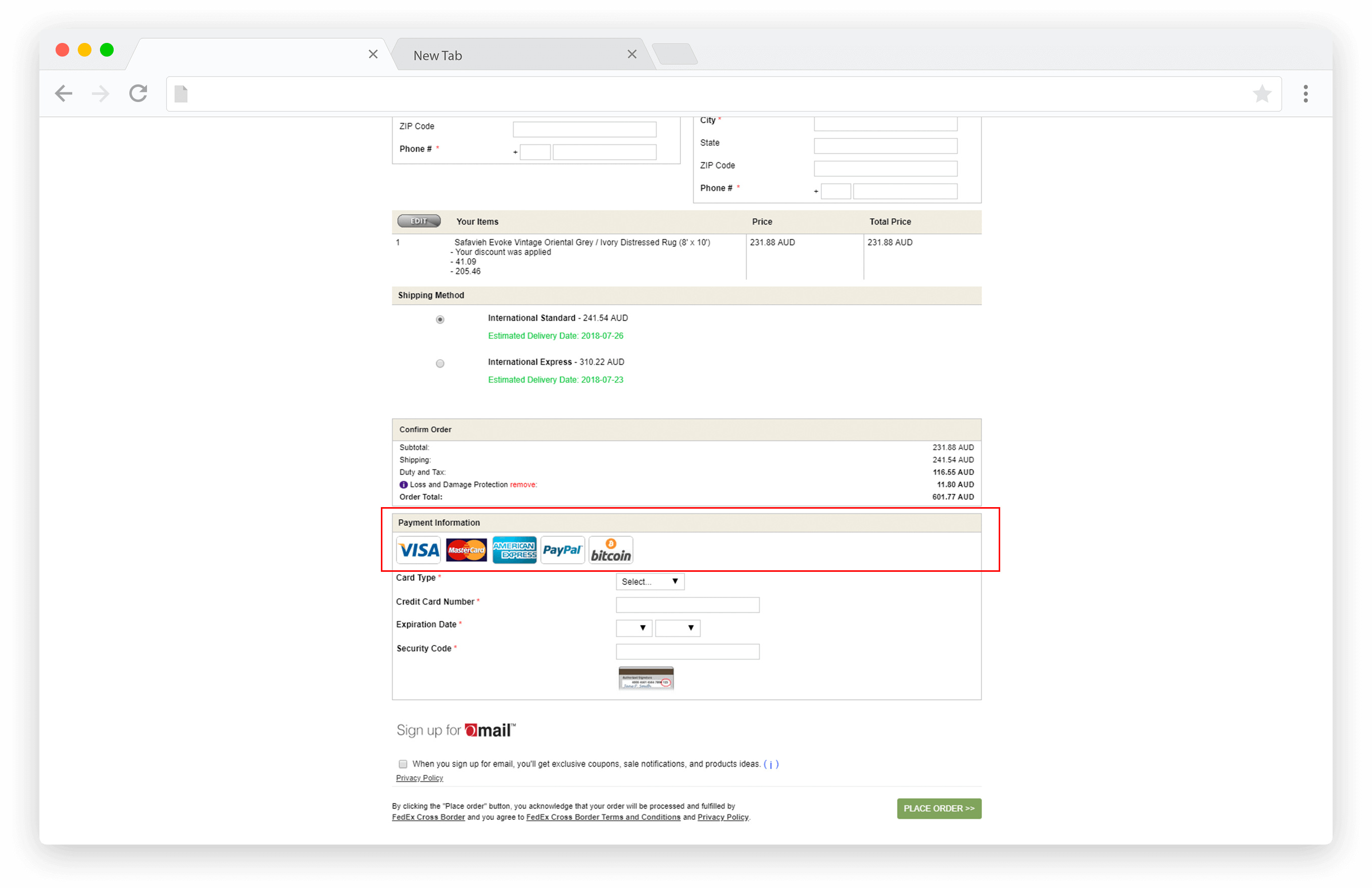 Credit: Overstock
Digital wallets such as Google Pay, Apple Pay, Paypal etc. are an electronic device or online service that allows an individual to make electronic transactions. They provide a safe way for users to securely store sensitive credit card info online, removing the hassle of having to bring cards out every time they want to make a purchase. The Washington Post reported that 70% of people believe that mobile payments will overtake cash and cards by 2030.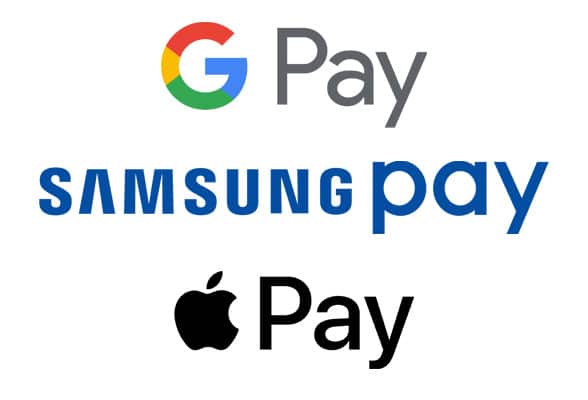 Credit: Apple Pay, Google Pay, Samsung Pay
Instant layby options like Afterpay and ZipPay have arguably taken retail by storm, and eCommerce has surely felt the effect. These solutions allow customers to make a purchase with a deposit, sometimes without. They can have the product instantly, without waiting until the item is paid off.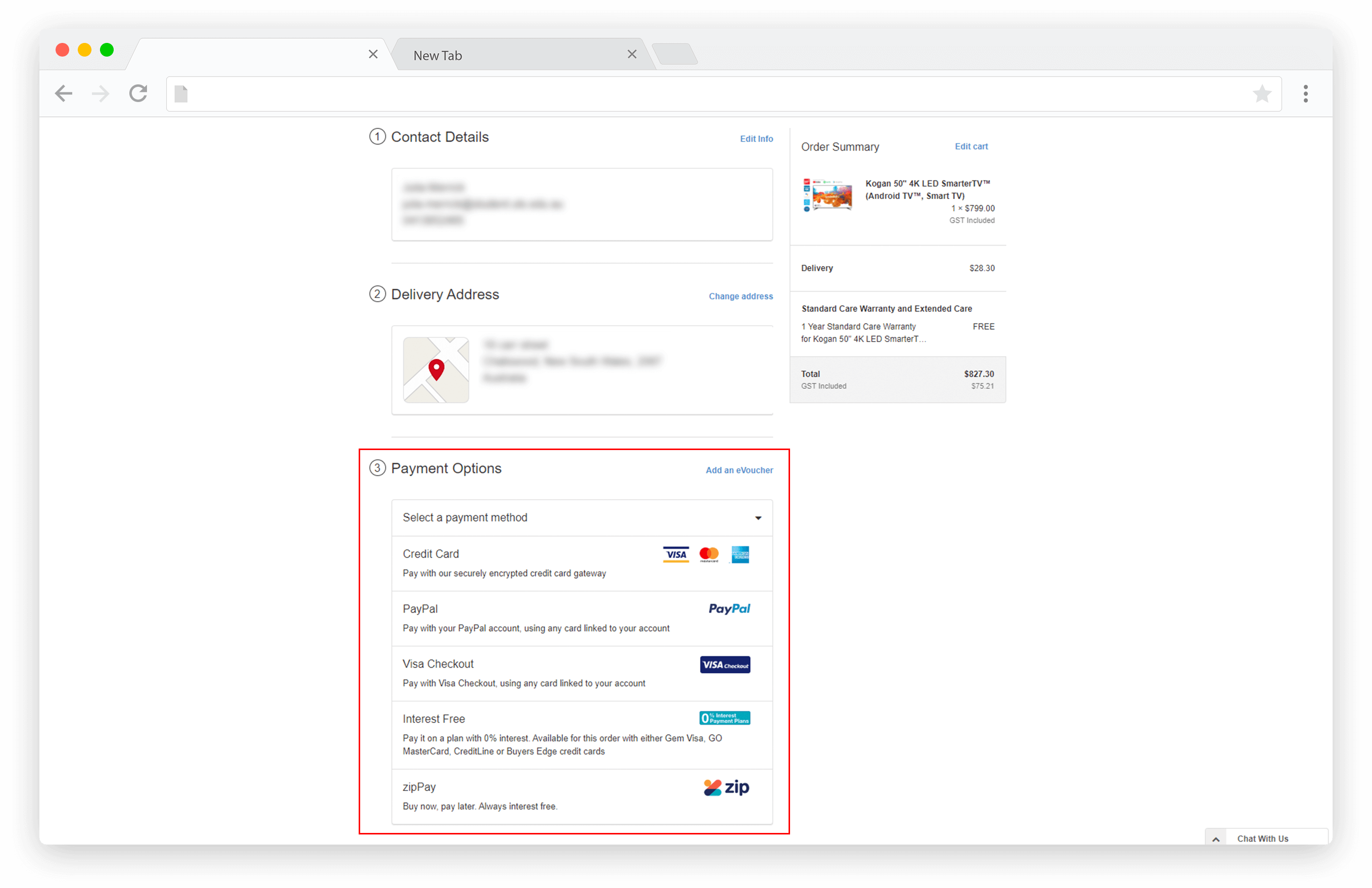 Credit: Kogan
The rise of new forms of payment is to meet the consumer's need for a more frictionless checkout experience. Retailers that force buyers to fill out long forms fail to understand that a convenient and fast payment method can increase conversions by more than 20%. Digital wallets alone can mean 3X mobile cart conversion.
To stay competitive, streamline and improve ways for your customers to pay in 2019.
Personalisation
Customers expect personal experiences when shopping. Brands like Amazon and The Iconic are good examples of how eCommerce can get personal. Personalisation for eCommerce broadly refers to all the ways online businesses personally target and appeal to customers.
Amazon.com can attribute 35% of their revenue to the product recommendations engine.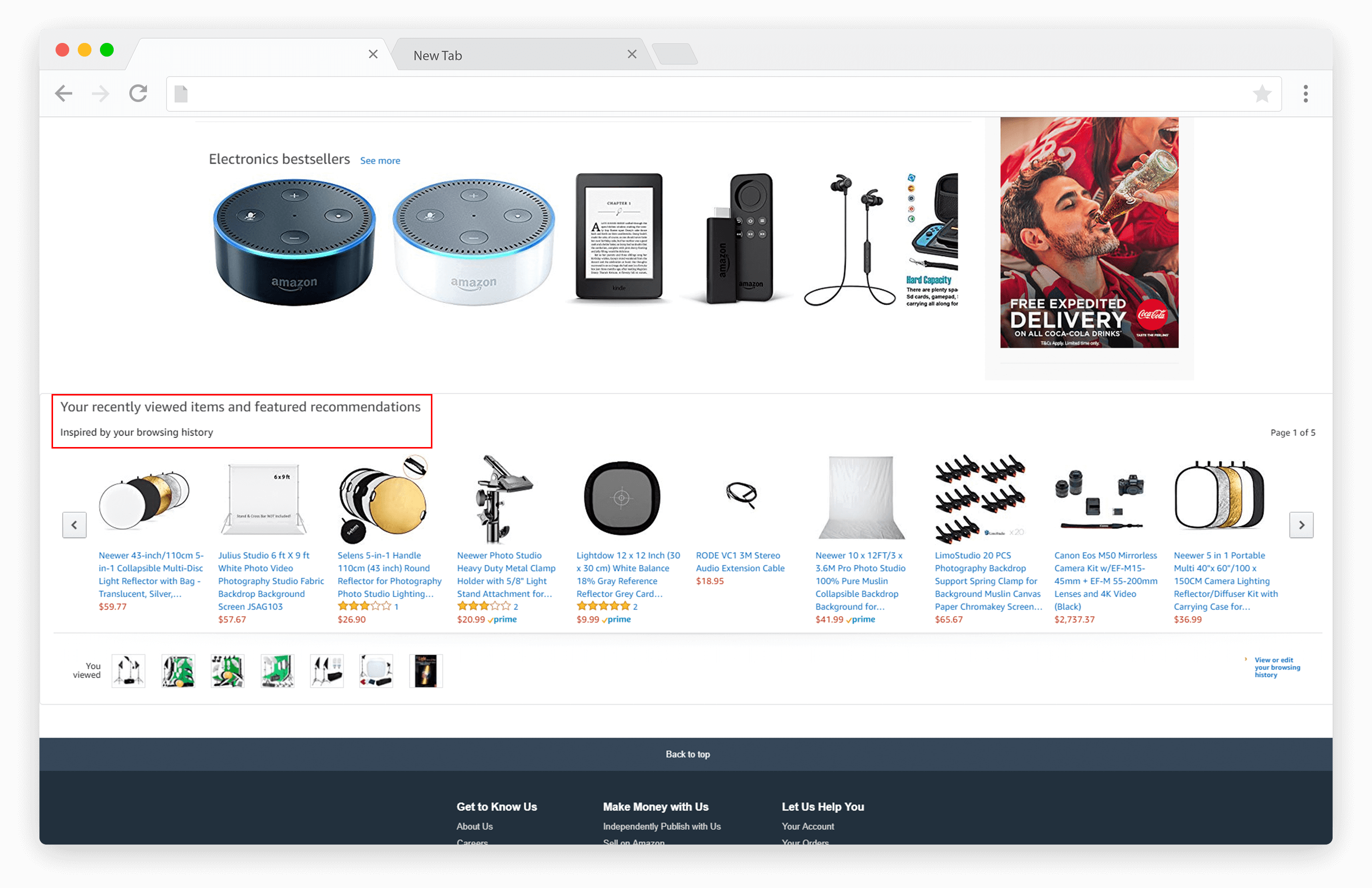 Credit: Amazon
The Iconic have emulated tech companies and even have a dedicated personalisation team for different departments. By 2020, personalisation technology that responds to customer intent could lead to more than a 15% increase in eCommerce profits for brands.
As your customers increasingly expect personal experiences, they also want a role in creating products that better reflect their identity. Nike is an example of how companies can offer a customized service by providing product personalisation with NIKEiD.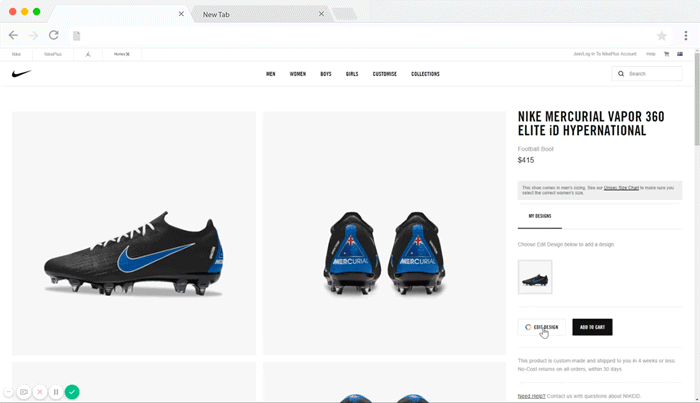 Credit: Nike
AI will drive how your brand targets and tracks customers to deliver personal experiences. In 2019, we'll see an increase in machine learning algorithms working to show customers tailored landing pages, content and ads.
Social Shopping
Increasingly, people are shopping on social media platforms. I'm sure if you're on Facebook or Instagram, you've seen ads in your feed displaying various products and/or services.
Social shopping extends beyond advertising with new features on social channels added regularly. In March 2018, Instagram launched a new feature which allows brands to tag up to 5 products in a post. The tags display product information like price and a link to purchase.
Instagram isn't the only platform for engaging and 'easy-to-buy' posts. Pinterest is another social platform that provides brands with a number of ways to share their products. Its point of difference is visual search. Opposed to Facebook and Instagram infeed ads, Pinterest users are actively looking for what they want.
Here are the types of pins to use:
Promoted pins display as normal pins, the only exception is you pay to have more people see your pins.
Rich product pins include real-time pricing, availability and where to buy info.
Buyable pins let people buy your products without ever leaving Pinterest.
Ultimately, 61% of 'Pinners' have made a purchase after seeing business content on Pinterest.
If you're looking to reach a younger demographic, try Snapchat – their brand-friendly Lens feature allows companies to create promoted filters. Users can shop directly from the app and Snapchat are calling it "shoppable AR", a combination of augmented reality and shopping.
Earlier this year, Snapchat showcased its eCommerce capabilities with a slam dunk. Nike, in partnership with Shopify and Darkstore, sold out limited edition Air Jordan III Tinkers in 23 minutes. Users at an NBA after party scanned special Snapcodes which brought up the in-app shopping for the Air Jordans, once purchased, they received the shoes that same night.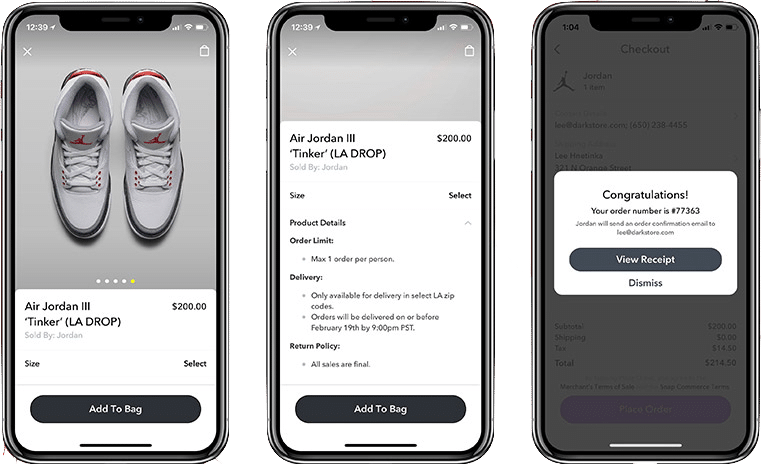 In 2019, think about creative ways you can use social platforms to enhance your eCommerce presence.
Subscription Services
The Subscription business model isn't new, magazines and newspapers have been doing it for years, however increasingly, eCommerce is using this method to differentiate their offering.
Subscription services offer convenience and peace of mind for consumers. They know that their product will be there when they need it and it makes budgeting easier. For brands, you'll be able to predict revenue, reduce churn and an ability to scale up or down as suites.
Birchbox is a cosmetics 'beauty box' subscription that provides people with a monthly box filled with 5 personalised samples for users. They offer an easy to follow subscription model and keep growing, 2017 saw the company ship 1.5 million beauty boxes with a 63% increase in subscribers.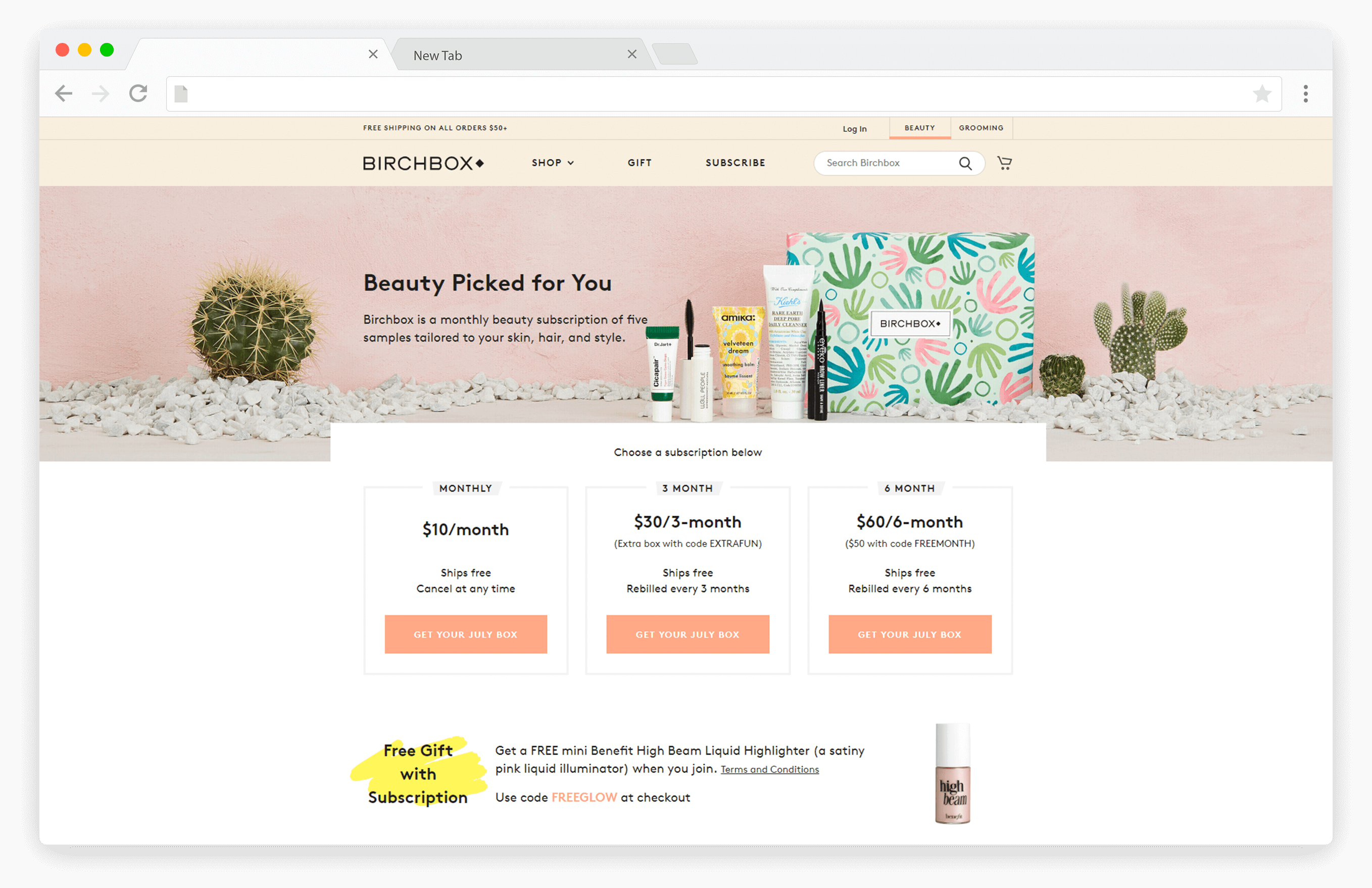 Credit: Birchbox
Another example of a subscription service that does things differently is the Dollar Shave Club, which offers a simplistic and stylistic approach to men's grooming.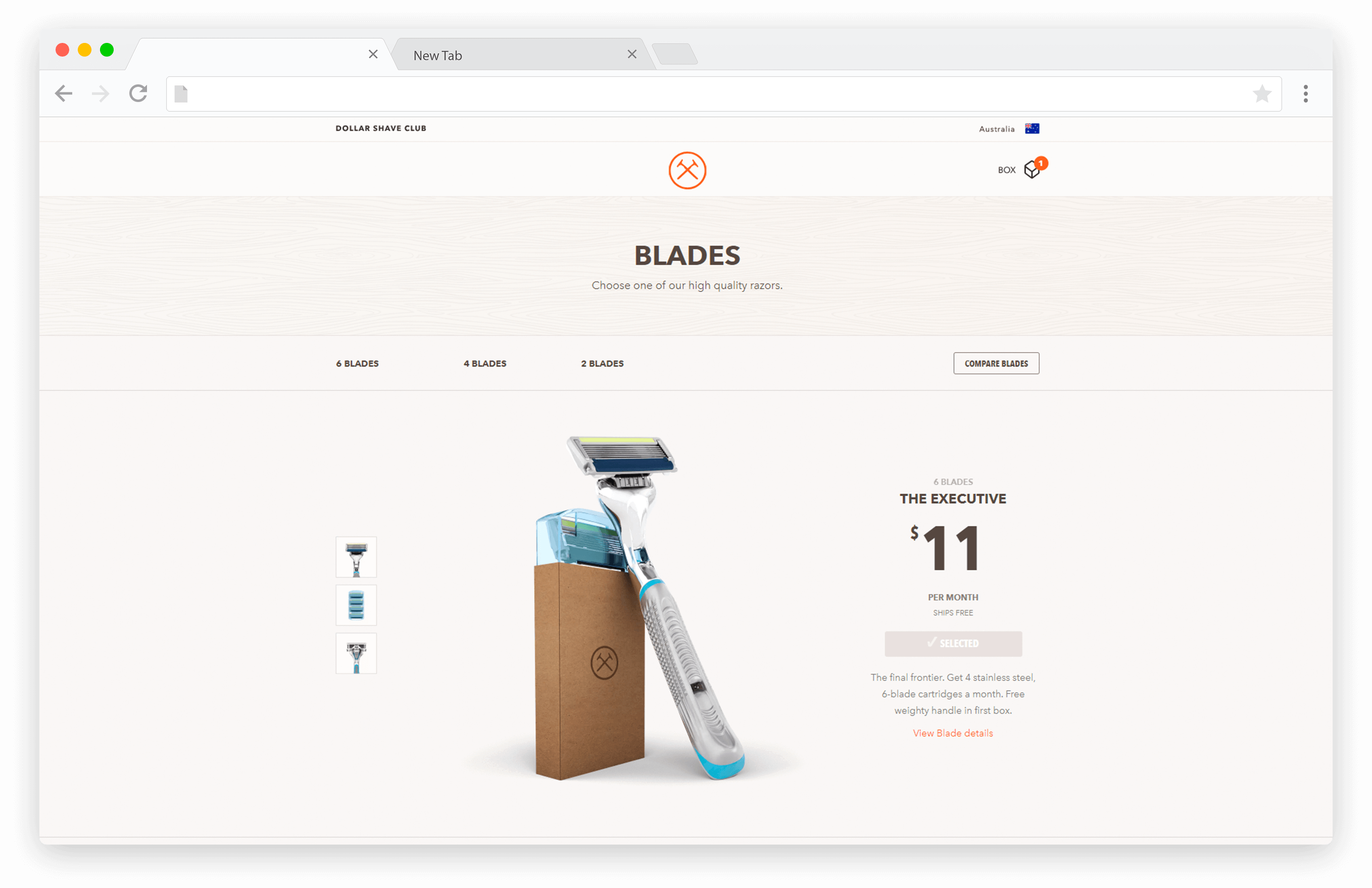 Credit: Dollar Shave Club
The founder, Michael Dubin saw an opportunity in the market for men's razors. He presented a fun and casual approach to grooming, in stark contrast to companies like Gillette who showed a serious, hyper-masculine, high-tech angle.
Subscription eCommerce sales totalled more than $2.6 billion (USD) in 2016, in 2011 it was worth $57 million (USD), that's a 4,461% increase in sales.
If you've thought about a subscription-based approach to product distribution, 2019 may be the year to start.
User-generated Content
The rise of user-generated content (UGC) is enabling brands to be lead by their communities. If you've not heard of User Generated Content, it refers to any content that is created by users. Examples of this could be any media (videos, images, etc.) that a customer/fan/follower has created in relation to your brand.
Many cosmetics and lifestyle brands have realised the power of UGC and you only have to hop on Instagram or YouTube to see examples of this.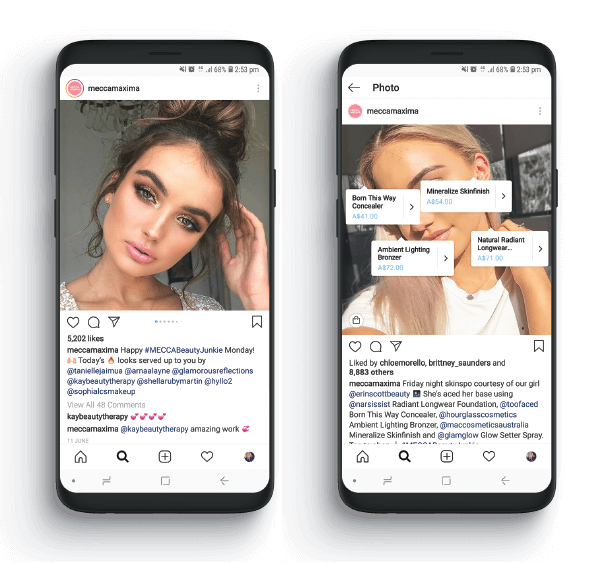 Credit: Mecca
Brands like Mecca will encourage their followers to share makeup looks and then 'regram' their followers' posts. These have usually been hashtagged with a custom hashtag and/or the brand has been tagged in the image.
This active engagement results in a loyal customer following and fantastic word of mouth marketing. PWC recently found that social networks are the number one choice of online media, that survey respondents used to find inspiration for their purchases.
It's not just social networks your brand can leverage, with a 20-30% increase in conversion rate when UGC is shown at the moment of purchase.
If you're not already involving your customers, now is the perfect time to start in time for 2019.
Video Content
Video has taken the internet by storm, with 80% of all web traffic predicted to be video by 2019.
User's appetite for video content is insatiable and brands should create videos to cater to this. Brands can use video in a number of ways, brand films, animation videos, educational videos, product videos, testimonials, FAQ videos. The main benefit of using video is that your customers will be more engaged and more receptive to the message.
In the realm of eCommerce, brands that provide product videos increase conversions and reduce product return rates. This makes sense as users are able to preview products more accurately. They can see the item being used/worn and can picture it in their own lives.
Asos have done this really well, most of their products have a video to showcase them.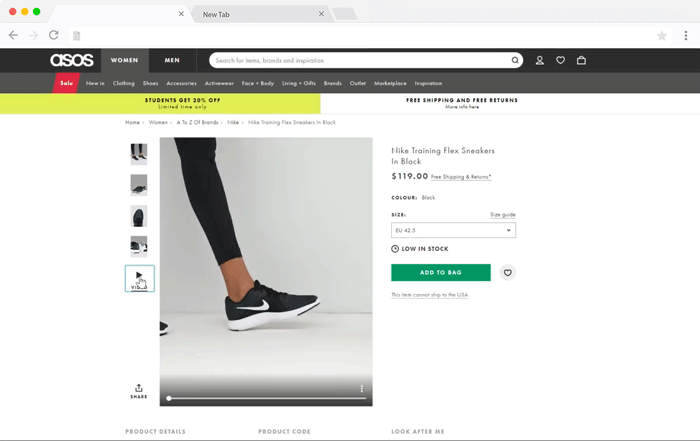 Credit: Asos
If you're wanting to take it a step further, you can do what Society6 did for their unique coffee mugs.
Credit: Society6
In 2019, use video to connect with your customers. Think outside the box and brainstorm ways to creatively highlight your product or service.
Voice Commerce
The rise of voice technology has led to new ways users search and interact with devices. Naturally, voice is now being used to search and purchase products. 'Voice commerce' is the term given to these transactions that occur through voice.
A 2017 survey found that 41% of people who own devices like the Amazon Echo and Google Home plan to purchase something with voice technology in the future. OC&C Strategy Consultants estimates that by 2020, voice commerce will total $40 billion sales in the U.S. alone.
It's no wonder that so many people are considering buying something though voice, as it provides much less friction than most check out experiences. Users can simply ask to purchase something.
Google and eBay have partnered up to allow users to talk to eBay through the Google Assistant app. I tried it and this is what it looked like: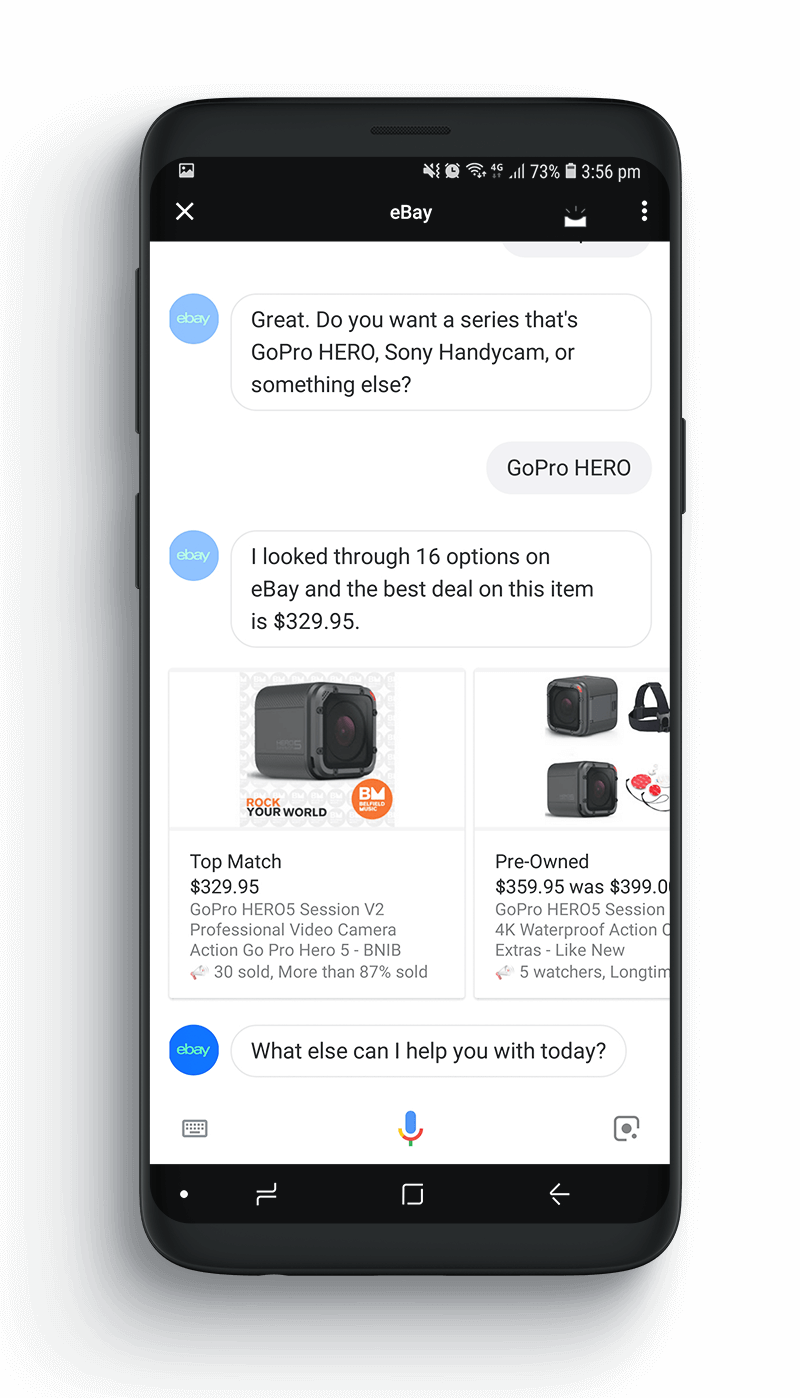 Credit: eBay, Google Assistant
It was quick, and fun to use. eBay even had their own custom Australian male voice that responded to me.
In 2019, voice will only increase in adoption rate, it's no longer a thing of the future, so kick start your voice commerce efforts now to see long-term results.
Website Performance
Optimising your website performance is essential, and as users demand better online experiences this will only increase in importance over time.
A Google poll revealed that the number 1 frustration users had when browsing on their mobile device was slow load time, with 60% expecting a page to load in 3 seconds and a whopping 75% abandoning after 5 seconds.
79% of shoppers who are dissatisfied with website performance are less likely to buy from the same site again. Even a 1-second delay in page response can lead to a 7% reduction in conversion rate.
Increasing your site speed improves your customers' experience and your bottom line. On top of this, it'll also help SEO, with Google's ranking algorithm favouring optimised websites.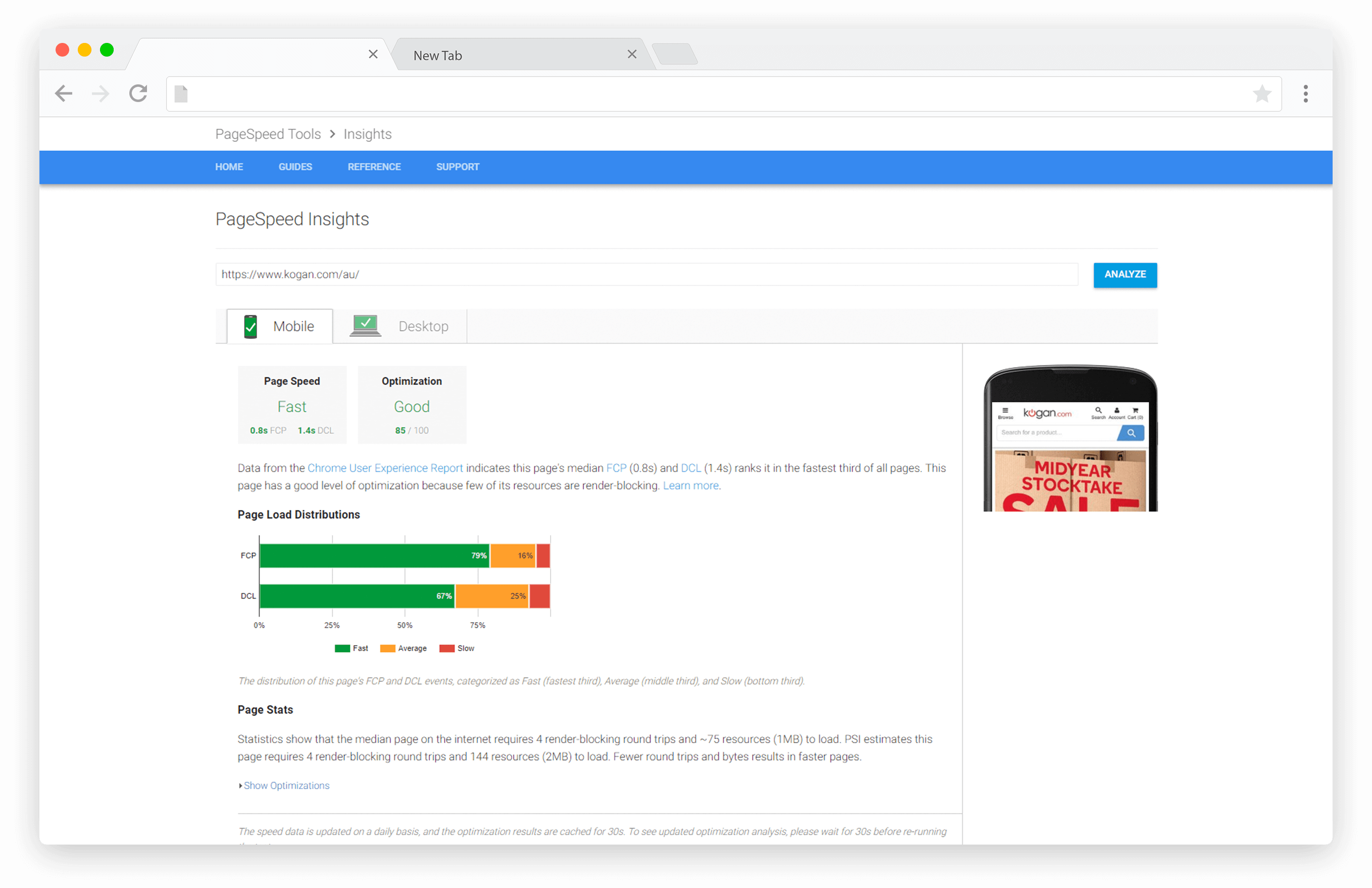 Credit: Google PageSpeed Insights, Kogan
A few quick tips would be to use images sparingly or decrease the number of JavaScript carousels. For more information, check out this article.
In 2019, make sure your website is as fast as it can be and that it works well across any device or browser.
---
Through this article, we've provided you with 20 actionable eCommerce trends to prepare your online store for 2019. Whether you've already started exploring these trends or are just starting to work through this checklist, 4mation's team of designers, developers and strategists are here to help.

4mation is a full-service digital agency with over 20 years experience delivering digital solutions that help our clients innovate faster. Our team can help you create and execute an eCommerce strategy for 2019 to achieve your business goals.

Ready to get started! Let's chat about your eCommerce strategy for 2019.