Best Overall Company – Business Excellence Awards 2017
We are thrilled to be announced Winner of Best Overall Company at the 2017 Business Excellence Awards Ceremony.
The Business Excellence Awards recognise and honour the accomplishments, achievements, value and contributions of businesses, the 'best of the best' in small to medium sized businesses.
The Business Excellence Forum is run by ActionCOACH, who have provided our team with invaluable coaching sessions and mentoring that has helped us grow as a company and has contributed to helping us achieve this incredible award.
Since our inception in 2001, our team has continually strived to develop a strong and supportive workplace culture that inspires innovation, personalised customer service and rapid, sustainable growth. This award has helped recognise and highlight the enormous contribution made from everyone, top to bottom of the company in their efforts to achieve excellence not only in our industry, but among small businesses Australia-wide.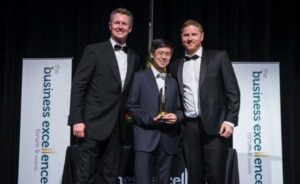 We truly believe we tick all the boxes for what makes a great, overall company in terms of culture, client satisfaction, industry reputation, financial stability, strong leadership and future growth prospects. We've created an environment where our team members love to work and are inspired to achieve greatness. In an industry that has seen many digital agencies come and go, 4mation has gained a reputation for technical authority, reliability and stability throughout our 20 years of existence. With our tried and tested business processes in place we believe 4mation has a strong future ahead of it as we work towards implementing our interstate and international growth plans.
We want to thank all of our team members who have worked tirelessly to make this company outstandingly successful since we began in 2001.