4mation Advanced Tech team places 1st in the Sydney Rides Business Challenge
Congratulations to our Advanced Tech team for winning the Sydney Rides Business Challenge!
What is the Sydney Rides Business Challenge?
The Sydney Rides Business Challenge is a fun, free competition to encourage your colleagues to experience first-hand the joys and benefits of riding a bike. With many of our staff having a keen interest in health and fitness and regularly cycling to and from work each day this was the perfect opportunity for us to get involved. One of our key values at 4mation is "fun" and this activity certainly aligned with this value. Click here to read more about Sydney Rides Business Challenge.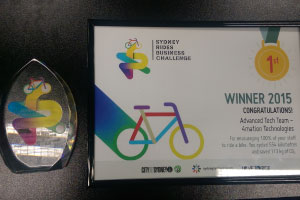 The rules
The rules were straightforward – Ride a bike anywhere, anytime for at least 10 minutes between Monday 23 March and Sunday 19 April 2015. We were fresh of the mark and eager to get our name out there.
The winners and our results
After 4 weeks of cycling we were very proud to accept our 1st place award and being crowned the 2015 winner. We cycled a total of 554 kilometres and save a phenomenal 113kg of carbon dioxide. A fantastic result – Well done to our Advanced Tech team!
Our culture at 4mation
Our team culture is something that we're very proud of at 4mation. Our values of Creativity, Passion, Learning, Transparency, Accountability, Reliability, Teamwork and Fun really shape our day to day and guide us through our work. Sound like a place you'd like to work? Click here to see our current opportunities.