4mation Technologies Announces Premier Mixpanel Partnership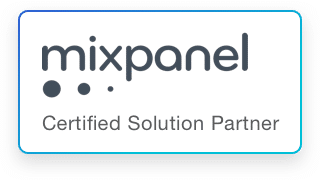 Sydney, Australia: Today, Surry Hills development agency, 4mation Technologies and Mixpanel announced a strategic partnership to bring Mixpanel's advanced analytics product to Australia. 4mation will be Mixpanel's premier APAC partner, collaborating to bring great customer experiences, driven by data, to APAC companies.
This partnership will add to the broad digital services already offered by 4mation. As a certified solutions partner, 4mation will provide clients with ongoing Mixpanel product support and tailored business insight. Mixpanel and 4mation will help clients answer questions about user behaviour in seconds, without requiring analytics experience. This enables product, marketing, and analytics teams to act faster to improve experiences, engage users and drive growth.
Jason Hincks, 4mation Technologies said: "The 4mation team is thrilled to be Mixpanel's first, and only certified APAC solutions partner. The Mixpanel product helps companies find opportunities for innovation, and helps to accelerate company growth" he continued, "These two benefits are very well aligned with 4mation's mission to help clients innovate faster. We are excited to see what this important partnership brings for companies in the APAC region."
Mixpanel's competitive difference is that it offers highly accessible analytics data to users. The solution captures events-based data, rather than session-based data, meaning businesses can track their users' digital activity in greater detail than if they used alternative solutions.
"Mixpanel's Solution Partners program is building a powerful global ecosystem to offer powerful insights to analytics," said Justin Lau, Head of Partnerships at Mixpanel. "We're excited to add 4mation to this network to answer the needs of our Australian and Asia-Pacific based customers."
About Mixpanel
Mixpanel is helping the world learn from its data by translating user behaviour into actionable knowledge. As the leading user analytics platform, Mixpanel tracks interactions to surface information that provides valuable insights which enable businesses to make smarter decisions, break down knowledge silos and drive intelligent innovation. Mixpanel is headquartered in San Francisco with offices in New York, Seattle, Salt Lake City, London, and Singapore. For more information about Mixpanel, visit: mixpanel.com.
About 4mation
Recognised as one of Australia's top 100 tech companies to watch in 2018, 4mation is on the rise. Since our foundation in 2001, we have grown to a team of over 80 of the brightest minds in the industry. 4mation is dedicated to producing digital solutions that people love to use and count amongst its clients some of the country's biggest companies, with a generous helping of the most exciting and innovative start-ups. For additional information on 4mation, visit: 4mation.com.au.
Contact us
To learn more about this partnership, please contact:
4mation
Level 3, 28 Foveaux St, Surry Hills NSW 2010
Office  +61 2 9213 1300
marketing@4mation.com.au
Mixpanel
405 Howard St, San Francisco, CA 94105, USA
alia.lecam@mixpanel.com