7 Innovative Aussie Online Stores
We posted a deep dive into the 20 hottest eCommerce trends for 2019. Following on from that, we've decided to take a look at Australia's most innovative online stores and rate them based on how many of our 20 innovative trends they're across.
Before we get into the companies and what they're doing I'd like to share some key findings from initial research. When accessing the online stores against the 20 innovative trends, I found that Aussie web stores are excelling in a few key areas yet falling short in others.
Out of our seven most Australian online retailers, only one had used augmented reality (AR), one possessed a voice app, and not a single online store has a virtual reality (VR) offering. This leaves them well behind their American counterparts who are increasingly offering new and innovative digital experiences to their customers. On the flip side, there are strong areas for all. Every single one of the top seven has great delivery options, consistent multi-channel messaging and engaging video content.
What does this mean for your online business? Firstly, there are definitely areas for your online business to be a leader. Consider how AR, VR or a voice app could bring value to your business and differentiate your positioning in the market. Secondly, to ensure competitiveness, offer extensive delivery options, have consistent multi-channel messaging, and create interesting video content.
Of course, there are other things your online brand could be doing, but based on our research, those are trends to keep front of mind for 2023 and beyond.
Dan Murphy's
Alcohol | Integrated | >1M customers
Dan Murphy's is an Australian liquor supermarket chain. Owned by Woolworths, they have over 170 stores across the country. Additionally, Dan Murphy's owns an online store, which in 2016, accounted for more than 50 per cent of online alcohol sales in Australia. This market share isn't through sheer luck or brand awareness alone, the giant liquor merchant offers customers a fantastic online experience.
Two key areas stood out for me. The first is their excellent delivery options, the headliner being their ShipSmart subscription service. Members can pay an annual flat rate for unlimited delivery. For loyal members, this affords peace of mind. Beyond ShipSmart, they offer click & collect and the choice of items being chilled ahead of time – oh, and they'll even text you when your order is ready. On Dan Murphy's side, they'll be notified when you're within 400 metres of the store. This means that when you go to collect your order, the Dan Murphy's will have it ready when you arrive.
The second area is voice commerce. Out of all 7 of the businesses on this list, only one has a voice assistant, and that's Dan Murphy's. The voice assistant's sole purpose isn't to sell you alcohol, it's actually to help you make cocktails. I had a play with it and was pleasantly surprised. You can ask it for cocktail recipes with what you have on hand, or what you feel like. It'll tell you what ingredients you need and the steps you need to take in order to create the cocktail of your choice.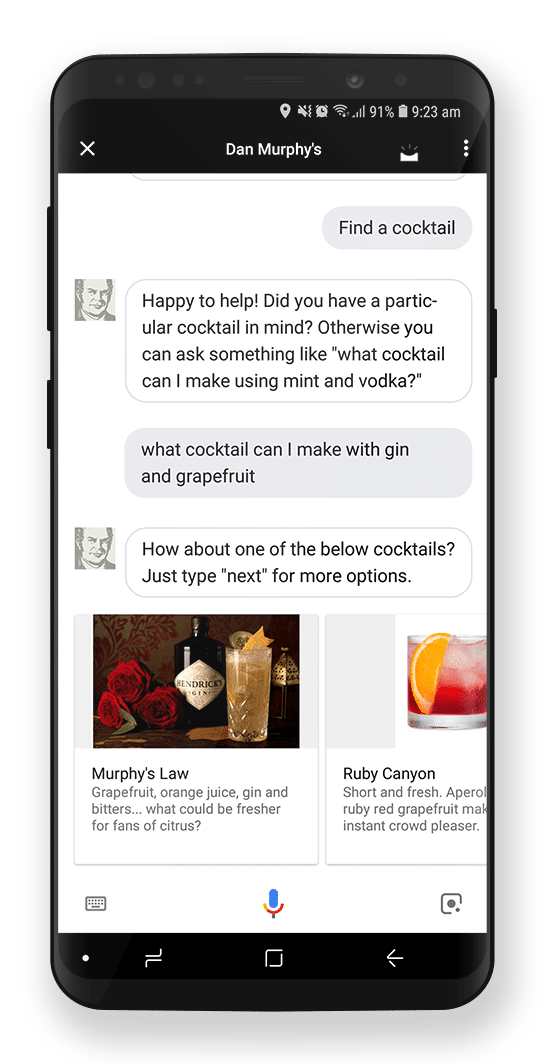 Dan Murphy's has earned the following innovation badges:


The Iconic
Fashion | Pureplay | >1M customers

The Iconic is the leading Australian online fashion retailer, offering 1000 local and international brands, and more than 60,000 products. Every month the site attracts more than 12 million visits, making it the most visited Australian fashion destination. At only seven years old, The Iconic has grown 50 per cent year-on-year over the last few years.
In Australia, the share of fashion bought online is 10 per cent, in the US and UK it's between 18 and 20 per cent. Because The Iconic is pureplay, it needs to work extra hard to win Australia's attention, therefore its year-on-year success is no mean feat. Through a customer-centric focus, The Iconic's innovative approach to how it meets its customers' needs is notable.
The overall checkout experience with The Iconic is smooth-sailing, with one-page checkout and a multitude of delivery and payment options available to customers.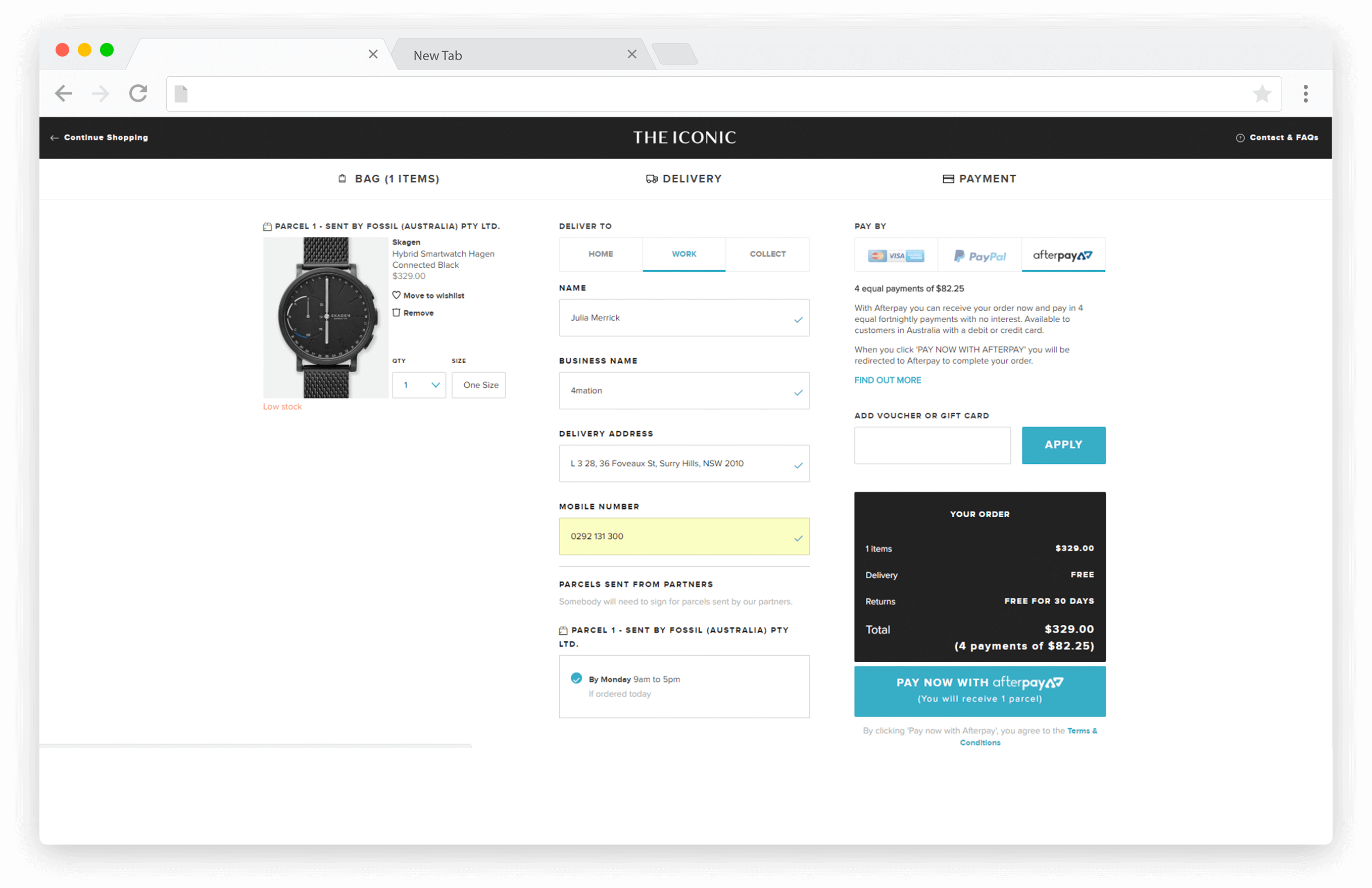 The fashion powerhouse also uses automation to streamline processes. From communication with customers, to the brands they offer. In an interview with CMO, Anna Lee, COO at The Iconic revealed that the online business has a 99.8 per cent on-time dispatch rate. That number simply wouldn't be possible without their rigorous automation solution.
The Iconic has earned the following innovation badges:
MECCA Brands
Cosmetics | Integrated | >1M customers
MECCA Brands is an Australian premium beauty retailer with 90 stores across Australia and New Zealand, with an additional 10 to open up by the end of the year. Beyond the physical stores, Mecca has their online store too. Mecca.com.au is the largest player in the online beauty market in terms of sales and web traffic for Australia.
Mecca blends the digital and physical worlds by taking an exceptional approach to omni-channel experiences for customers. They've integrated online trends to evolve their in-store and product offering. Mecca's physical stores opened their doors 20 years ago, and its founder, Jo Horgan has embraced digital transformation every step of the way.
"This [digital transformation] allows Mecca to not only leverage digital as a way to connect with our customers, but it ensures we stay laser-focused on the in-store customer experience with a goal of making it ever more compelling – be that through additional services, group tutorials, integrating digital into store.." – Jo Horgan for Inside Retail
Mecca also uses video content to engage its online and physical audience. Combined with social platforms, this video content has earned them organic reach and engagement that digital marketers dream of.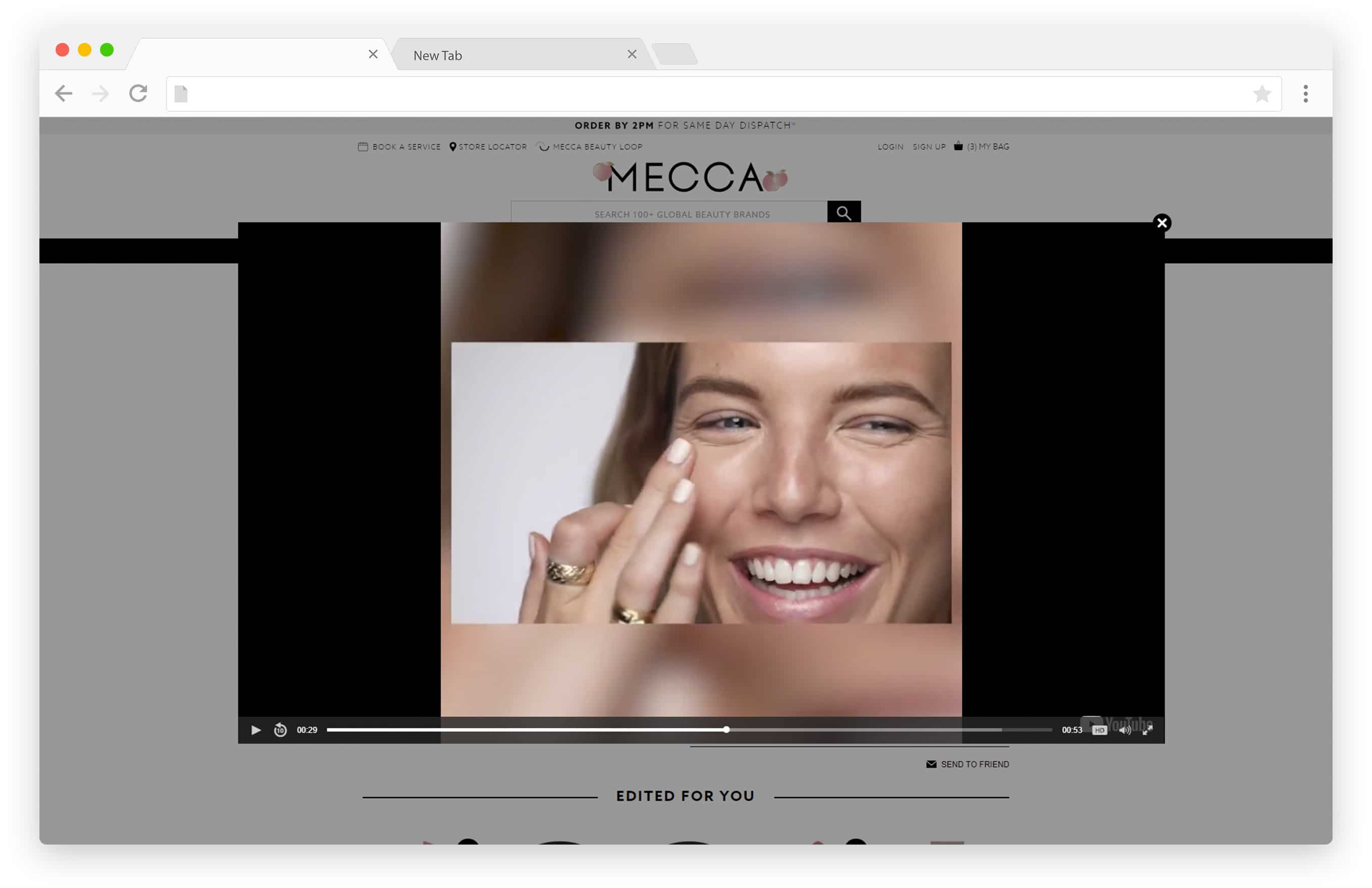 Last year they brought their popular #MECCABeautyJunkie YouTube videos into stores. Built into the Beauty Bars located at the centre of select stores, 10" displays enable customers to view and simultaneously try products prior to purchase.
Mecca has earned the following innovation badges:
The Daily Edited
Fashion | Integrated | <500k customers
The Daily Edited (TDE) is an Australian personalised leather goods company that started as a blog. It now has a thriving online presence and multiple physical locations across three countries. Although TDE has a growing network of stores, 70 per cent of sales still come through their online store, thedailyedited.com.
The Daily Edited capitalised on the millennial woman's desire for personalisation and customisation. Their signature monogrammed look has even caught the attention of celebrities, such as Hailey Baldwin. The demand for TDE products is so high that its limited-run designs sell out within days of being offered up for sale.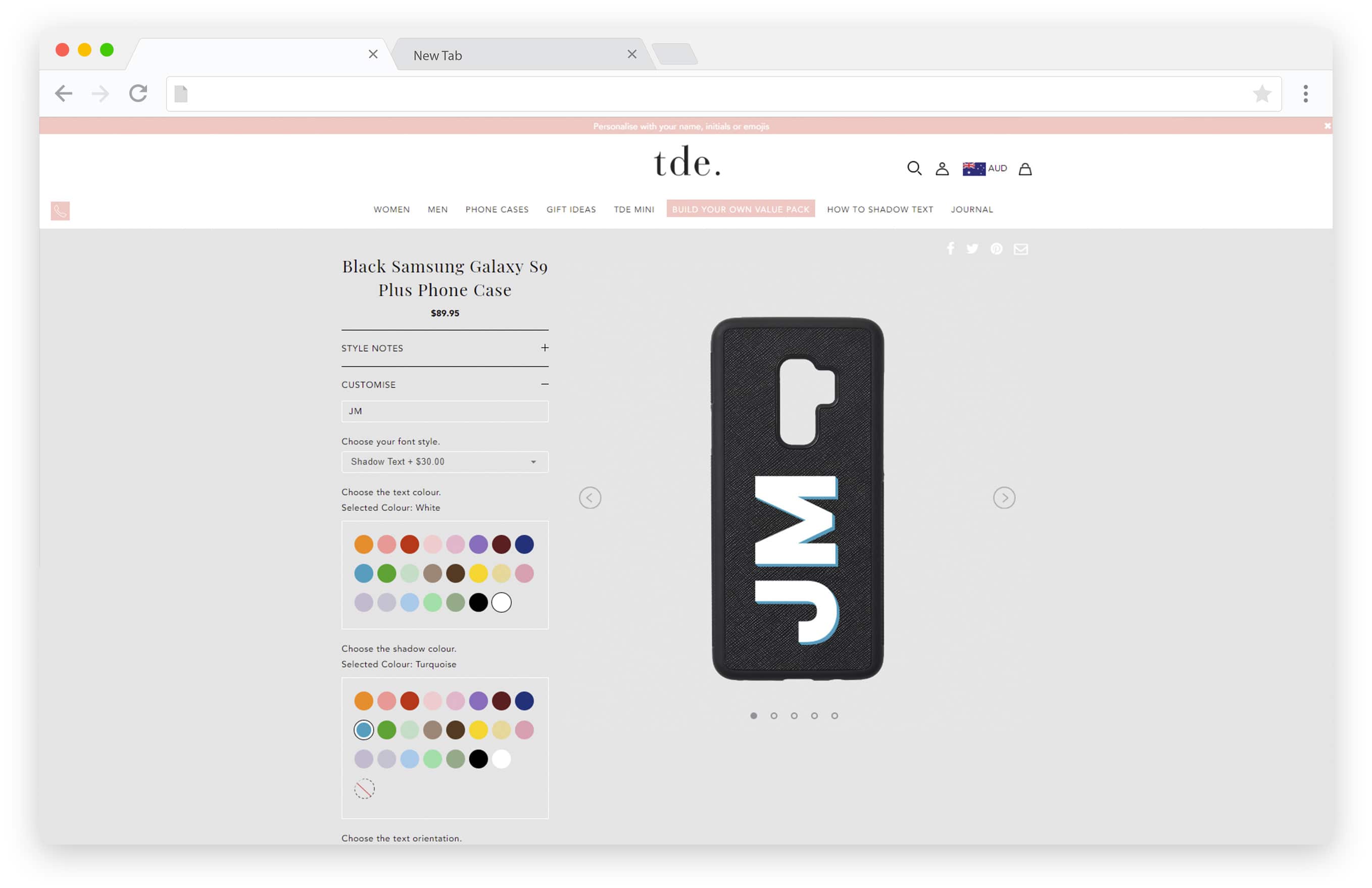 TDE has future-proofed their brand in a number of ways, and although they offer extensive product customisation, that's not the only reason they're successful. They offer different types of delivery methods and accept a variety of payment methods. If you're in a metro area, you can even receive your customised product in 3 hours! Their checkout experience is easy too, with no forced account registration and a simple 2-step process.
Additionally, TDE has leveraged social shopping to showcase their products on Instagram and Pinterest. Creating shoppable posts on their customer's feeds keeps the brand front of mind and reduces friction on the path to purchase.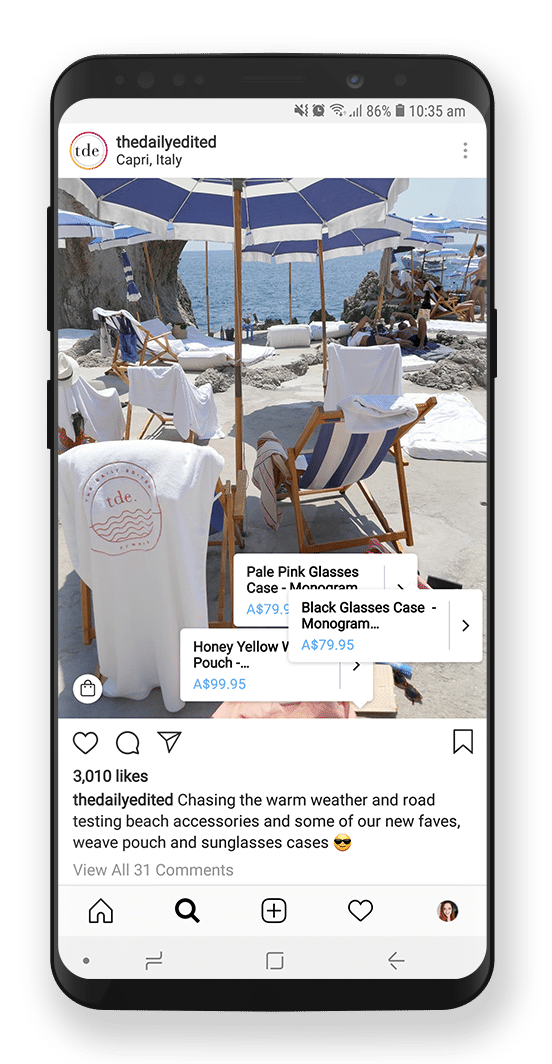 The Daily Edited has earned the following innovation badges:
Vinomofo
Alcohol | Pureplay | <500k customers
Vinomofo is an online Australian wine merchant that works with wine producers across the world, to offer members a curated selection of wine, at discounted pricing. Users can order wine as singles, in a half or full dozen, or opt in for a subscription service that regularly delivers wine to their door.
The founders of Vinomofo saw an opportunity to disrupt the $14.5 billion Australian alcohol industry. They did this by offering a down-to-earth, customer-centric approach to selling wine.
The first thing Vinomofo gets right (beyond the delicious wine) is its automated, multi-channel communication. After you visit Vinomofo's website, you'll find entertaining retargeting ads agnostic across your web browsing. From social to browser, expect the 'mofo gang to follow. If you enter your email, a clever (and frequent) stream of personalised emails are sent to your inbox. Did you look at that one shiraz from South Australia? No worries, here's another five wines you may like.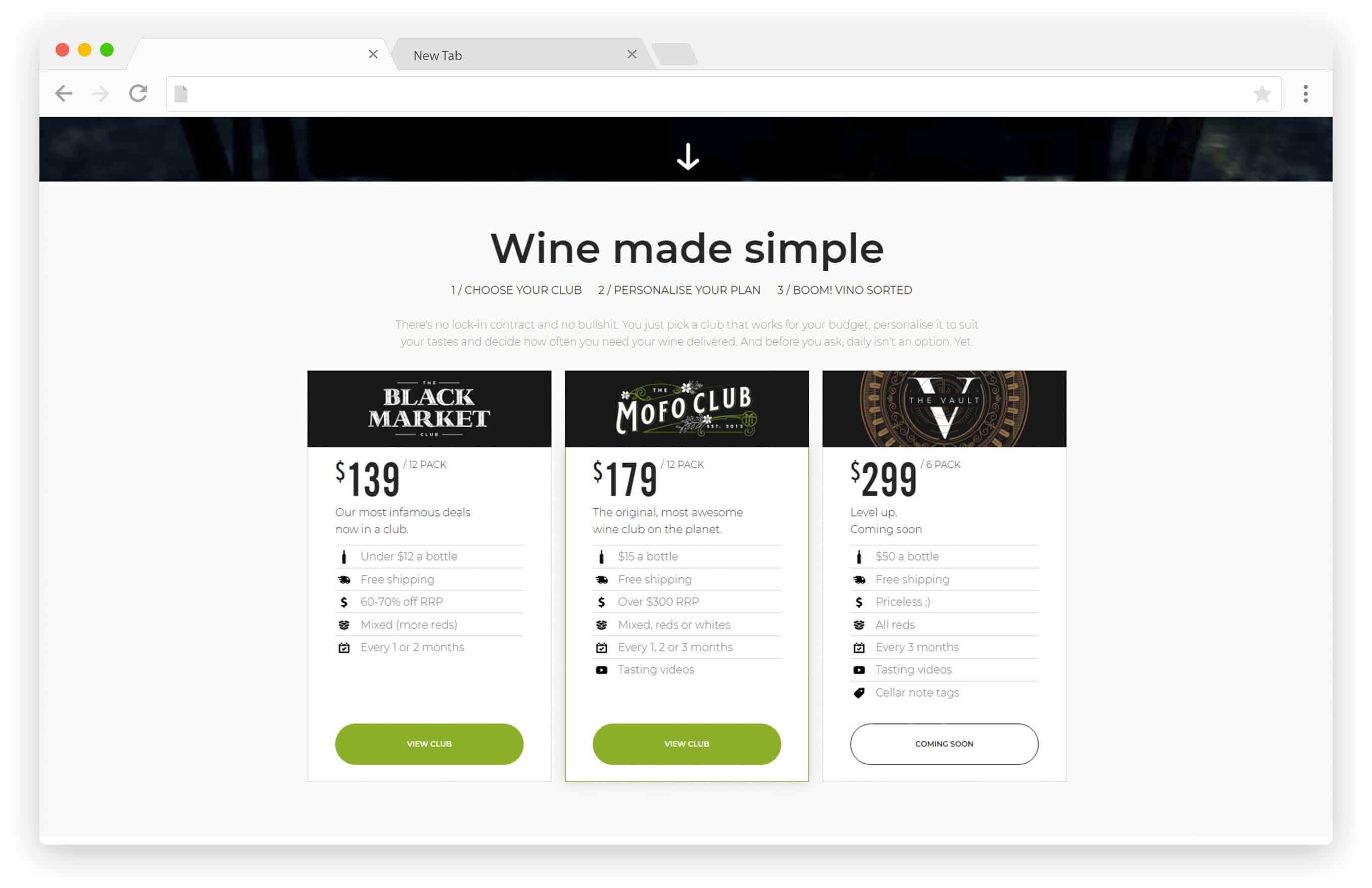 Secondly, they offer a subscription service for those who want to leave it up to the experts. You can choose the type of plan you want based on frequency and price, and although they choose the wine for you, you can add a note to say you don't like a certain variety and they'll switch it out.
What stood out the most about Vinomofo is that although they're pureplay, they've introduced a service they call 'Personal Wine Dealers' – a dedicated person for online customers to email and call. I found this out when my own personal wine dealer, Alice, called me a few months ago… hi Alice!
Luckily, I was able to speak to Summa Tickell, Head of the Wine Dealers team at Vinomofo, who shared some great insights.
"Vinomofo started the Personal Wine Dealer program in 2013 with just 6 people. We now have a team of over 20 people on hand to help our mofos. We started the program because we wanted all our mofos to have access to their own personal wine guide. The service is about care and really listening to each customer we interact with.

We're also really proud to say that we do all of this commission-free. This affords our mofos with peace of mind that the advice they receive is genuine. Vinomofo has had measurable success with the program, with those connected to a Personal Wine Dealer showing a 25% lift in spend. Also, having conversations in real time provides amazing insights and feedback about the mofo experience." Summa Tickell, Head of Wine Dealers, Vinomofo
By providing this level of service, they're merging the digital and physical worlds, whilst mitigating the cost of a physical store. They've managed to combine the roles of salesperson, customer service and account management into one. It's an innovative approach to traditional eCommerce customer service and will surely differentiate them from competitors.
Vinomofo has earned the following innovation badges:

Appliances Online
Whitegoods | Pureplay | <500k customers
Appliances Online is Australia's online leader in whitegoods and home appliances. The founder and CEO, John Winning, is fourth-generation at the Winning Group (the parent company), a family that has been selling whitegoods to Australians for over 100 years.
Appliances Online is another example of pureplay with a service add in the real world, much like Vinomofo. It's clear this strategy works, with the company experiencing yearly growth.
Appliances Online will send someone to remove your old appliances and connect your new ones. Traditionally, stores charge a premium for customers to have the same service, and it can often be more complicated. Additionally, they don't work for commission or incentives, which means the product advice they dish out is authentic.
Appliances Online is innovative because it makes shopping for whitegoods easy. They offer free, next day delivery for most areas, accept a range of payment options, provide an easy to use website, and a streamlined checkout process.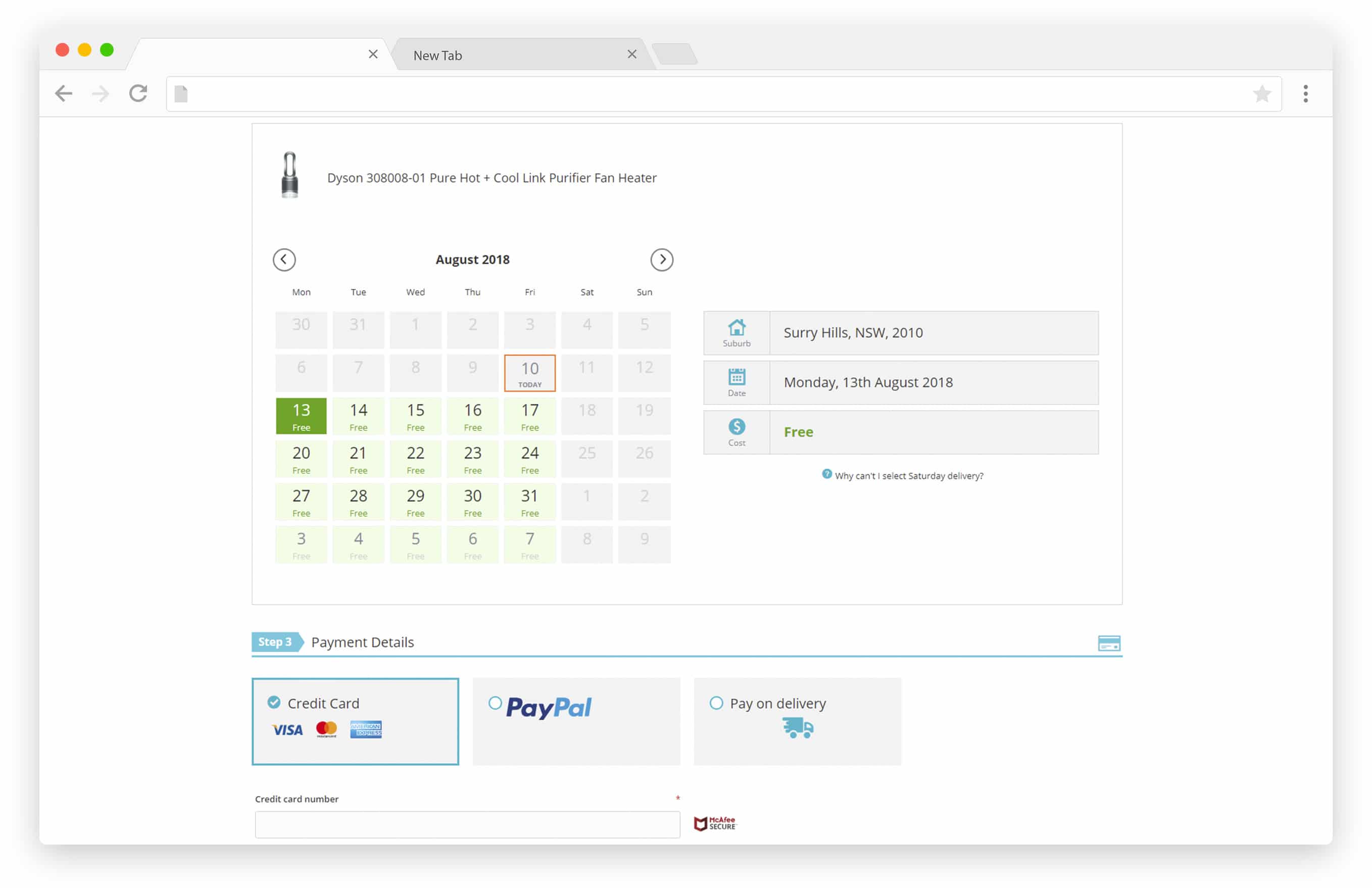 On top of this, they use video content to help users across the site, and have showcased suppliers' work with Augmented Reality.
Appliances Online has earned the following innovation badges:
Supercheap Auto
Automotive accessories | Integrated | >1M customers
Supercheap Auto (SCA) is an Australian automotive retailer that specialises in automotive parts and accessories. Their extensive product range consists of over 10,000 items, that are sold across 320 stores and online at supercheapauto.com.au.
In a traditional market, Supercheap Auto has remained relevant because it offers a great omni-channel experience for customers. Whether people are in-store or online, service is consistent. The Super Retail Group (of which SCA is apart of) understands that Australians are shopping online and is investing in new omni-channel capabilities, such as a new eCommerce platform and digital upgrades to in-store experiences.
In 2017, SCA truly digitised the real-world. Using their flagship Penrith store, the business unveiled a myriad of immersive customer experiences. These include:
A host of interactive screens, enabled with product information and discovery.
Individual sections that contain individualised digital engagement, such as interfaces that allow customers to match oil and paint types to their cars in-store
'Car Clinic advice bars' for customers to speak to professionals
Full-time concierge service
Electric vehicle charging
They also offer 1-hour click and collect with the added bonus of parcel lockers (24-hour access), which is mighty handy when you need to get something fast. Like Dan Murphy's, they'll simply text you when your order is ready for pick-up.
Online, the service is still personal, with product recommendations for you car, narrowed down by make, model, year, series and engine.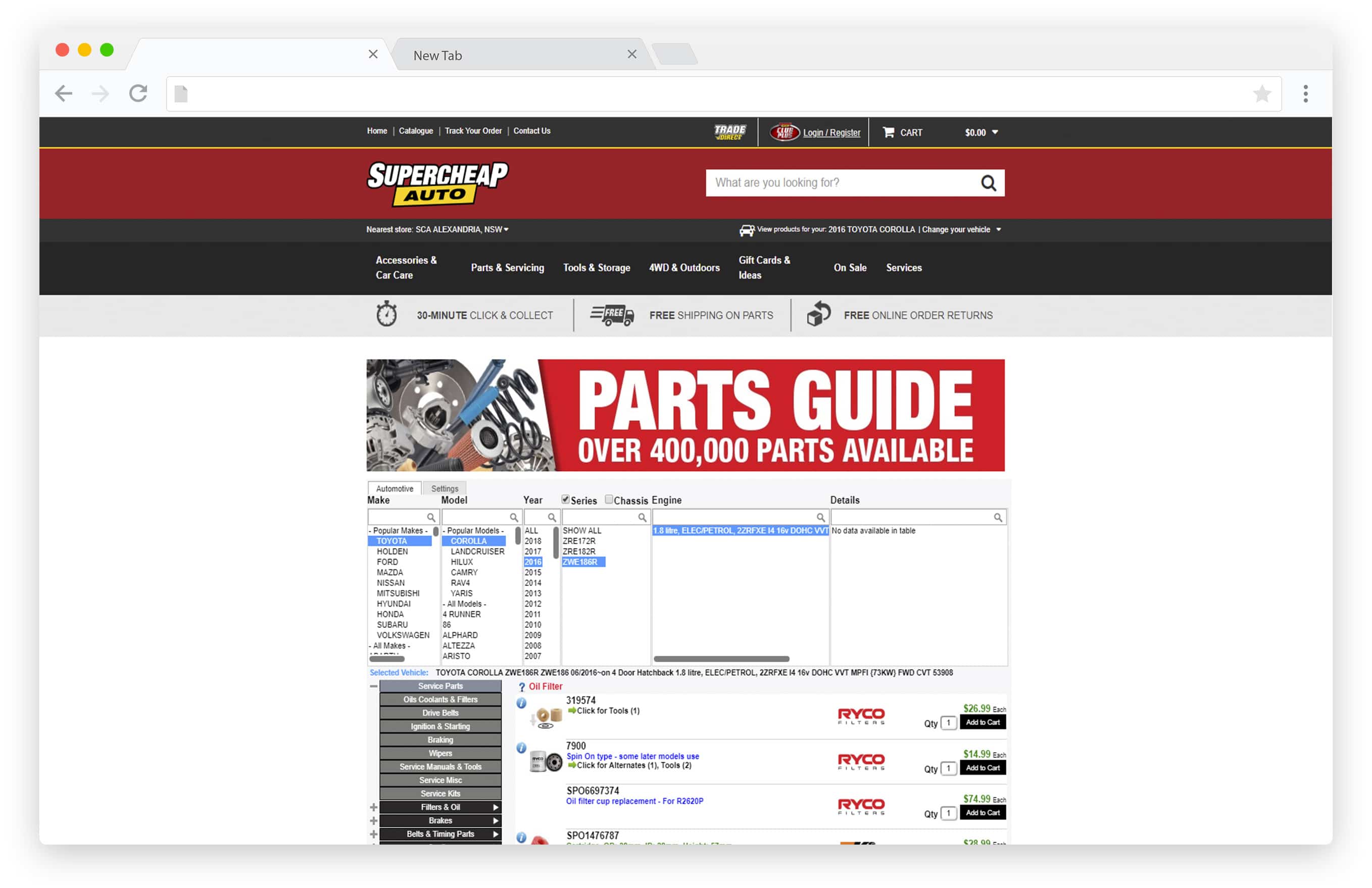 SCA uses a combination of omni-channel communication and personalisation to offer a different kind of Automotive shopping experience.
Supercheap Auto has earned the following innovation badges:
---
What's next?
I hope this has generated some ideas about how innovation can enhance your online business. From faster, and more convenient delivery or payment options, to interactive voice app experiences – these are the trends customers are coming to expect from online brands.
If you're ready to innovate, 4mation can help. We're a full-service digital agency with over 21 years of experience delivering digital solutions that help our clients innovate faster. Our team can help you create and execute an eCommerce digital strategy for 2023 to achieve your business goals.
Chat with us today and we'll take it from there.