Bing vs Google Voice Search
Google is still the most used search engine in the world (79%), followed by Bing (5.33%). By forming strategic alliances with companies like Amazon (Alexa), Bing is attempting to catch up and close the market share gap. But from a usability perspective, how do the two engines compare when it comes to voice search?
Context and history
While Google is well above its competitors in most aspects of search, Microsoft is a major player in the field of voice. Its search engine Bing powers two of the four main virtual assistants on the market.
Bing has been powering voice assistants since 2013, when Apple made it the default search engine for Siri, on iOS 7 – before switching to Google in 2017. Bing has also been powering Microsoft Cortana and Amazon Alexa's web searches since 2014. However, Microsoft started integrating voice search capabilities to its devices and search engines as early as 2002, with Microsoft Voice Command.
Google started integrating voice search to its search engines in 2011. However, Google Voice Search actually came to life in 2002. Google released its first voice assistant Google Now in July 2012. Available on both Android and iOS devices, Google Now is able to perform a variety of voice-activated tasks such as scheduling events, alarms, adjusting device volume or posting social media.
The Google Assistant came later, in May 2016. Although very similar to Google Now, the main differences are the Assistant's conversational dimension, and its ability to learn about the user over time. Available on Android and iOS devices, the Assistant powers Google's home assistants Google Home and Google Home Mini.
What the Experts Say
According to IQ tests performed in October 2017, Google's IQ is superior to Bing's, although Microsoft is taking steps towards an AI-based search experience.
Furthermore, another study by Loup Ventures in February 2018 showed that Google Home answered 98% of queries correctly, well above Siri, Cortana and Alexa.
Up until today, experts agree to say that Google's voice search technology is far superior to Bing's. But does this superiority show in day-to-day voice queries?
My Own Experiment
To test the voice capabilities of both search engines, I ran a few experiments on my Android phone, the Nexus 6p. Using the Google Assistant and Cortana apps, I performed a few searches and actions using voice. The goal was to test each app/engine's ability to:
Serve data directly from search results
Perform actions using other apps on my phone
Learn from previous searches.
Conversational Search
Using voice, I performed a few searches using Wh-questions: What, When, How much, etc. The goal was to test the ability of each engine to read through data on the web and serve it to me as ready-to-digest information.
Flu Symptoms – Ex Aequo
When asked "What are the symptoms of the flu?" both engines were able to feed me a list of symptoms, digested from pages on the web: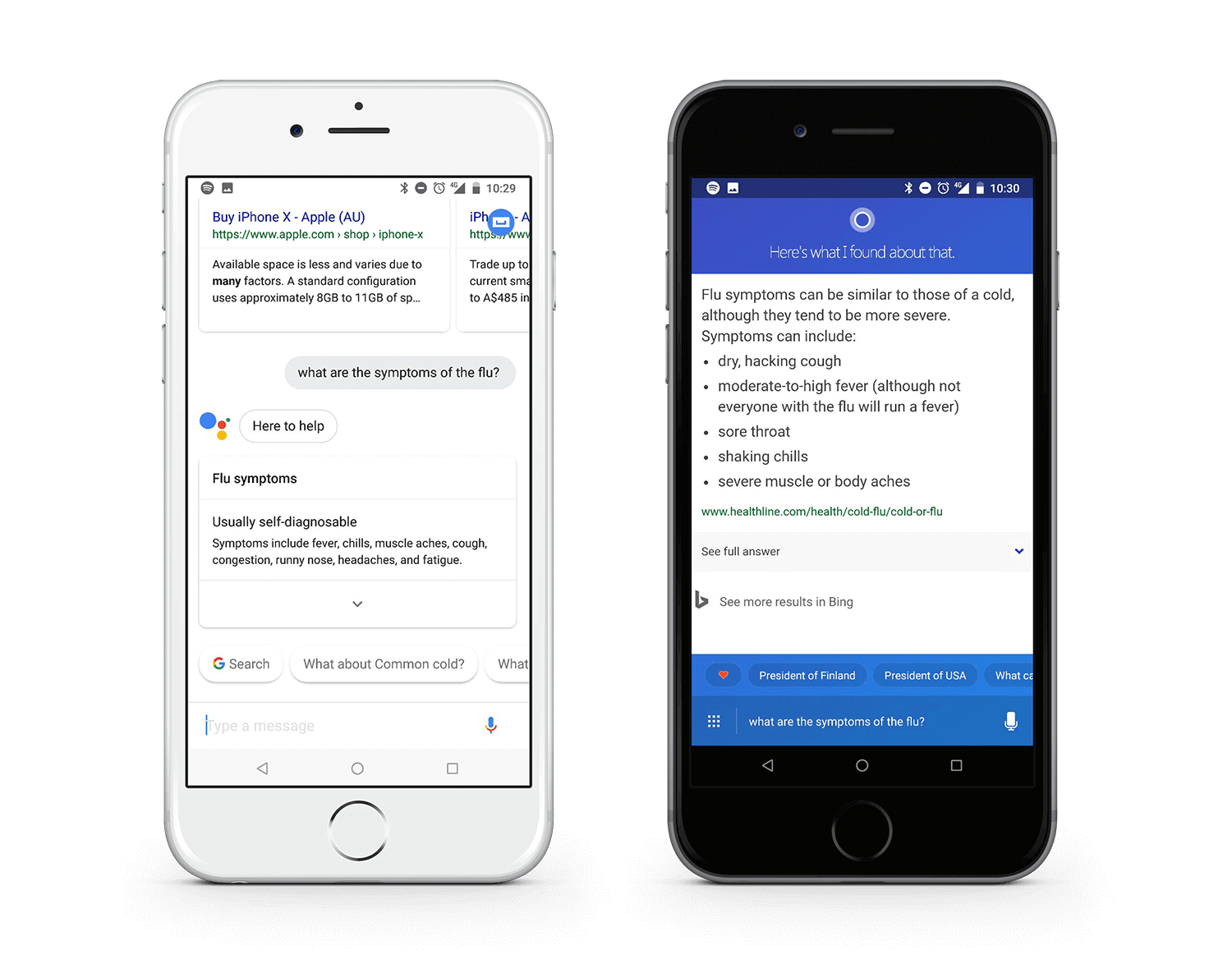 Big Mac Macros – Google 1 – Bing 0
I then asked both Google Assistant and Cortana for the macros of a Big Mac: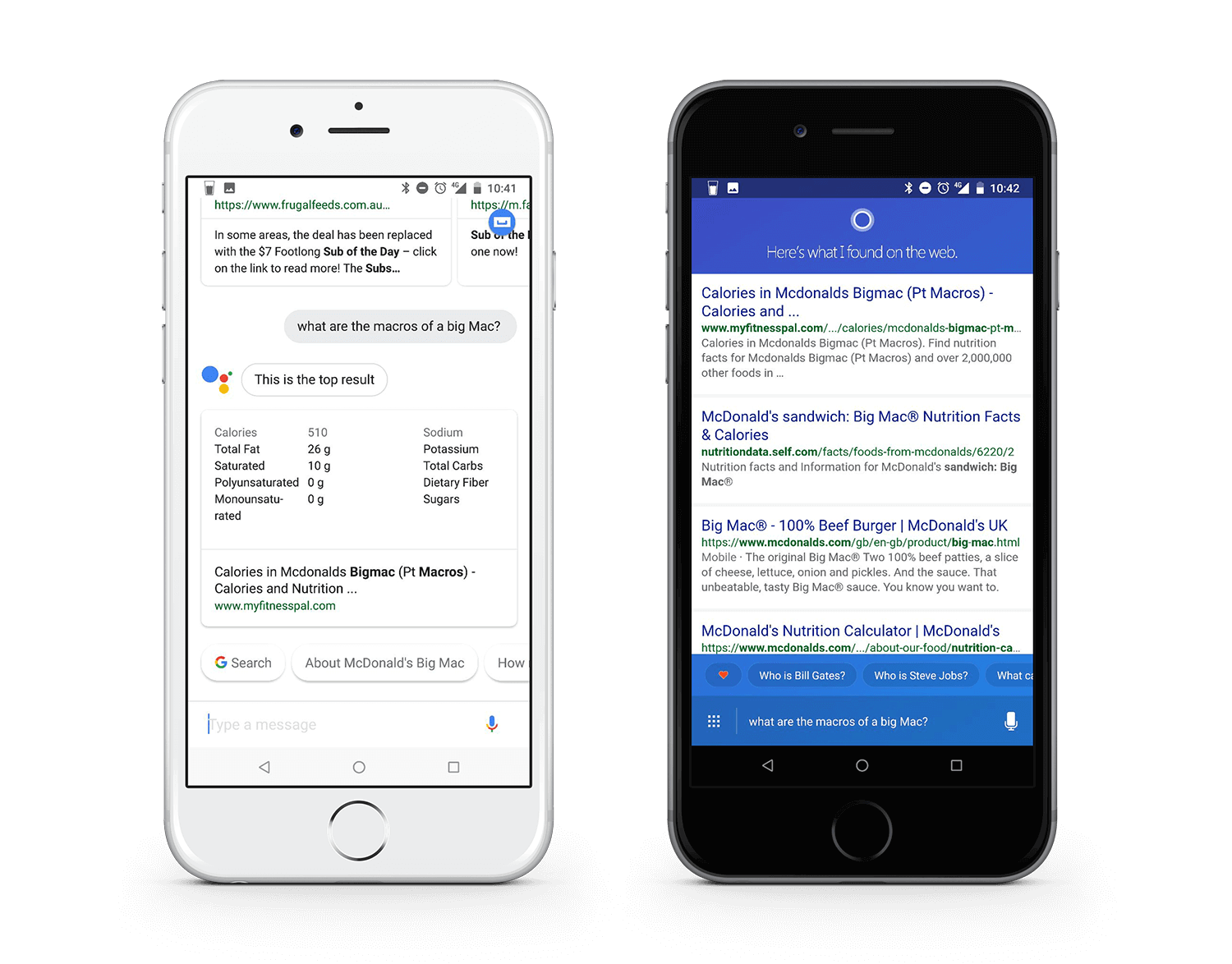 While Google was able to understand that, by "macros", I meant "nutritional information", and serve me those as a list, Cortana/Bing was only able to serve me a list of search results based on my voice query, even though in each query, MyFitnessPal was deemed the most relevant page.
Actions
I then performed a few action-based queries to test how well both assistants were able to work with other apps on my phone.
Without a surprise, I found out that Google Assistant was much better integrated with other Google services like Gmail and Google Calendar:
What's the next event on my Calendar? Google 1 – Cortana 0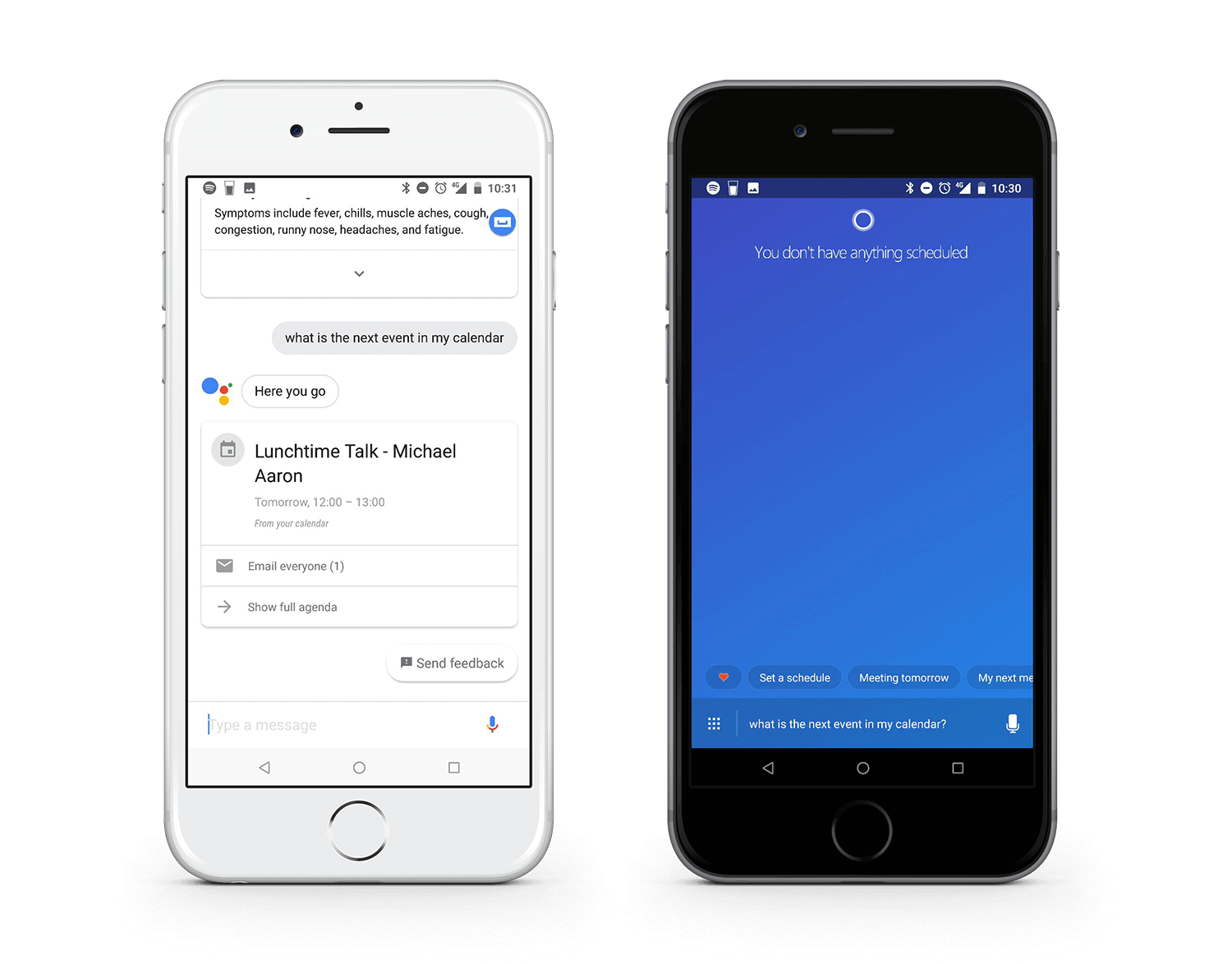 While Google Assistant is able to show the next event in my Calendar, Cortana doesn't seem to be able to integrate with my Google Calendar app.
Show me my emails – Google 1 – Cortana 0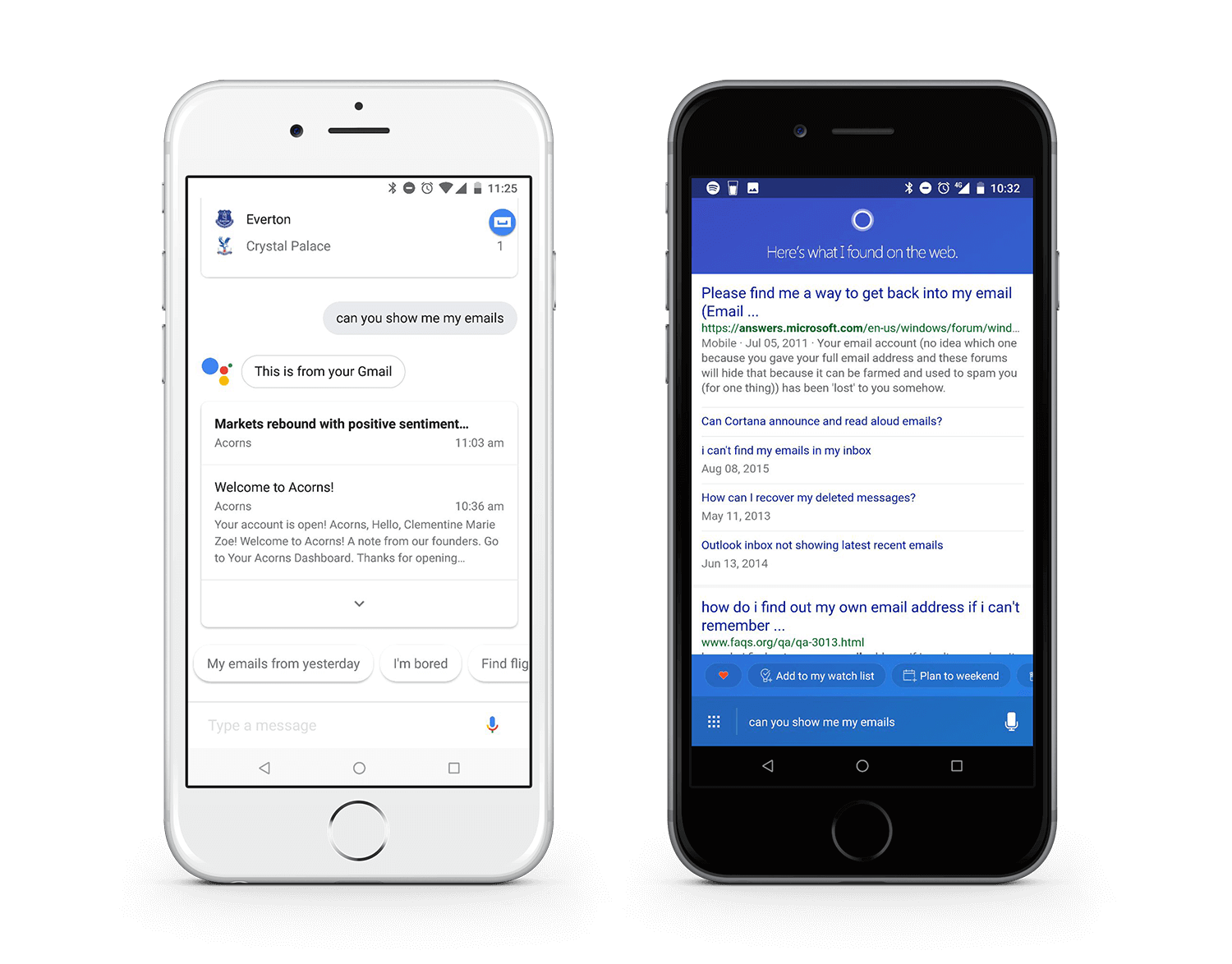 While Google Assistant pulls my last two emails, Cortana can't integrate with Gmail to display my last emails. Cortana took my query to Bing instead, returning forum results that have nothing to do with it.
While I expected Google Assistant to integrate better with other Google apps, it also worked better with third-party apps:
When I asked to send a Telegram message to my partner, Google Assistant performed the task quite seamlessly while Cortana sent him a text message instead.
When I asked to play Slowdive, Google Assistant played Slowdive's music on my preferred music app – Spotify, while Cortana served me Slowdive video search results from Bing.
Learning
I intended to test both assistants' ability to learn from previous searches. I first asked both engines "When is Everton playing next?" – a question that returned similar results on both Google and Cortana: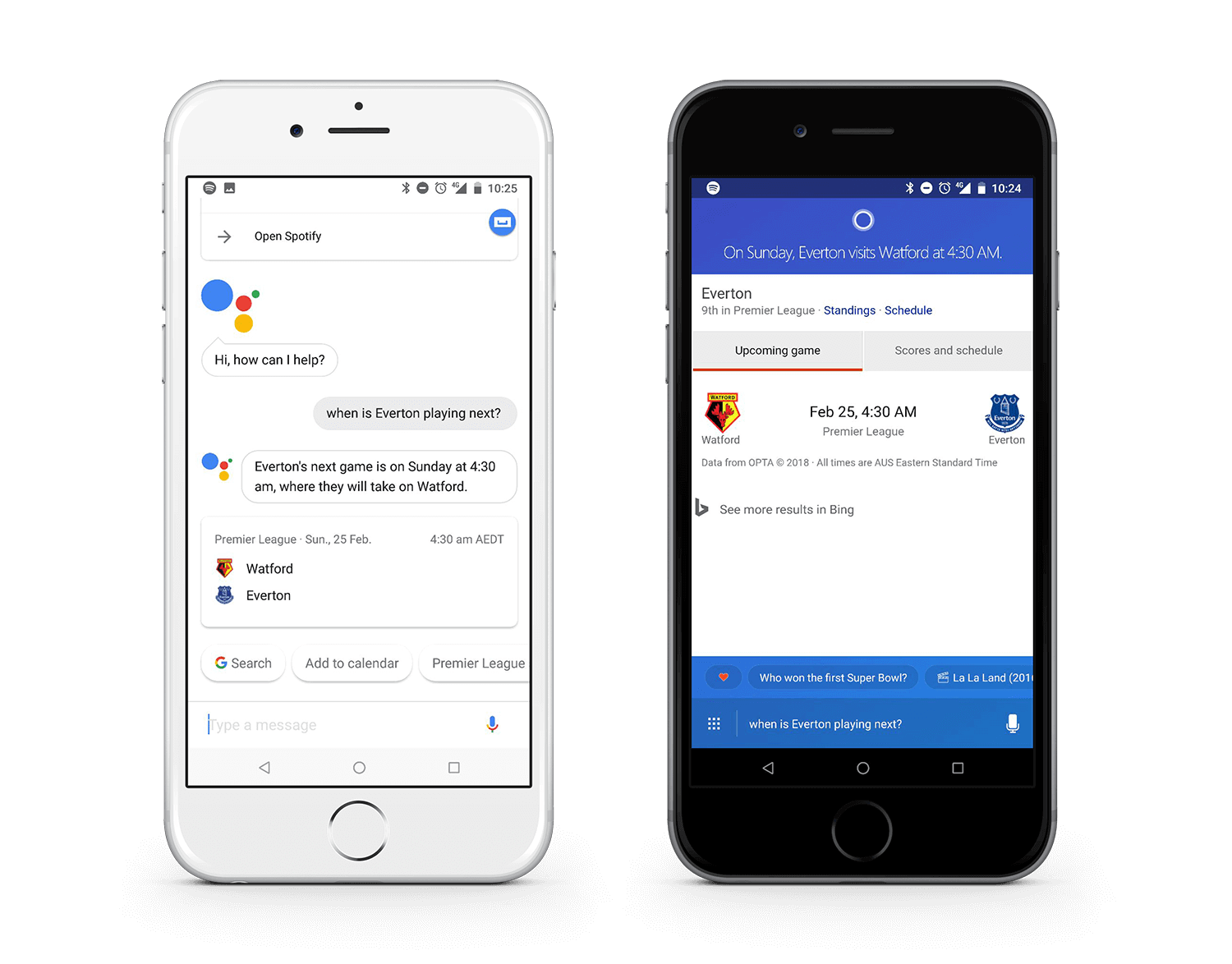 Yet, when using "They" to refer back to Everton in the next question ("When did they last play?"), Cortana failed to understand, while Google served me the right results: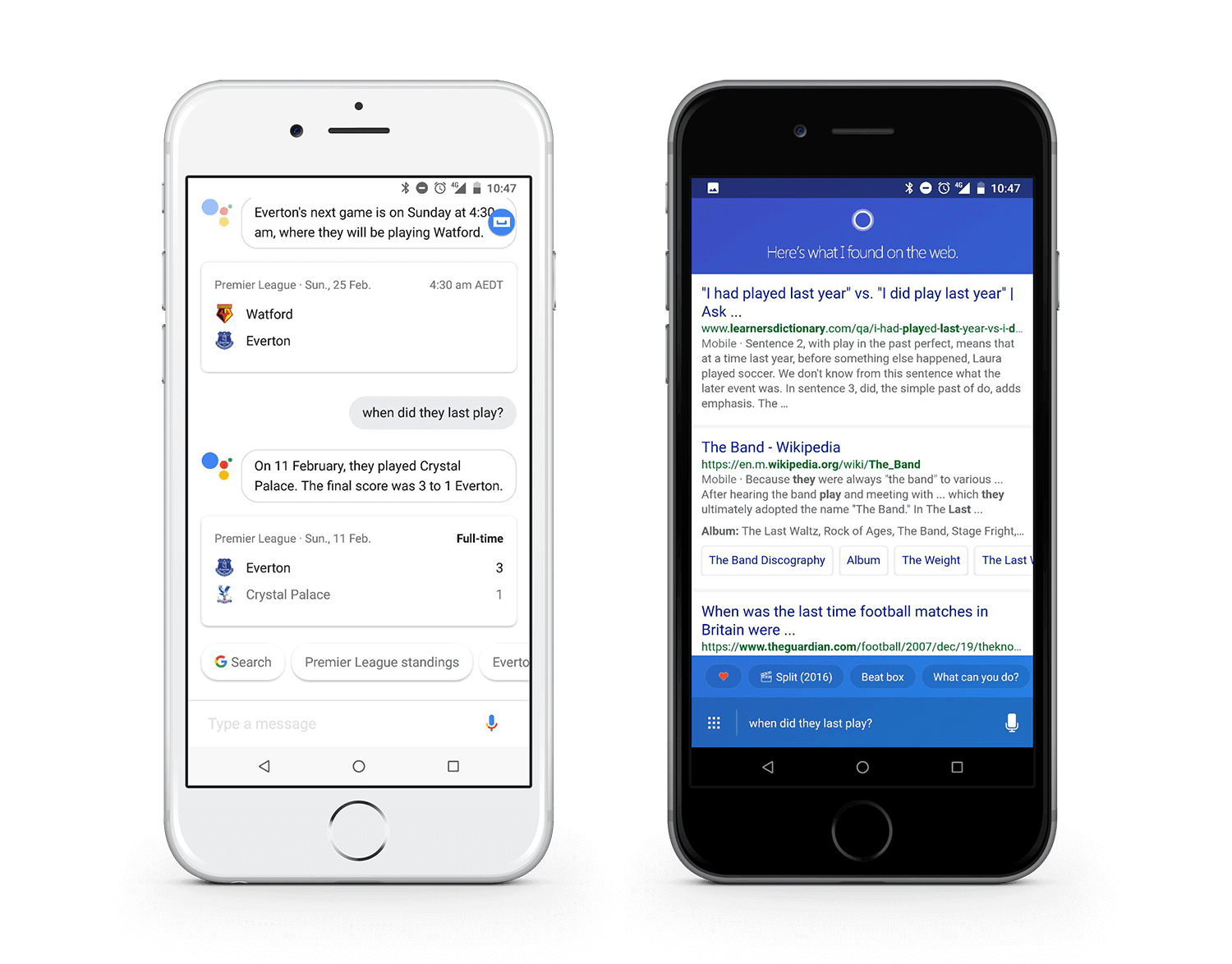 However, Google Assistant still isn't perfect. When asking about my commute, Google Assistant showed me how to get home from work biking. I take public transport every day. When I said "I don't have a bike", Google answered "I don't understand". There is still progress to be made!
Overall, I've found that Google is still much better at understanding questions, putting them into context by learning, and feeding information directly from search results. Google is also better at performing actions through other apps on my phone. However, I admit my results may be biased due to using the apps on an Android phone, especially a Nexus phone.
Conclusion
While Google and its assistant still seem to offer a better user experience, Bing is catching up by upping its game with intelligent search features, including an intelligent image search feature that has no equivalent on Google Search.
Device manufacturers will only choose the search engine that makes their device the most powerful possible, and we've seen the example when Siri chose Google as its new default engine. Bing will have to make major UX advances to regain its market share.
As forecasts expect Google Home to hold close to 50% of the home assistant market share in 2022, it's hard to foresee Bing catching up to the voice giant. We expect to see Google keep its competitive advantage for the years to come.