Last-Minute Tips for Maximising Your Ecommerce Sales This Christmas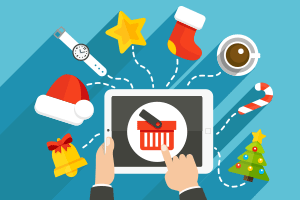 December may already be upon us, but it's not too late to optimise your eCommerce website to make the most of the 2014 Christmas retail rush. The digital strategists at 4mation Technologies share with you their top tips for boosting your sales this festive season.
Get into the spirit
Nobody likes a Scrooge, so if your competitors' websites look like Christmas and your website doesn't, then you could end up missing out on business at a crucial point in the retail sales year. From adding simple decorative elements like Christmas trees, candy canes and baubles, to highlighting your best end-of-year sales bargains via carousel banners and sprinkling some Christmas cheer across your social networking pages, it's important that your online presence puts your prospective customers in the mood to buy their gifts from you.
Implementing a Christmas theme on your website can be relatively simple if you know how. Most popular website CMS platforms allow for your existing theme template to be duplicated, so that it can be altered by your graphic designer or web designer to add some yuletide flair. If you don't have the resources to do this in-house, 4mation's Creative team have a range of affordable Christmas design offers to help you out in the lead up to Christmas.
Home for the holidays
Creating a Christmas landing page on your website that is specifically targeted towards gifting gives your customers a one-stop-shop for browsing all products related to Christmas. Your landing page should aim to make it as easy as possible for your visitors to find the perfect gift for every type of recipient they're likely to have in mind, so consider grouping your products together into gifting segments such as "Gifts for Him", "Gifts for Her", "Gifts for Kids" and so on. From your landing page, you can link off to each of these relevant product categories – or even allow for more precise filtering of products based on recipient characteristics and interests. Whatever you choose to do, building a separate Christmas landing page makes perfect sense in terms of the search engine optimisation (SEO) of your website – not just for helping those who are searching for your product type(s) alongside terms such as "christmas gifts", but also for keeping your website content fresh and updated in the eyes of search engines.
Constructing a Christmas landing page doesn't have to be an overly difficult or time consuming exercise. In fact, 4mation's Creative team can build a Christmas landing page or microsite for you, to complement your existing eCommerce website and help achieve your commercial targets this Christmas.
Just in the Nick of time
With the trend towards online shopping and eGifts ever increasing, Christmas is the perfect time to offer immediate gift purchasing options for last-minute shoppers. If you're not already offering or pushing the sale of electronic gift cards or e-vouchers on your website, you're missing out on potential sales that could be made in the days leading up to Christmas and even Christmas Day itself.
The beauty of e-vouchers is that they're instantly available to either the recipient (via email) or to the buyer to hand deliver to the recipient (via a card that can be printed at home), so they can be purchased right up until (and including) Christmas Day – and then redeemed by the gift recipient whenever it suits them. Of course, another major benefit with gift cards is that the recipient can choose their own gift from a range of products made available on your website, so the buyer doesn't have to worry about buying the wrong gift and you're less likely to have the product returned for an exchange or refund. You may also find that as an online retailer, offering eGift cards can result in less strain on your inventory and delivery processes in the weeks leading up to Christmas – with most recipients redeeming their gift cards after Christmas and well into January.
If your eCommerce website doesn't yet offer this level of functionality, 4mation can develop custom eCommerce solutions to meet your specific business requirements – built upon popular and powerful platforms including Magento, PrestaShop, osCommerce, Opencart, X-Cart, WordPress and more. To learn more about adding new functionality to your existing website or building a new eCommerce website entirely, contact us today for an obligation-free consultation.
Treat your existing customers
In all of your efforts to attract new customers this Christmas, it's also important not to forget that your existing customer base can prove to be a goldmine when it comes to attracting repeat business. One of the simplest ways to encourage your past customers to purchase from you again is to send targeted marketing emails in the lead up to Christmas to remind them that you exist, to send them offers relevant to their past purchases and to provide them with exclusive discount codes and promotions that reward them for their loyalty. Depending on the kind of products you sell, a timely email of Christmas offers could be the perfect reminder for someone who has purchased a gift from your site last Christmas and is looking for gift inspiration for this Christmas.
4mation's Creative team are currently offering a special Christmas Email Template Package to help you re-engage with your existing customers. We can design a responsive email template for you that is optimised for desktop, tablets and mobile – and matches your existing branding, with added festive cheer.
Find out more
To find out more about any of the above exclusive Christmas offers, or for how 4mation Technologies can help improve your eCommerce presence in 2015, please contact us for an obligation-free consultation. We'd love to hear from you.