4 Budgeting tips for your software development project
It goes without saying that software development projects can be pretty complex. However, before you begin navigating technologies and setting milestones, you need to determine a project budget — and this can be a convoluted undertaking in and of itself.
After conducting the largest global study ever of IT change initiatives, Harvard Business Review revealed that 1 in 6 IT projects had a cost overrun of 200%. Meanwhile, PwC found that only 2.5% of companies completed their projects 100% successfully.
In today's digital era, cost overrun seems like it should be a problem of the past; after all, we now have access to cutting-edge project management and budgeting technologies. But many companies don't clearly formulate project requirements, and last-minute changes to software projects are very costly.
Here are 4 tips for setting a realistic budget for your software development project:
Estimate the value of your project
Does it make financial sense to develop the software you have in mind? To answer this question, you need to have a thorough project brief and clear requirements. Consider how much you can realistically profit from your future software.
Request estimates
Once you have a general sense of what the project will cost internally — this includes ongoing support, marketing, internal resources, etc. — share your project idea with software developers. They'll calculate the amount of effort required based on various factors.
Be sure to ask developers to qualify the numbers that they give you. There are many different ways to build software, so take the time to consider different approaches and their associated costs. Pay attention to how much information the agency is willing to provide at this stage, as this indicates how transparent they'll be as a development partner.
Allocate funding for 150% of the original estimate
Software development presents lots of unknowns, both good and bad; perhaps your developer will suggest implementing a groundbreaking feature that will significantly boost your product's performance, or they'll uncover some unanticipated complexity.
Many people don't account for the fact that software development is perpetual. Technology is constantly changing — and if you want your software to keep up, you'll need to maintain it.
As shown in the graph below, software maintenance constitutes a significant portion of its total lifecycle costs.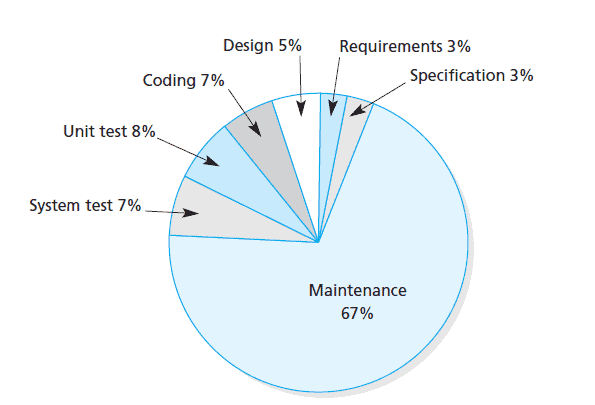 Costs of Software Development Stages
In fact, software development companies spend more time on the maintenance of existing software than on the development of new software.
An undercapitalised software development project can have lethal repercussions. You should always anticipate the need for future rounds of funding; if there's no way to get a second round of funding, the first round is a waste.
Build the minimum viable product (MVP) that delivers value
Why? MVP allows you to validate your idea early in the product development cycle without having to build the entire product. It can help the product team receive user feedback as quickly as possible to iterate and improve the product based on user input.
MVP plays a central role in agile software development. Focus on quality, not quantity. Don't try to squeeze in as many features as you possibly can; this will lead to quality and usability issues. Instead, focus on creating a great user experience with a core set of functions. Make and test several levels of prototypes.
Finding the right partner and the right budget
At 4mation Technologies, we focus on delivering value to our clients through technology and digital solutions. Our team of 60+ technical experts are 100% based in Sydney. The ratings and reviews platform Clutch and The Manifest recognise our custom software capabilities, ranking us as a top software development agency in Australia.
Please contact us today to learn more about how we can help with your next project.