Is a Chatbot Right for Your Business?
This article is to help you explore if a chatbot is right for your business. If used effectively, chatbots can create unique experiences for customers and help them find answers quickly. They also have the potential to save money for your company and drive sales.
I'm sure you've heard the chatter around chatbots over the last few years, and worldwide interest shows no sign of slowing down. Google Trends shows an upward trend in search volume, and you can see clear evidence of this in the graph below.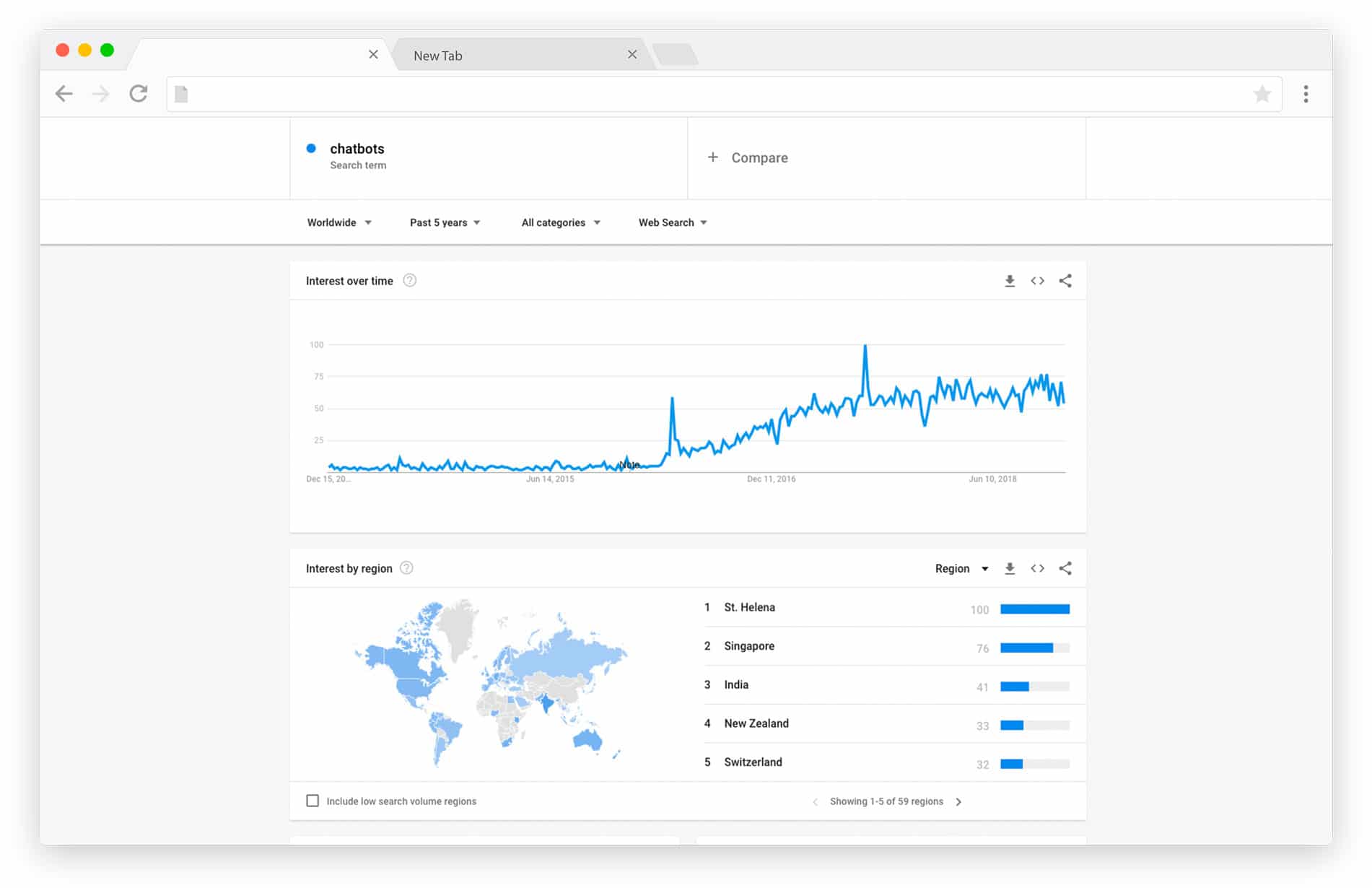 Source: Google Trends
We know that business leaders can see implementing a chatbot as an arduous task from some of the conversations we've had with our clients. I've collected the most common of our client's questions and build out an introductory resource for them and others that cover the following:
What is a Chatbot?
What is a Chatbot Used For?
Why a Chatbot?
How Much Will a Chatbot Cost?
What is the Return On Investment (ROI) For a Chatbot?
I'm going to answer these questions and show some great examples of useful chatbots in action. Chatbots offer businesses a range of benefits, and you'll see why 80% of companies said they currently use or are planning to use chatbots by 2020, and why we also included them as one of our hottest 20 eCommerce trends for 2019.
What is a Chatbot?
In their simplest form, chatbots are a computer program that automates specific tasks by chatting to your customer through a conversational interface. Using a chatbot is a bit like tennis. There's a back and forth, and like tennis, sometimes you miss. Either the chatbot doesn't understand your question or command, or you don't follow the intended path. The technology isn't perfect, and it has a long way to go before it understands context and tone, however, chatbots are improving all the time.
There are two main groups of chatbots, 'simple' and 'smart'. Simple chatbots are programmed to work based on pre-written keywords that they understand. These chatbots will usually display a few options for users to respond to and they work in a mostly linear fashion.
You can see in the example from Kayak below that the chatbot asked me to choose from pre-programmed questions. The main benefit of this is that it's easy, I didn't have to think too hard, and as a bonus, it's entertaining.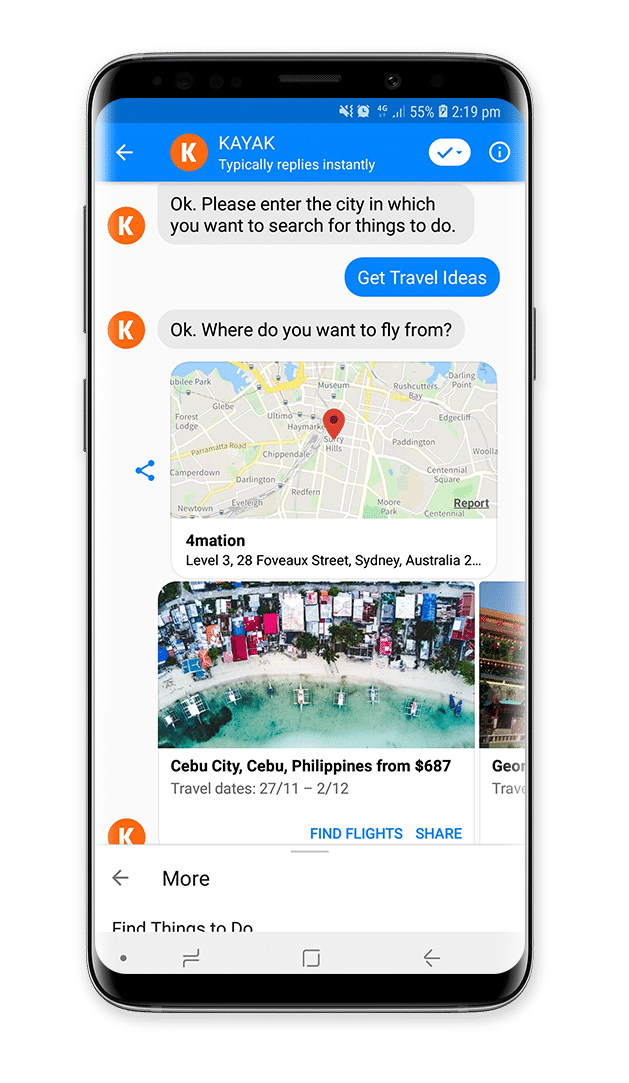 Source: Kayak
If you're looking for something with more depth, then a smart chatbot could be what you're after. These bots rely on artificial intelligence to communicate with users. Unlike the simple chatbots, smart chatbots should be able to understand trigger words and sentence structure. They'll then provide an answer with relevance to the topic.
Smart chatbots sounds great, right? Well, in theory, yes. However, in reality not so much. Here's the kicker, these bots have a higher failure rate in communicating with customers because there's more room for error. They're also expensive to build and maintain. However, smart chatbots that use more advanced forms of AI, Machine Learning and Natural Language Processing are helping to create human-like interactions which improve with every conversation. They also offer a higher level of customisation.
Although there have been advances in the technology, the current consensus is that 'simple' is better than 'smart' when it comes to chatbots. As Forbes stated, "Today's bots may not be as flashy as their predecessors, but they offer something better: They are simple, easy to use, reduce friction and function effectively 99% of the time. These are the bots that underpromise and overdeliver.". In the context of business use, simple and productive chatbots are the ones to choose.
What is a Chatbot Used For?
Now that we've defined what a chatbot is, let's explore what they can do. In the 2018 State of Chatbots report, 35% of respondents said they'd use a chatbot for resolving a complaint or problem and getting detailed answers or explanations. It's clear that people see chatbots as a way to get help quickly.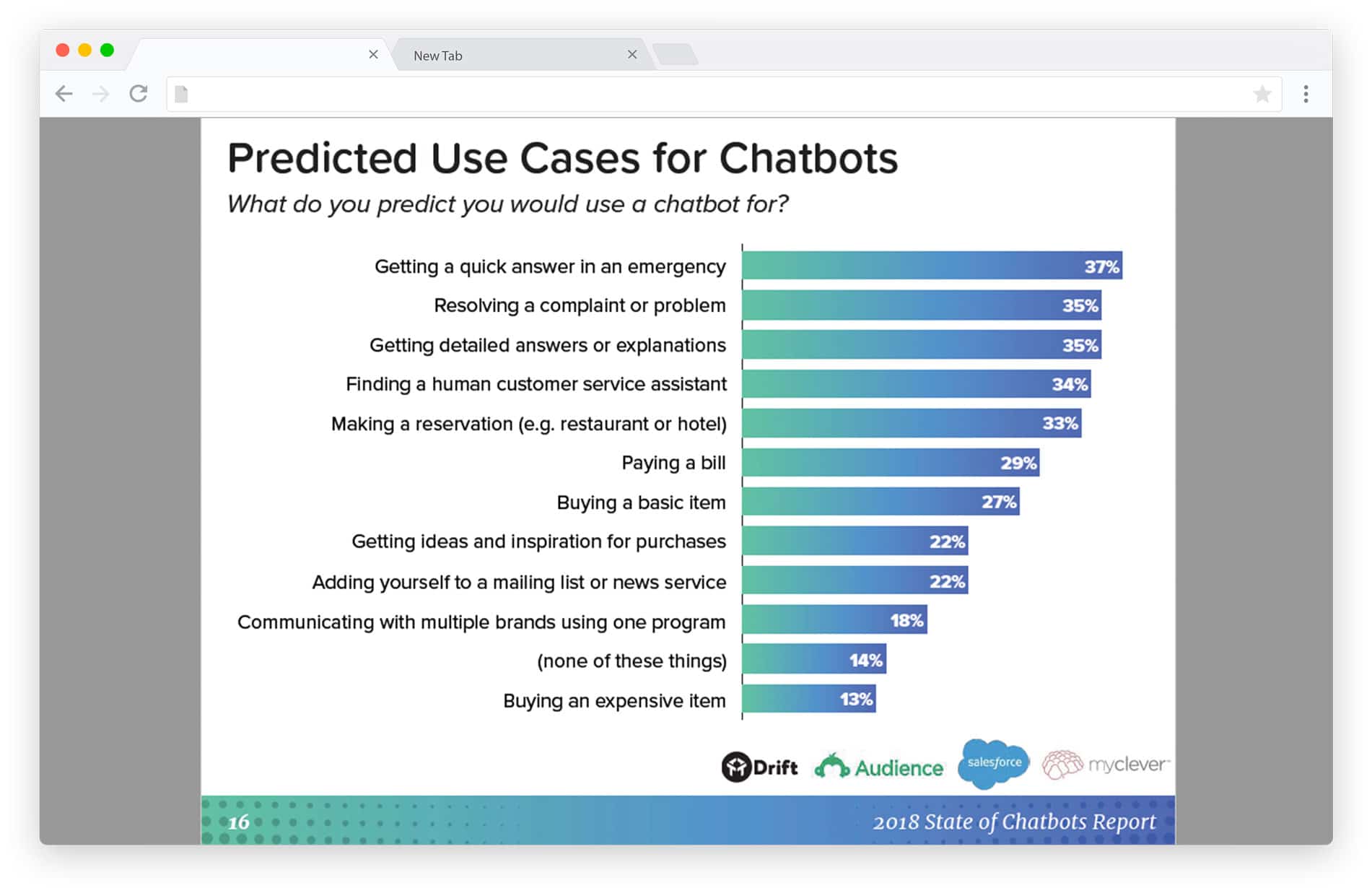 Source: 2018 State of Chatbots Report
Beyond helping them answer questions or solving problems, respondents predict chatbots will facilitate booking a reservation, paying a bill and purchasing items. I've summarised the primary use case scenarios in four topics with examples below.
Customer Service
How many times have you called a customer service number and received the prerecorded "your call is important to us, and we'll be with you shortly" line, only to sit there waiting? I had an issue with my home internet last year and called my telco provider at least seven times. Countless hours later I was told to go to a specific web page which then solved my issue. All of this could have been resolved by a chatbot on the first point of contact.
A starting point is to look at what your most common customer service questions are. No matter what business you operate, your customers will have questions they want answered, fast. For a restaurant, this could be your weekly specials, opening hours, a link to your online menu, or booking a table. For an online computer parts store, the chatbot could check your stock levels and delivery times based on location. Keep it simple and helpful, and your customers will thank you.
Optus is one example of a company that is trying to streamline customer service. In the case below, the Optus bot greets me by name, introduces itself and tells me what it can do. It's a lovely example of customer service in a chatbot.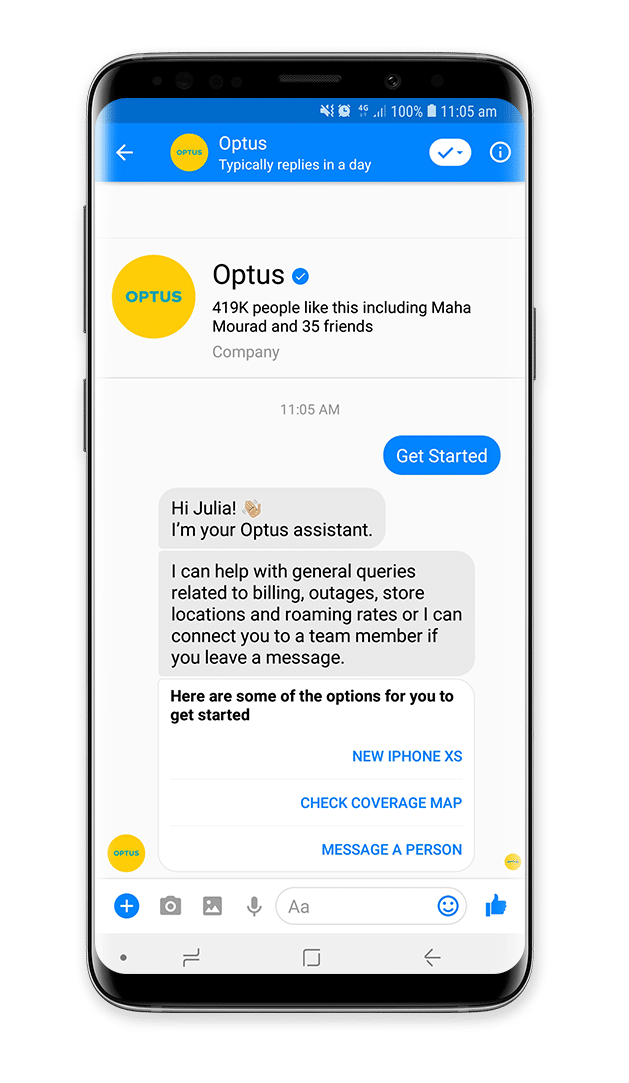 Source: Optus
Online Shopping
A chatbot can also be a useful shopping assistant. Tell it your size, colour preference, occasion and sit back while the recommendations come rolling in. By treating your chatbot like a product search, your customers will get tailored results right from within their messenger app. Additionally, the chatbot will remember your customers' individual preferences, so next time they come back, it can resume the shopping experience without asking for factors such as size again.
Chatbots also makes online shopping more convenient, even for something like buying tickets. You can see in this Ticketek example below that I typed "The Prodigy" and the bot came back with show information, as well as a link to buy tickets. It's a convenient path to purchase.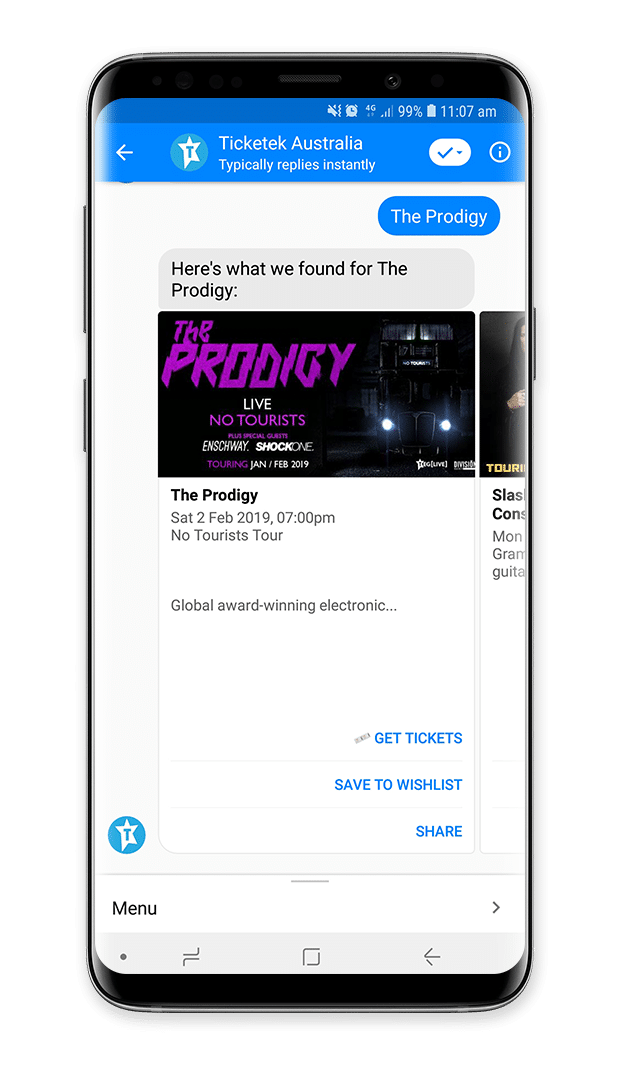 Source: Ticketek
Answer Common FAQs
Falling under customer service, but deserving of an individual, FAQs can be tricky. Creating an FAQ page can be helpful, however your customers may not want to go to your FAQ page and search for their question and corresponding answer. Chatbots solve for this because they can answer immediately. For example, say I want to know how much shipping costs, I can ask the chatbot, "how much is shipping to Surry Hills?". The chatbot can then come back to me with multiple answers based on speed and type. It could also link to a page with more information.
ZAFUL's chatbot is the perfect example of this, they've suggested customers go to the FAQ page, or they can click one of the suggested FAQ topics.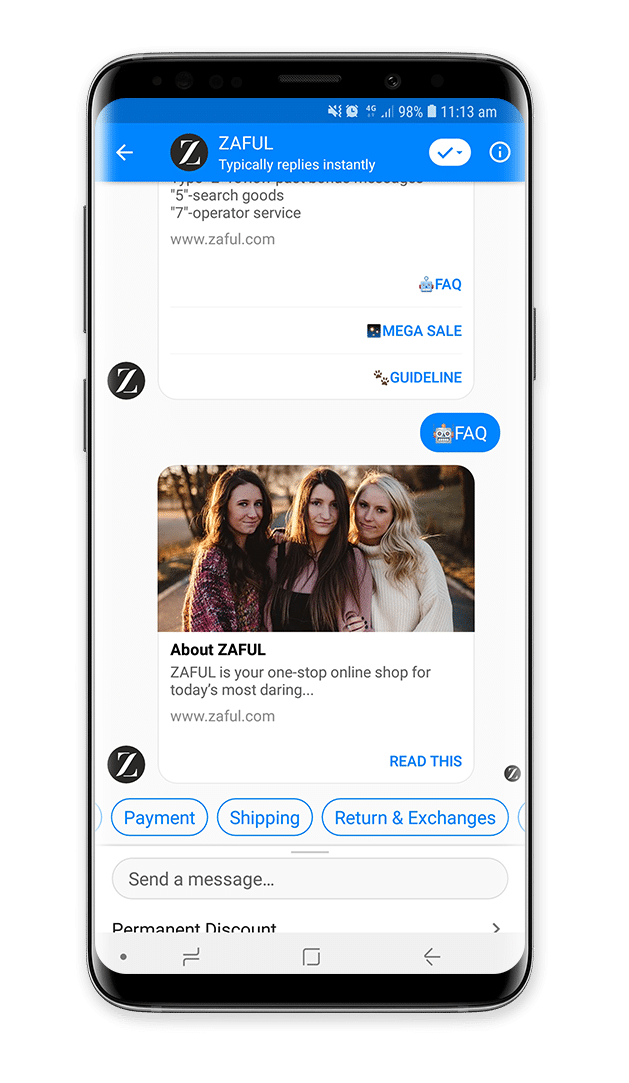 Source: Zaful
Personalisation
Chatbots can be an engaging and productive way to bring personalisation to a digital relationship with your customers. Besides the obvious, such as remembering your customer's name and basic preferences, you can take your chatbot to the next level. If designed with intent, your chatbot has the potential to be a representative of your company. It can communicate your brand tone and values to customers. A good designer/copywriter is essential for this, don't rely on just a piece of code.
Designers and copywriters can create personalised journeys for your customers through the chatbot experience. We all like feeling special, and you can achieve this by adding personal touches. Think about using humour, or referencing topics that may resonate with your target audience based on their interests or lifestyle.
Another quick win could be to ask their date of birth and send a promotional code on their birthday. When it comes down to it, what differentiates your chatbot from your competitor won't be how it works, it'll be how your customers feel after using it.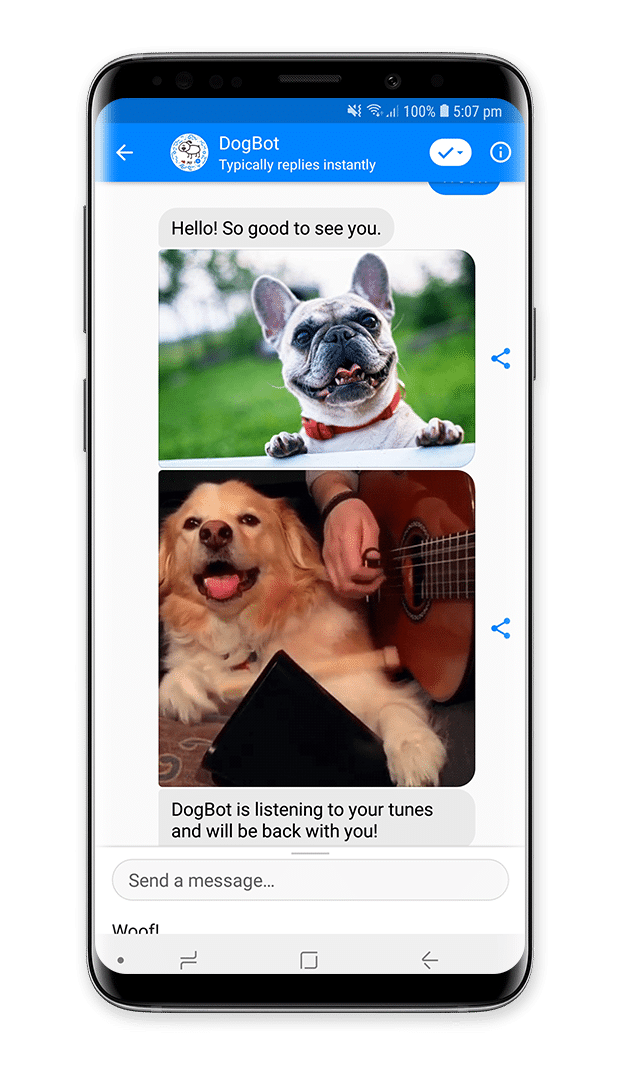 Source: DogBot by ManyChat
Why a Chatbot?
Why a chatbot and not a customer service representative or a sales assistant? According to IBM, businesses spend $1.3 trillion on 265 billion customer service calls each year. To put that in perspective, that's 504,185 calls a minute. Chatbots could handle many of the caller's questions and issues, instead of phone operators. Your customer service representatives will be freed up to deal with more complex problems.
One of the main benefits of a chatbot is that they can save your business money. According to Chatbots Magazine, businesses can reduce customer service costs by up to 30% by implementing conversational solutions like virtual agents and chatbots. Cost saving measures aren't the only thing good about chatbots, your customers see potential benefits in 24/7 service, getting instant responses, answers to simple questions and streamlined communication.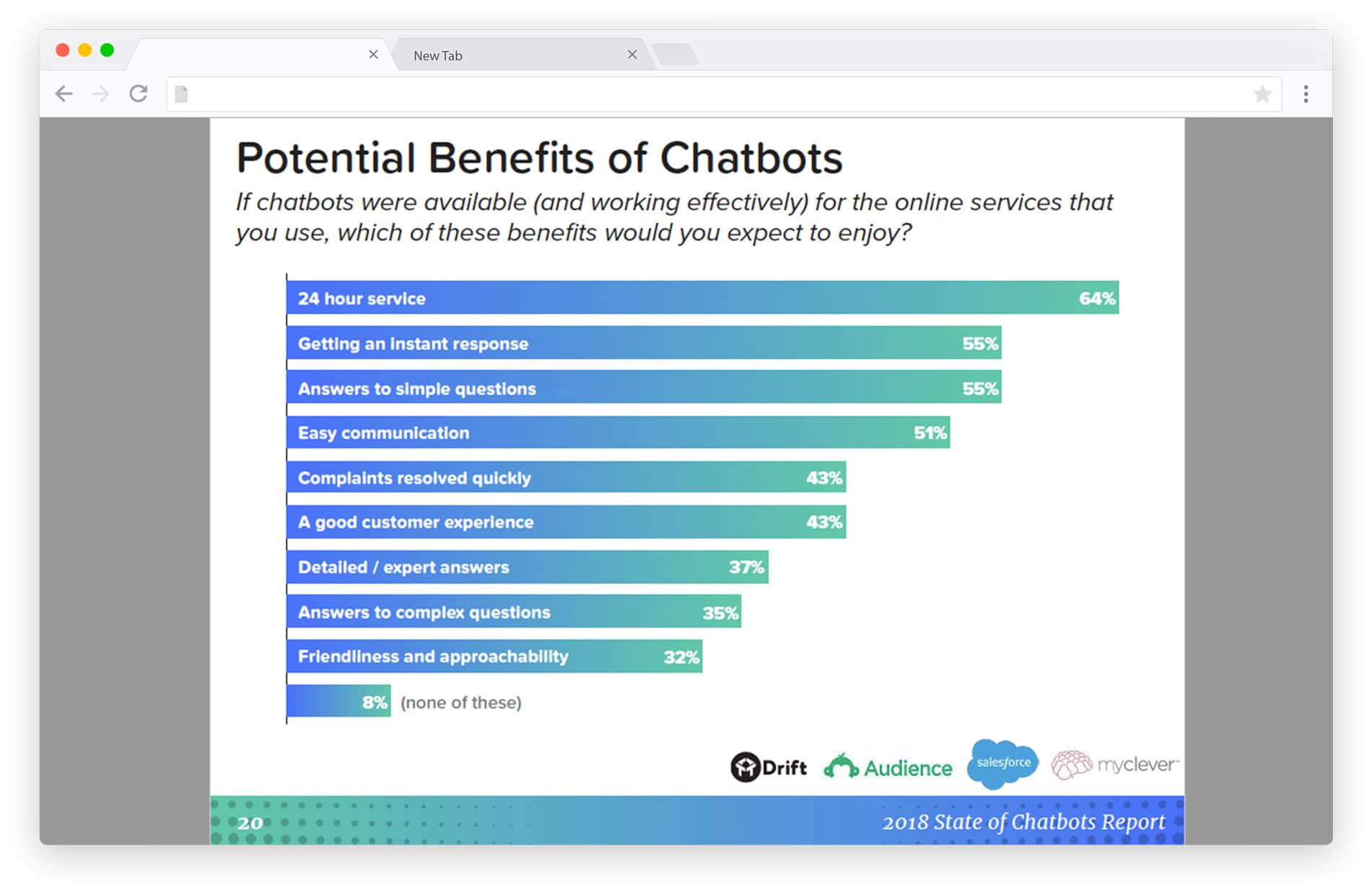 Source: 2018 State of Chatbots Report
Not only will your business save money, but your customers are also happier. If that's not a compelling reason, I don't know what is.
Keep in mind that implementing a chatbot doesn't mean you remove your customer service representatives altogether. Your customers should still be able to talk to someone if they choose to. Introducing chatbots gives them a greater range of choice, and for time-poor users, it's essential.
By using a chatbot, you're also helping people shop from their mobiles. By the end of 2017, desktop and mobile conversion rates were equal, but the mobile average order value (AOV) sat at 40% lower than desktop.
This low mobile AOV indicates that people are interested in buying from their mobiles, but the experience may not be up to par with that of the desktop experience. So how can we leverage mobile to encourage customers to purchase and spend more?
One such example is the cosmetics retailer, Sephora. Their chatbot provides personalised customer service 24/7 with tailored product recommendations and the option to purchase products without leaving Facebook Messenger.
They've also leveraged new technologies, with customers able to try on looks using Augmented Reality. Customers don't want to navigate through pages of content to find the products they want. They want seamless experiences on mobile that offer a point of difference from the desktop.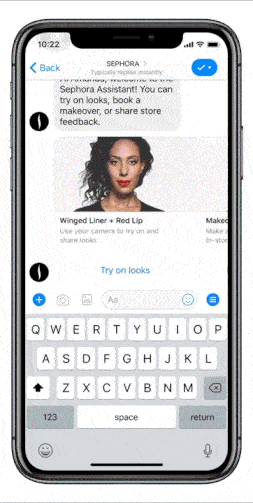 Source: Sephora
How Much Will a Chatbot Cost?
"This all sounds great… how much will it cost me?" I hear you ask. Well with most services, you get what you pay for. If you want a more clever bot that sits across multiple channels, then it's going to cost more than a simple one that operates exclusively through Facebook Messenger.
For simple tasks such as restaurant opening times and showing customers your menu, costs will be kept reasonably low. If you want to integrate backend processes, these costs can rise, for instance allowing your customers to book a table or make an order from inside the chat window.
Ultimately, there are two roads you can take when building a chatbot:
Use a Platform
The easier route is to use a platform or ready-made chatbot. This option often involves paying a monthly subscription for a platform which helps you build and host your chatbot. By paying a monthly subscription, you get a framework to work from as well as ongoing maintenance and support from the vendor. The downside is that features are limited to what the platform supports. However, with some more advanced platforms, you are able to utilise API integration to connect with your existing in-house systems. Platform chatbots such as ManyChat and Chatfuel average $15-$200+ per month, dependent on the number of users.
Create an Original Chatbot
If you want a custom chatbot with all the bells and whistles, you can build one from scratch. The main benefit of this is that you're in control of everything. You could hire an agency to create one for you or have your internal developers and designers build one for you. The downside for this option is that ongoing maintenance will be your responsibility. It'll also take more time to develop, and likely more money.
The cost of creating a chatbot depends on a few things. Make sure you spend time considering what you want your chatbot to achieve. Additionally, talk to an expert like 4mation about the right choice for your business.
What is the Return On Investment (ROI) For a Chatbot?
You could calculate the ROI for a chatbot in multiple ways, and the ROI will be different for every business, based on the goals that are set.
Reducing expenses
If reducing expenses is one of your business goals, a chatbot can help. In Australia, one full-time customer service representative can cost a business $50,000 in yearly salary expenses, compared to a chatbot that is on average $2,400 annually.
Let's break this down, you implement a platform chatbot across your website and Facebook Messenger at the cost of ~$2,400 for the year. You decide not to hire the extra customer service representative you planned to, saving you $50,000 for the year. That's an expected ROI of $47,600.
50,000
– 2,400
———
ROI $47,600
Increasing sales
Chatbots also provide ROI by driving sales. From some of the money you've saved by not hiring an extra customer service representative, you could instead invest in creating awareness for you chatbot.
For example, you could create a series of ads targeting your existing customer base, introducing them to the chatbot and its capabilities. As a result of this activity, you've increased sales volume in channels that can be directly attributed to the chatbot.
As a real-world example, we can see that when a chatbot is used strategically it can drive great results for businesses. According to ManyChat, one of their customers, DigitalMarketer, saw an ROI of 500%. DigitalMarketer used Facebook Newsfeed ads to drive traffic to Messenger and then converted that into sales through conversational selling with their chatbot. It makes sense to use a chatbot to sell, with Messenger open rates sitting around 80-90%, with a 20%+ CTR. Compare this with email open rates around 21% and you can see why Messenger wins out.
With a little creativity, and cunning, you can also make a chatbot for your business that drives sales and cuts your customer service costs.
The Wrap Up
Is a chatbot right for your business? Well, it depends. Do you find yourself, or your customer service team spending time answering common questions or fulfilling essential help functions? Do you want to drive your mobile sales in both volume and ATV? Do you want to make your customer's lives just that little bit easier? If you found yourself nodding along, then yes, a chatbot may be right for your business.
4mation is a full-service digital agency with over 20 years experience delivering digital solutions that help our clients innovate faster.
Our team of 90+ digital experts will help determine if a chatbot is right for your business, and how to go about it. Start the conversation today by getting in touch with us.