Getting Paid in 2019: Payment Options Your Customers Want to Use
It's 2019, and your customers are using more ways to pay than ever. What are you going to do about it? From digital wallets to cryptocurrency, let's have a look at the payment types that matter to your customers, and the payment gateways that will make your life easier.
Online Payment Options
Rapid advancements in technology have lead to the emergence of new forms of payment options. This technology, coupled with customer demand for fast, convenient and secure payment processing means that paying online has never been easier. This is supported by recent research from Roy Morgan, with 72.4% of Australians now using digital payment solutions.
With so many payments available, it's hard for merchants to know which ones to focus on in 2019. Through our research into the top 20 eCommerce trends for 2019, we uncovered three emerging payment options that should be part of your online business' consideration set.
Digital wallets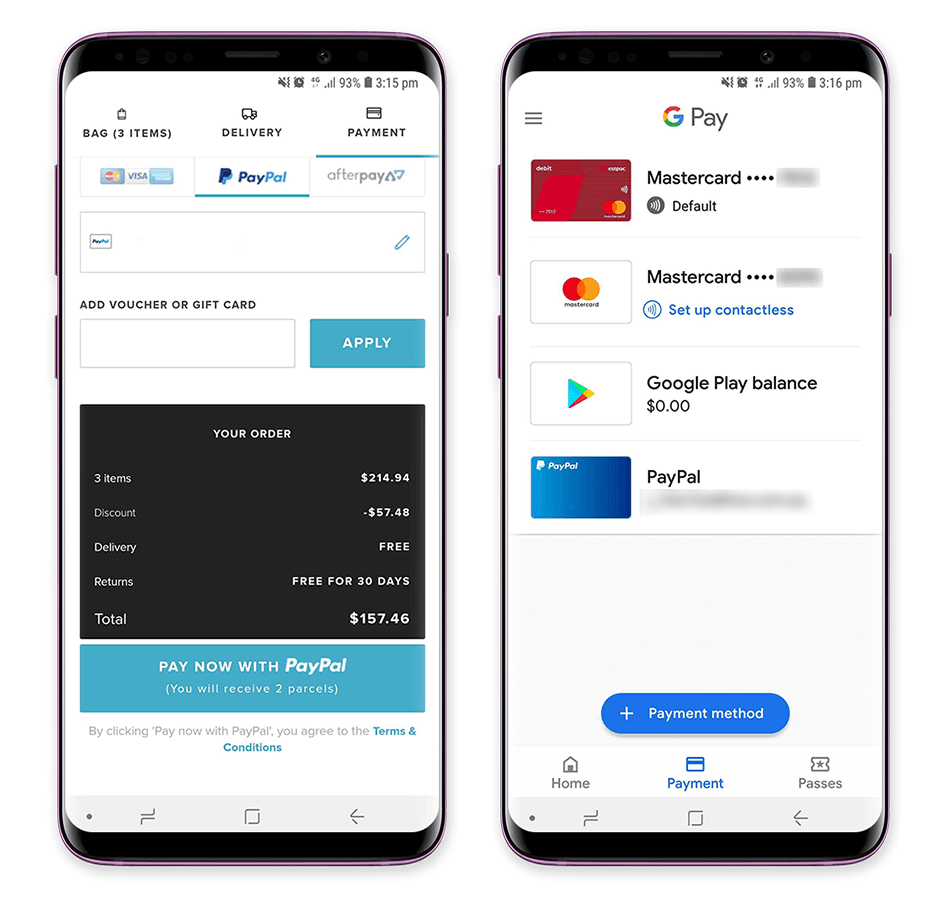 Digital wallets such as Apple Pay, Google Pay and PayPal provide users with a secure way to store sensitive credit card and bank account information on devices, as well as personal details like name and address(es). This all contributes to a more seamless payment journey for the customer, reducing friction in the process.
There are two main benefits of using digital wallets. The first benefit is that in person, you can make payments with your phone instead of your card. This is not only safer than traditional credit card payments, but a lot easier.
The second benefit is that your online shopping experience is simplified, making the checkout experience as simple as completing a purchase in one click, or tap.
Digital wallets help online stores reduce friction for customers in checkout by creating a seamless experience. In a 2018 Baymard Institute study, 26% of online consumers said that a "long or complicated checkout" was the main reason they abandoned their carts. Additionally, digital wallets can help address other pain points in the payment process which lead to cart abandonment. You can see these highlighted in the graph below.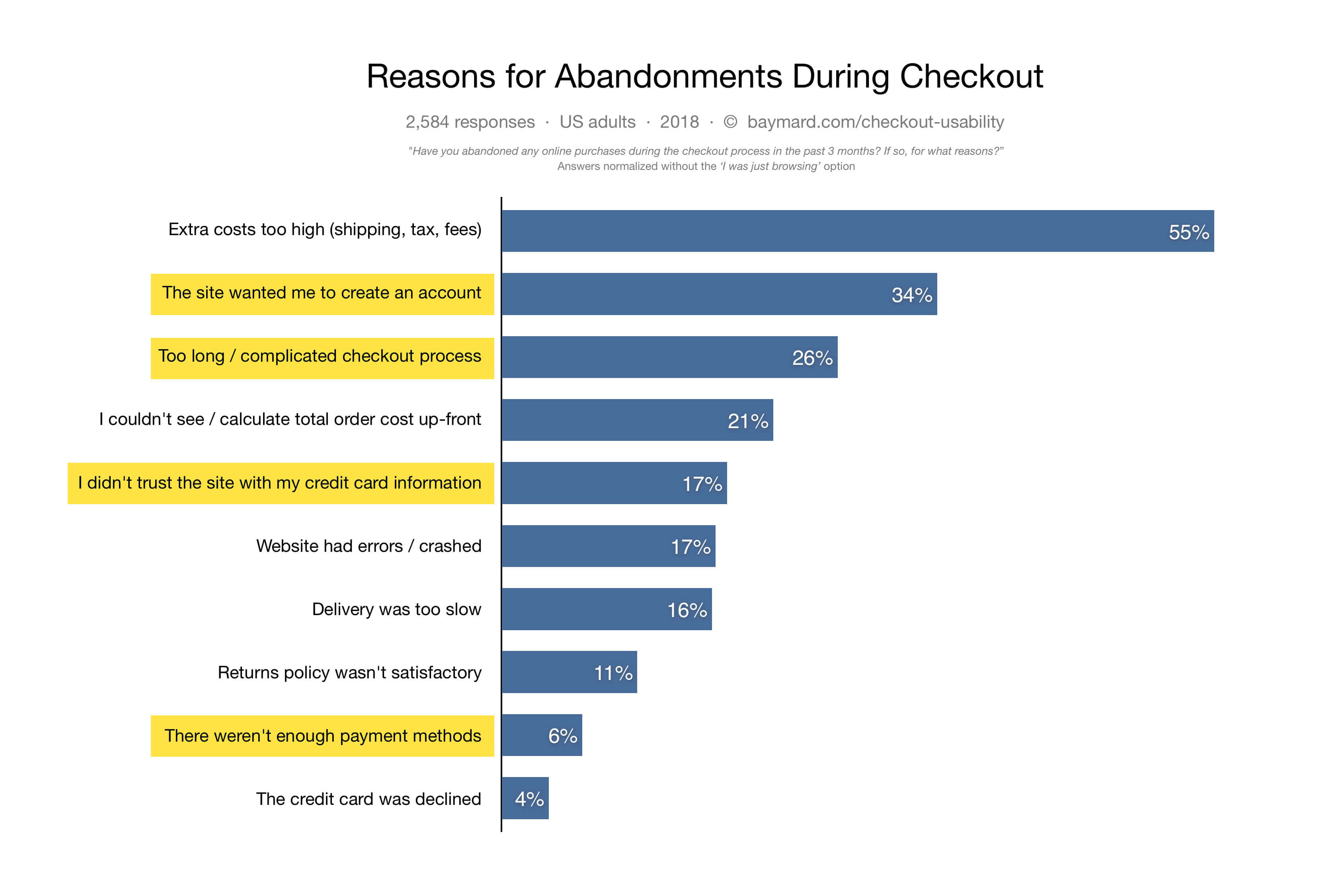 Source: https://baymard.com/lists/cart-abandonment-rate
So which digital wallet is best? PayPal is currently the market leader in the Western world. PayPal conversion rates are 60% higher than 'other digital wallets' and 82% higher than 'all payment types combined'. However, in China it's a different story – Alipay and WeChat lead the charge there, with a total reach of 1 billion users, more than any of the other digital wallets combined.
Consider your audience, if you have global customers, make sure to include the types of digital wallets they're using. Whatever you choose, your customers will thank you for providing them with a more convenient and secure way to pay.
Buy-now Pay-later (BNPL)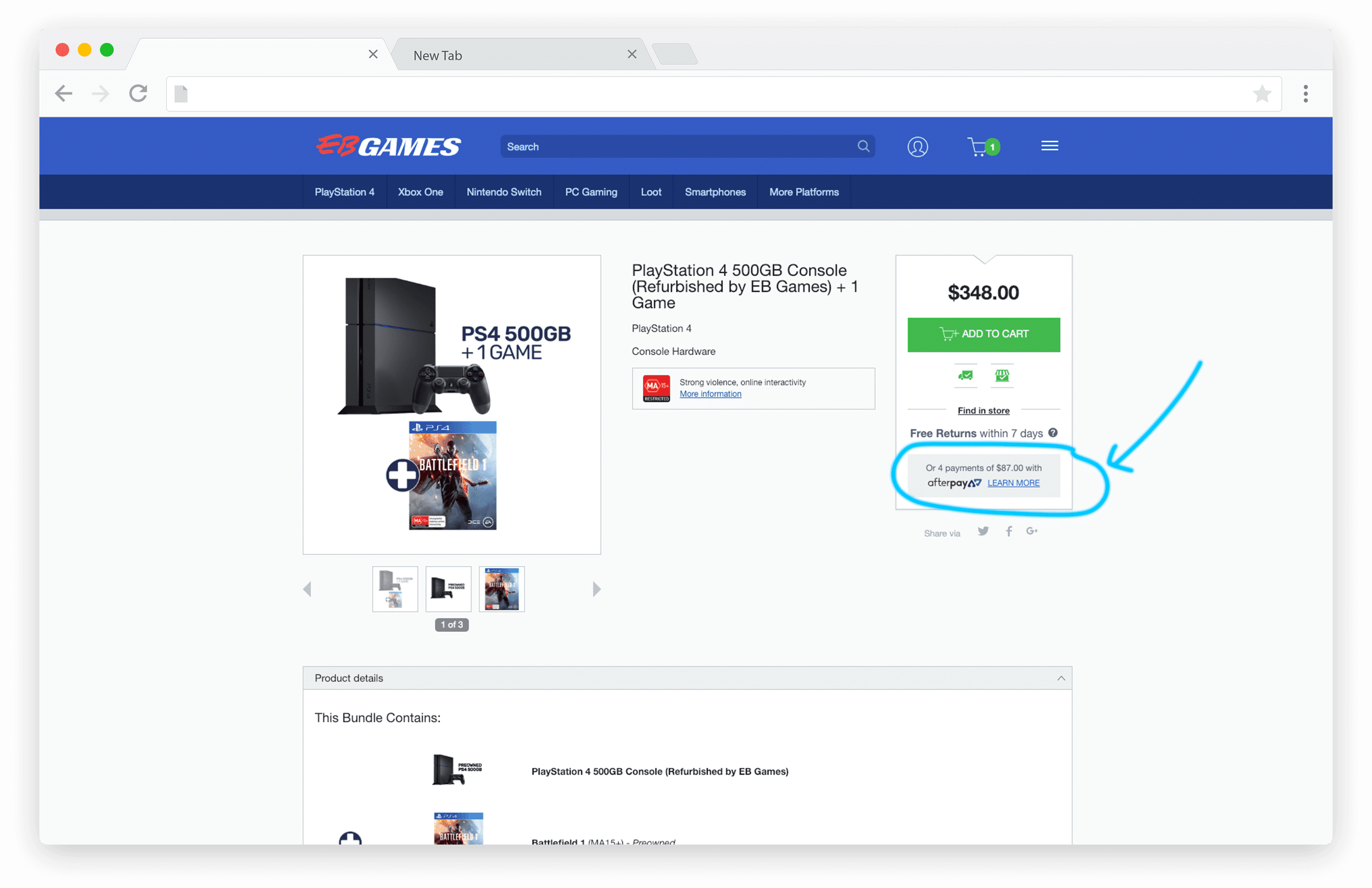 Source: EB Games
Buy-now Pay-later platforms such as Afterpay and zipPay allow consumers to buy products immediately and then pay for it in instalments. Australia Post's, Inside Australian Online Shopping report, estimates that these services accounted for 7.7% of online spend in 2017, or a whopping $1.6B. They have particular appeal for the 18—39-year-old demographic.
The BNPL appeal lies in its ability to provide instant gratification with a low barrier to entry. It also affects buying behaviour, increasing conversion rates and expenditure. ASIC research found that 55% of customers spend more when given the choice of BNPL. ASIC's research has also helped to define four primary motivators behind BNPL:
Access to higher-value purchases
Access to time-sensitive purchases
Convenience and ease of use
Flexibility and choice
In Australia, the growth of the BNPL industry is monumental. From FY 2015-16 to FY 2017-18, it's estimated that the number of users has gone from 400,000 to 2 million. With an increase of 400% in just two years, you can see why so many Australian businesses now accept BNPL as a payment option.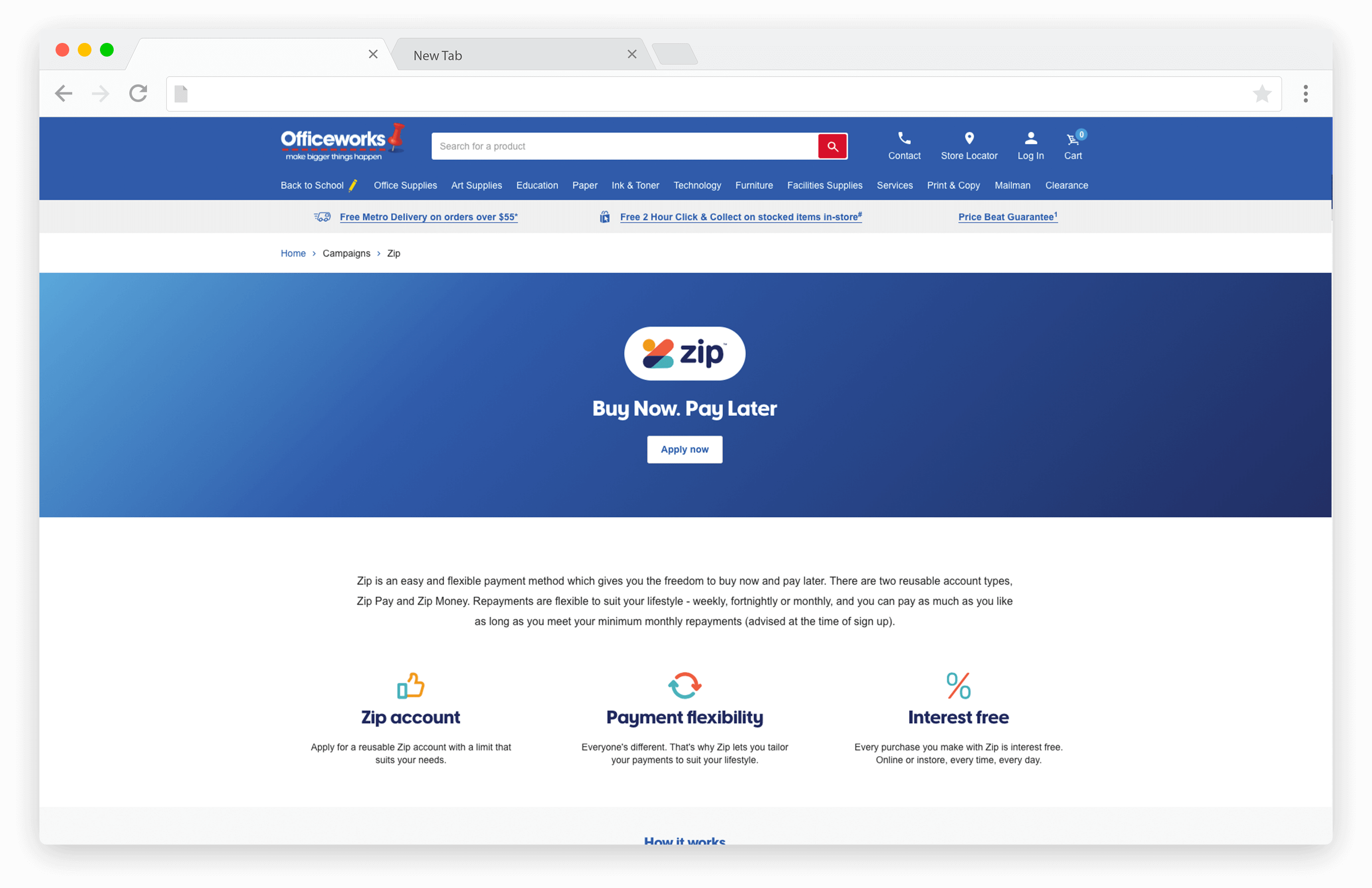 Source: Officeworks
As an online business, consider steps to introduce a BNPL payment option for your customers this year. Depending on the provider you choose there are different fees and processes you'll need to consider.
Afterpay: A $0.30 fee per transaction, plus a commission rate of 4-6% per transaction
zipPay: A $0.15 fee per transaction, plus a commission rate of 2-4% per transaction
Openpay: They determine rates based on the size and type of business
Oxipay: They determine rates based on the size and type of business
Afterpay, zipPay and Oxipay all allow users to loan up to $1,000-2,000, while OpenPay offers amounts up to $17,500.
(Prices valid as of January 2019.)
With buy-now pay-later usage only increasing, it would be wise to consider your customer's purchasing behaviour and if you're missing out on potential sales.
Cryptocurrency
Cryptocurrencies like Bitcoin and Litecoin are a form of electronic currency verified using a technology called Blockchain. While none of us is sure where the Cryptocurrency journey is headed, the reality is, there is an increasing number of online shoppers using Cryptocurrencies, and by 2024 it's estimated that number will grow to more than 200 million.
Thankfully, accepting cryptocurrency online is no longer a foreign affair. Most of the big eCommerce platforms such as Woocommerce, Shopify and Magento, all offer support for accepting crypto as a payment option. Just like other currencies, crypto can be received and converted in real time, with direct funds deposited into your account on payment when using the right payment option.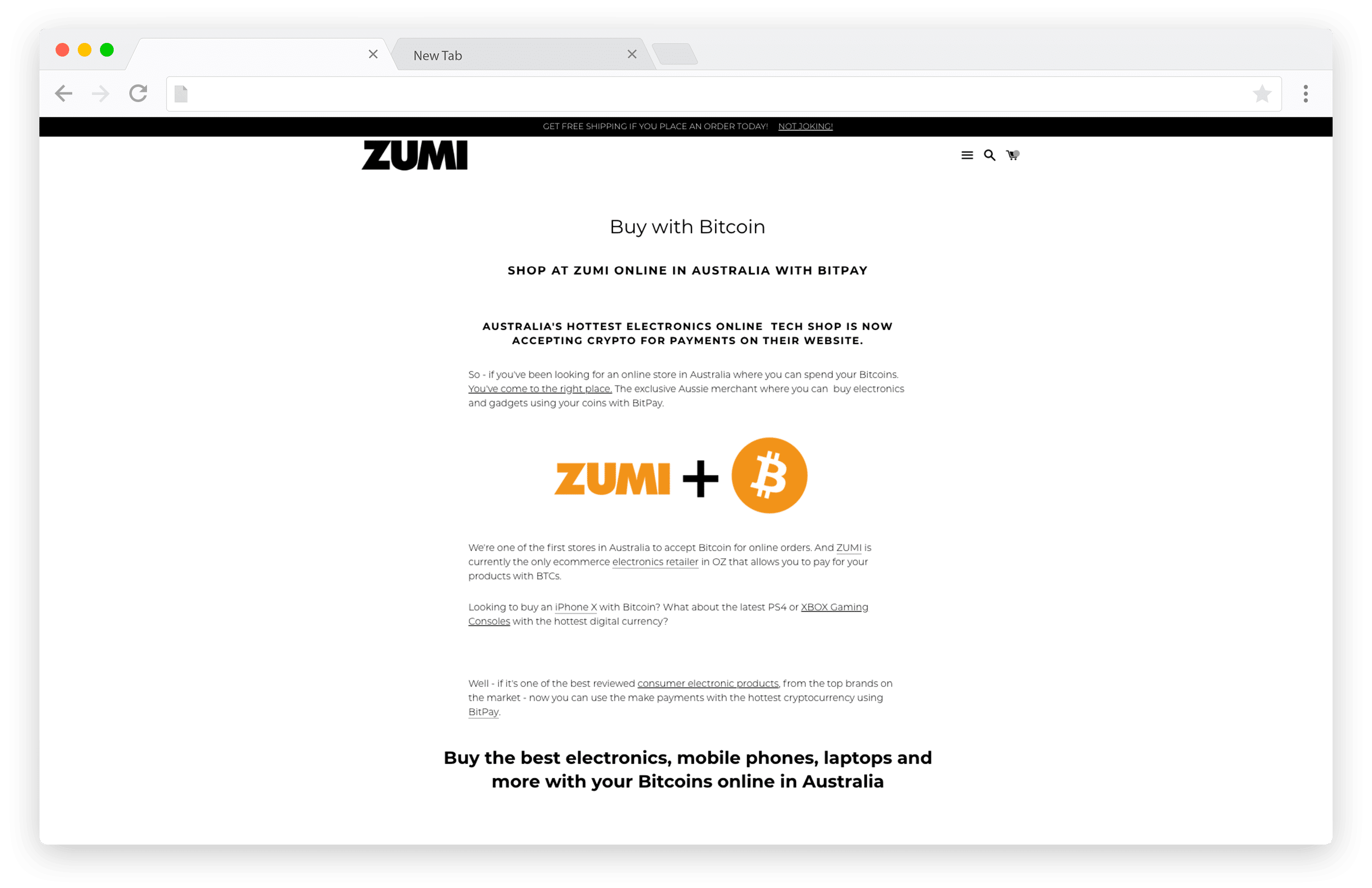 Source: Zumi
There are other benefits, including, receiving payment in any amount, from anywhere in the world, from any device, as well as negating the risk of fraud and chargebacks.
The reality is that cryptocurrency isn't going anywhere and the number of people using this form of payment will only increase. Talk to us about how you can start accepting crypto safely and securely.
Payment Gateways
I've touched on the sorts of payment options you should consider offering to your customers in 2019, but how do you integrate these with your online store? There is a range of payment gateways that can handle all your store transactions in one place. A payment gateway, simply put, is an ecommerce service that processes payments. Let's take a look at the leading payment gateways and see which one(s) may work for your business.
Stripe
Stripe was founded in 2011 by Irish brothers, Patrick and John Collison. The company calls San Francisco home but has 9 global offices. Stripe's strength lies in its worldwide adoption and a strong technical framework, with a particular focus on 'robust, scalable and flexible integration'. They've made a name for themselves by offering the largest range of payment options to merchants across the world.
Payment forms accepted: Alipay, Apple Pay, Credit cards, Google Pay, Microsoft Pay, Masterpass, Visa Checkout, WeChat Pay
Fees: 1.75% + 30¢ for domestic cards, 2.9% + 30¢ for International cards, 2.9% + 30¢ for digital wallets
(Prices valid as of January 2019.)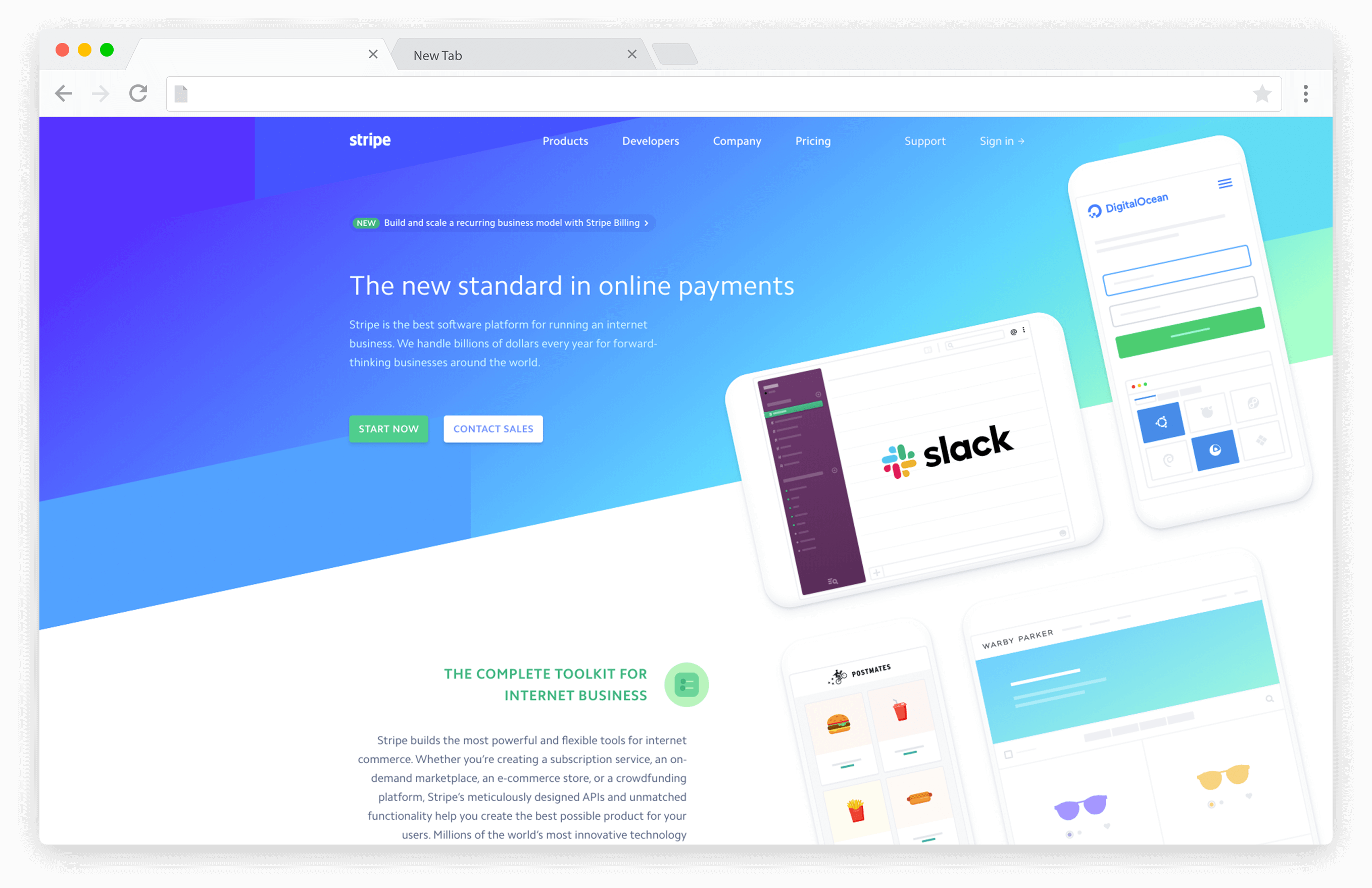 eWay
eWay is an Australian company, founded in 1998 by Matt Bullock. They process 25% of Australia's online market. Located in Canberra, eWay is local and accessible for Australian business owners. With 24/7 support, over 250 integrations and 20+ years experience, eWay is a reliable choice for your online store.
Payment forms accepted: AMEX Express Checkout, Apple Pay, Credit cards, MasterPass, Visa Checkout, PayPal
Fees: 1.9% + 20¢ for domestic and international cards
(Prices valid as of January 2019.)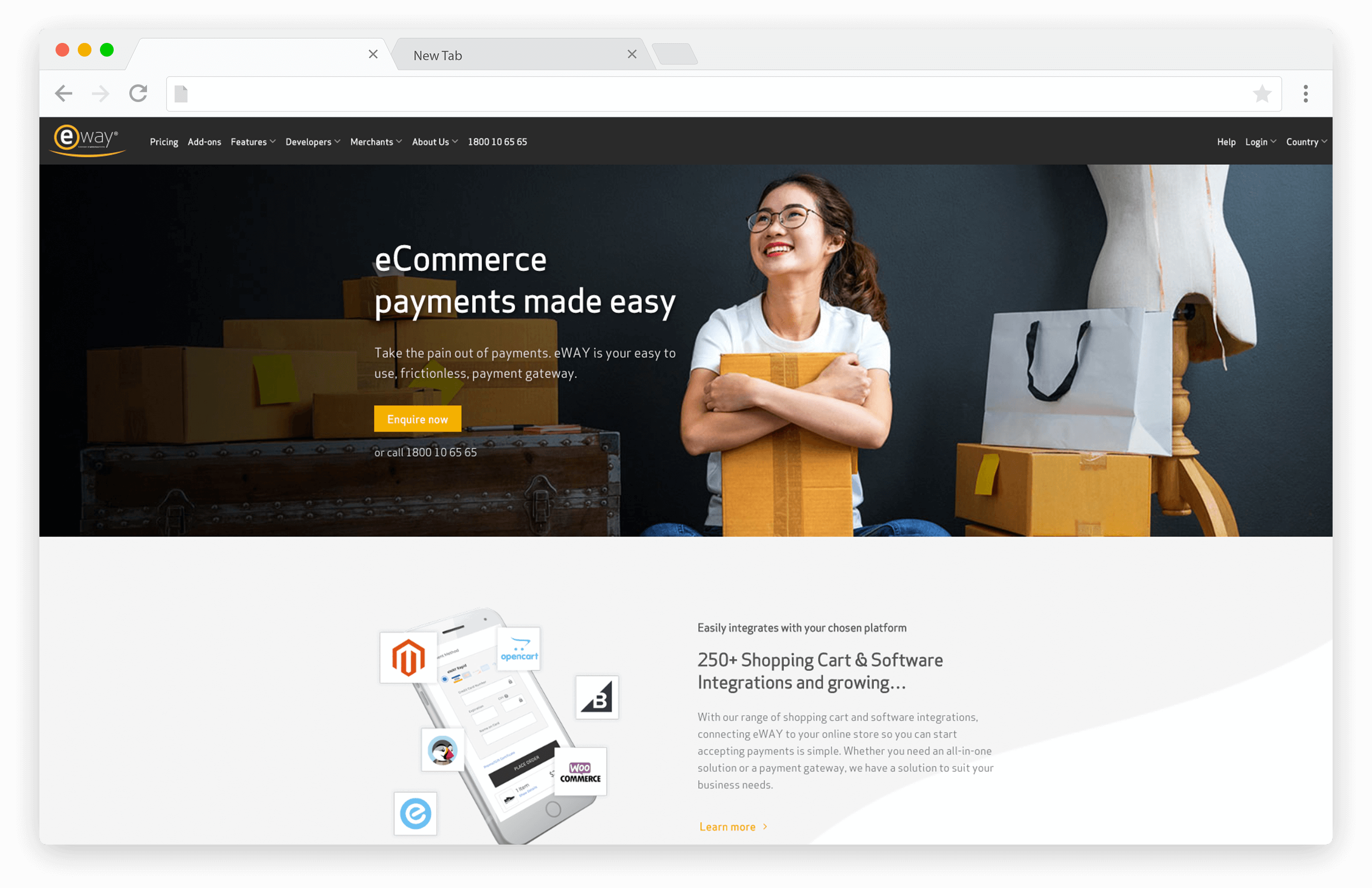 Braintree
Braintree was founded in 2007 by Chicago local Bryan Johnson, and is now owned by PayPal with offices around the world. PayPal's ownership of Braintree offers them unique access to funding and data other payment gateways can only dream of. With a focus on innovative payments technology and scalable solutions, no matter the size of your business, Braintree works.
Payment forms accepted: Credit cards, Apple Pay, Google Pay, Samsung Pay, PayPal, Masterpass, Visa Checkout
Fees: 1.75% + 30¢ per transaction per card and digital wallet transaction
(Prices valid as of January 2019.)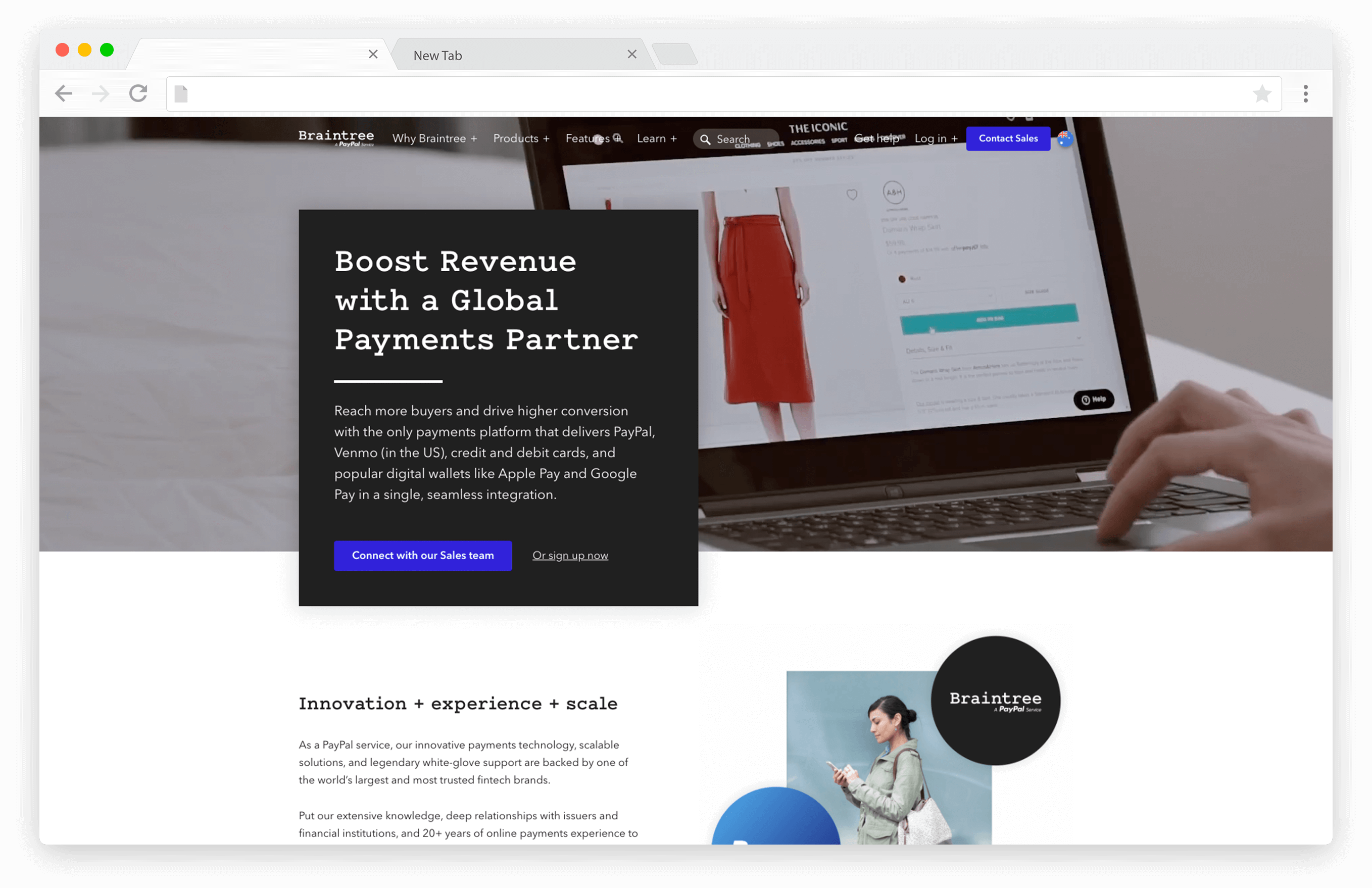 BitPay
BitPay was founded in 2011, after founders Stephen Pair and Jim Aviles saw an opportunity to bring Bitcoin payments to the mainstream. Backed by significant funding and support from financial and technology groups, BitPay has a strong leg to stand on in the global market for cryptocurrency payment processing. It can process cryptocurrency in real time and deposit funds into merchant's accounts, without the need for a crypto wallet.
Payment forms accepted: Bitcoin & Bitcoin Cash
Fees: 1%
(Prices valid as of January 2019.)
Fees: You pay for the speed of the transfer of crypto payment to your cryptocurrency wallet
Payment forms accepted: Ethereum, Bitcoin, Litecoin, Bitcoin Cash, Bitcoin Gold, Dash, Eth. Classic (with 11 more cryptocurrencies soon to be added)
Note: You will need to have a cryptocurrency wallet to offer this payment gateway to customers.
(Prices valid as of January 2019.)
---
Summary
With so many options on the table, where should you start? As with most of these sorts of things, your customers should be your first port of call. There are multiple ways to figure out the payment types your customers may want to use. You can send them a short survey or take a look at your Google analytics account. For instance, if you're receiving a large amount of iPhone traffic, then offering Apple Pay may be the right place to start.
If you're ready to sort out your online store payment system for 2019, 4mation can help. With a team of 60+ digital experts, you'll have access to some of Sydney's best developers and strategists. To find a better solution, talk to us today.