Dramatic Change for Google Search on Your Mobile Device
Helping those with mobile-friendly design, hurting those who don't – Google launch their new algorithm.

Dramatic change for Google Search that we've been expecting
For quite some time we've been anticipating this change. We design with "Mobile First" in mind, we build with responsive frameworks like Bootstrap and Foundation and this year we actually saw a decline in Google's revenue from desktop search – it was only a matter of time. Google's new algorithm introduction is set to change the way we receive search results when on mobile devices.
Why is google doing this?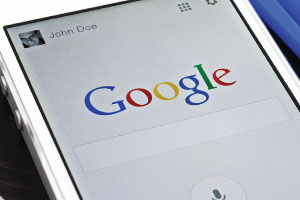 Users vs. Money. Each day we now spend more time using our mobile devices than sitting at our desktop computers. Google wants to give search results that make mobile users happy. A happy customer who finds what they're looking for quickly is more likely to return and search again. This results in the bigger potential for Google to make money.
Not only this, the more users through Chrome and Android devices, the more data they can collect.
What this means for your business website?
The new search algorithm will help sites that have mobile-friendly design and that hurts sites that don't. If a site requires people to pinch-and-zoom, it's going to be demoted in the rankings when people search on their phones.
Is your current web solution responsive?
Talk to 4mation today and work with our digital strategists and UX designers. We can take your current solution and transform it into to a fully responsive, mobile solution expertly designed to cater to the new "Mobile First" standard.
Talk to our experienced team today and see how we can work together achieve your goals.
Contact us for an obligation-free consultation with our digital strategy experts